Burnett's stellar start leads Phils to series win
Howard's key hit helps righty notch 3rd victory over Nats since June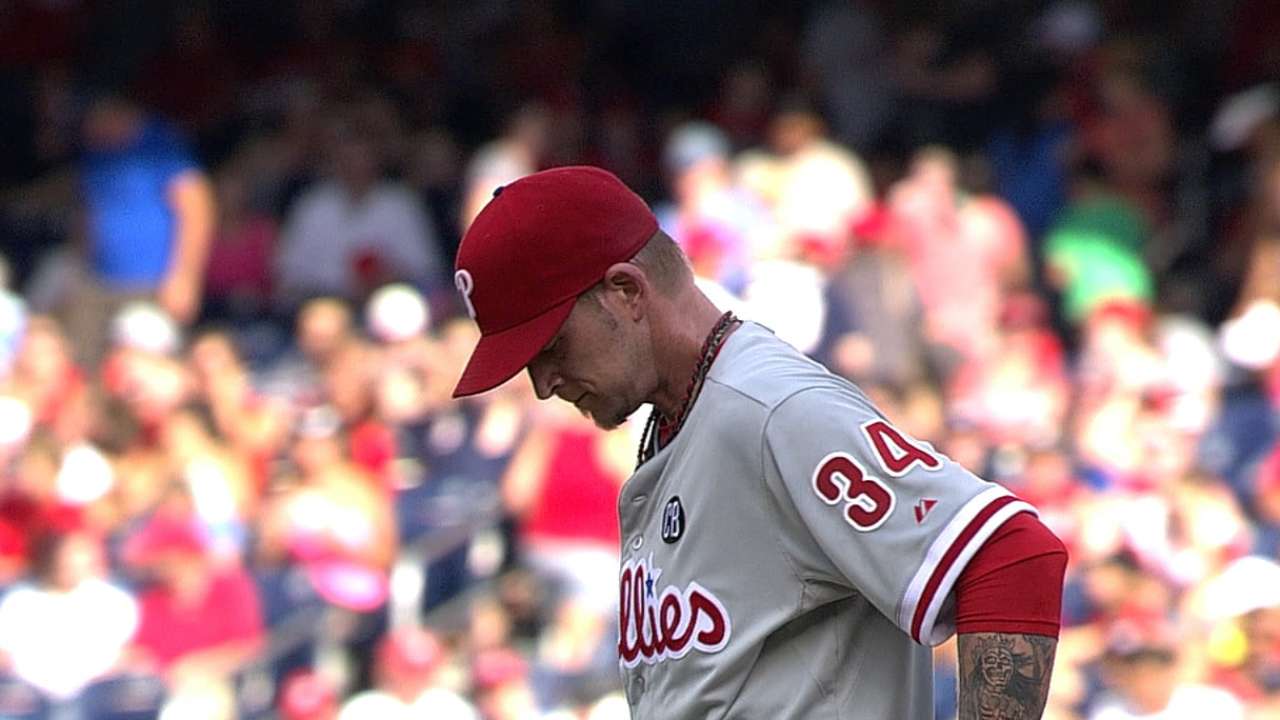 WASHINGTON -- If only A.J. Burnett could face the Nationals every game.
Burnett allowed one run in seven innings as the Phillies posted a 3-1 win on Saturday for their fifth straight victory over Washington.
Ryan Howard's third-inning single scored two runs, including Burnett, and Domonic Brown hit a home run in the sixth. Including Friday night's wild 9-8 comeback victory in 11 innings, the Phillies have won nine of their last 12.
The victory ensures that last-place Philadelphia wins the season series against the National League East-leading Nats. The Phillies are 10-8 with only Sunday's finale remaining.
Burnett (8-15) limited the Nationals to six hits with two walks and four strikeouts. He went 1-7 with a 5.85 ERA in his previous eight starts.
"I think that's the best movement he's had on the ball this year," Phillies manager Ryne Sandberg said. "Maybe the best curveball he's had. It was real tight. It was in there for strikes. ... One of his better outings."
Since June 21, Burnett has three victories -- all vs. Washington. The right-hander has struggled at times on the road in this matchup, but half of his win total this season has come against the Nationals.
After allowing five runs in 1 2/3 innings at Nationals Park on Aug. 2, Burnett had a simple goal for this start, the 400th of his career.
"I just wanted to go more than two innings here. Last time, I didn't get out of the second," Burnett cracked. "I just wanted to stay in the game."
Burnett did until the eighth, when Ken Giles entered the game. Closer Jonathan Papelbon took over in the ninth and recorded his 35th save. The Phillies' winning streak against the Nationals is their longest since taking six in a row in 2011.
"It's been a tough year for us collectively," said Howard, who has four RBIs in the two wins in this series. "[We're] trying to come together to finish strong, try to build [momentum] going into next year possibly."
At times, Burnett looked more like a goalie than a pitcher. Denard Span singled off Burnett's body in the third. In the fifth, Burnett attempted to field Span's high grounder with his pitching hand, but he only ended up deflecting the ball away as Span reached base.
"I don't know if I've ever reached up and tried to catch a ball like that before," Burnett said.
Span's hit was one of three singles in the inning. The Nationals cut Philadelphia's lead to 2-1 on Anthony Rendon's sacrifice fly, but Burnett stranded two runners.
"When you're able to make a pitch, whether it's ahead of the count or behind in the count, especially to that lineup, it's a momentum shifter for our team," Burnett said.
Four hits in the third inning, including three with two outs, led to Philadelphia taking a 2-0 lead. Burnett singled off starter Tanner Roark and scored first on Howard's two-run single to right through the defensive shift.
Brown put the Phillies back up by two in the sixth, swatting a 3-0 pitch into the Nationals' bullpen after Roark struck out the previous four batters.
"[Domonic] enjoys the green light," Sandberg said. "Takes all the thought process out of it. He's had some success in that situation."
Roark allowed three runs and struck out eight over six innings.
Burnett's 30th start of the season had added financial significance. Per MLB.com's Todd Zolecki, reaching that start total gives the righty a $750,000 bonus and increases his player option next season to $11.75 million. That's assuming Burnett, who turns 38 in January, chooses playing over retirement.
Ben Standig is a contributor to MLB.com. This story was not subject to the approval of Major League Baseball or its clubs.