Kluber goes the distance in Tribe's victory
Right-hander strikes out eight, walks none; Santana hits 25th homer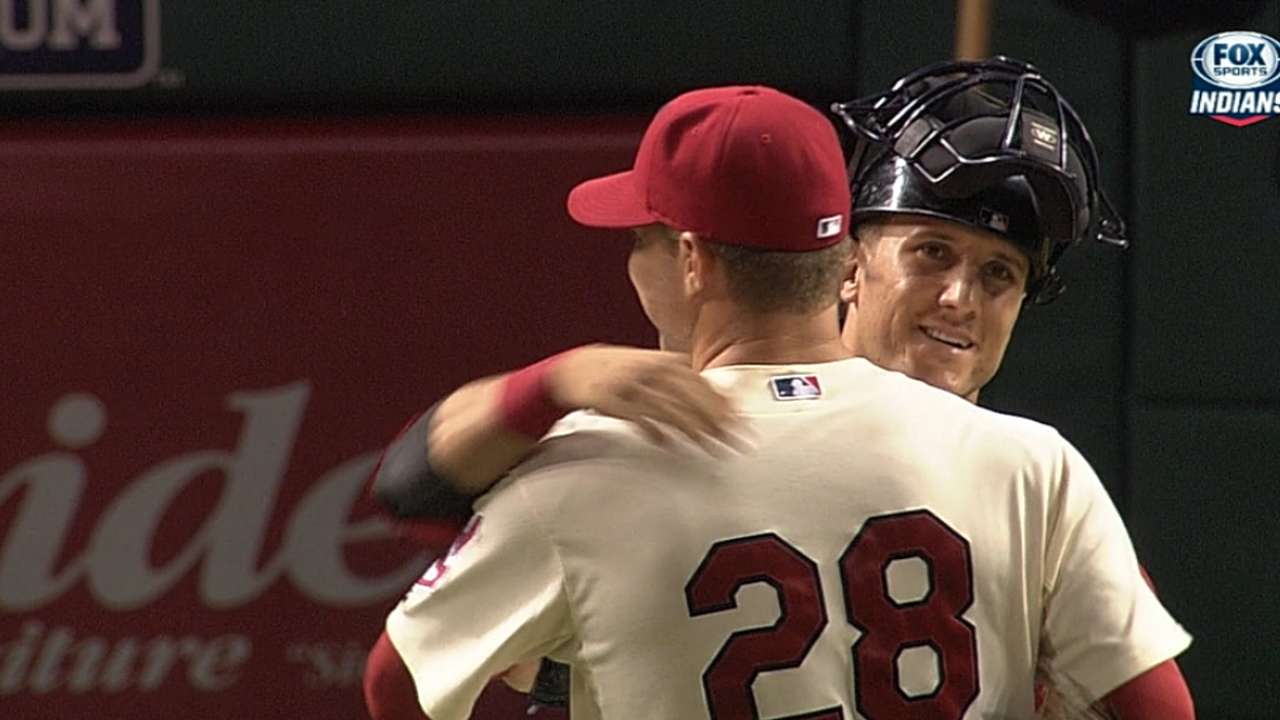 CLEVELAND -- Any concerns over how Corey Kluber is holding up this late in the season for the Indians were put to rest on Saturday night. There were no worries about fatigue or problematic mechanical issues as the pitcher sliced his way through the White Sox lineup.
Kluber resumed his candidacy for the American League Cy Young Award in impressive fashion, turning in a complete game against the White Sox in a 3-1 victory at Progressive Field. Carlos Santana and Jose Ramirez sparked the offense, providing just enough support to push the Tribe to its second win in a row over its division rivals.
Simply put, the White Sox were overwhelmed by Kluber.
"He's as good as anybody," Chicago manager Robin Ventura said. "He's as good as anybody in the league -- not just our division. You know you are in for a tough night when you are facing him. He goes deep in the game. He works quick. He doesn't seem to get rattled."
With the win, the third-place Indians (73-67) pulled to within five games of the AL Central-leading Royals and cut their deficit behind second-place Detroit to three games. Cleveland still trails the Mariners by 4 1/2 games in the race for the AL's second Wild Card spot.
Kluber has played a large part in keeping Cleveland within striking distance of the postseason picture. His showing on Saturday gave another glimpse to why he has quietly emerged as one of the best pitchers in baseball this season.
After a disheartining series loss to the Tigers, Kluber was thrilled to help the Tribe claim the next set against Chicago. Cleveland has won 16 of its past 24 games and has gone 20-12 since Aug. 1, and the team needs as many wins as possible with just 22 games left on the regular-season slate.
"The only choice we have right now," Kluber said, "is to try to put the past behind us and focus on each game as itself. You just go out there and try to win every night. Whatever happened the night before -- whether it was a win or a loss -- it doesn't have any bearing on what's going to happen tonight."
Over his nine innings of work, Kluber held the White Sox to one unearned run, ending with eight strikeouts (six coming within his last five frames), no walks and 104 pitches. Using his signature mix of sinkers, cutters and curves, Kluber not only racked up the strikeouts, but induced weak contact and created 14 outs via ground balls. He allowed just five hits -- four singles and a double.
In the process, Kluber snapped a four-start winless streak, collected his 14th victory and lowered his ERA to 2.47.
"The ground ball-to-fly ball ratio was really good, too," Francona said. "He was taking the sting out of their bats by getting a bunch of ground balls."
With an assist from Cleveland's defense, the White Sox broke through for one run against Kluber in the third inning. Jordan Danks delivered a one-out single, stole second base and then scored when Indians first baseman Jesus Aguilar could not handle a grounder off the bat of Adam Eaton.
That unearned run represented the lone blemish on a strong line from Kluber.
Following his worst start of the season -- Kluber gave up five runs in only 2 2/3 innings last time out against Detroit -- Cleveland's rotation leader looked more like himself against Chicago. The right-hander labored through 57 pitches in his abbreviated effort against the Tigers, but needed only 78 to breeze through the first seven this time around.
"I was getting a little too closed off the last few starts," said Kluber, who allowed 11 runs (eight earned) in his previous three outings. "It just wasn't allowing me to quite get the ball where I wanted to glove side. So we just worked on my direction during my bullpen. It was a pretty easy adjustment. It wasn't anything major.
"It took maybe a handful of pitches to get that feeling back to what we were looking for. We went out there tonight and it wasn't like I was searching or anything. It felt normal and comfortable."
The Cleveland offense managed only nine runs of support in Kluber's previous five outings, and the pitcher had little margin for error again on Saturday. Facing White Sox lefty Jose Quintana, Santana put the Indians on the board in the fourth with a home run, marking his 25th of the season and pulling the game into a 1-1 tie.
The Indians came up empty on a bases-loaded, one-out situation in the fifth, but did not misfire when opportunity arose again in the seventh. After Michael Bourn drew a one-out walk, Ramirez drilled a pitch from reliever Zach Putnam off the wall in right field and hustled around the bases for a run-scoring triple. Michael Brantley followed with an RBI single to put Cleveland ahead for good.
"I was trying to put the ball in play," said Ramirez, using catcher Roberto Perez as his interpreter. "Putnam] had a really good splitter, so I wasn't trying to do too much with it -- just put the ball in play. I was trying to run as hard as I could, because I didnt know if it was going to bounce or get out of the stadium."
The aggressiveness paid off, giving Cleveland the cushion it needed, and Kluber took care of the rest.
"He was tremendous," Francona said. "His tank looks like it's as full as it's ever been."
Jordan Bastian is a reporter for MLB.com. Read his blog, Major League Bastian, and follow him on Twitter @MLBastian. This story was not subject to the approval of Major League Baseball or its clubs.