Cubs shut out in Game 2 of makeshift doubleheader
Doubront solid, but offense struggles after resuming suspended tilt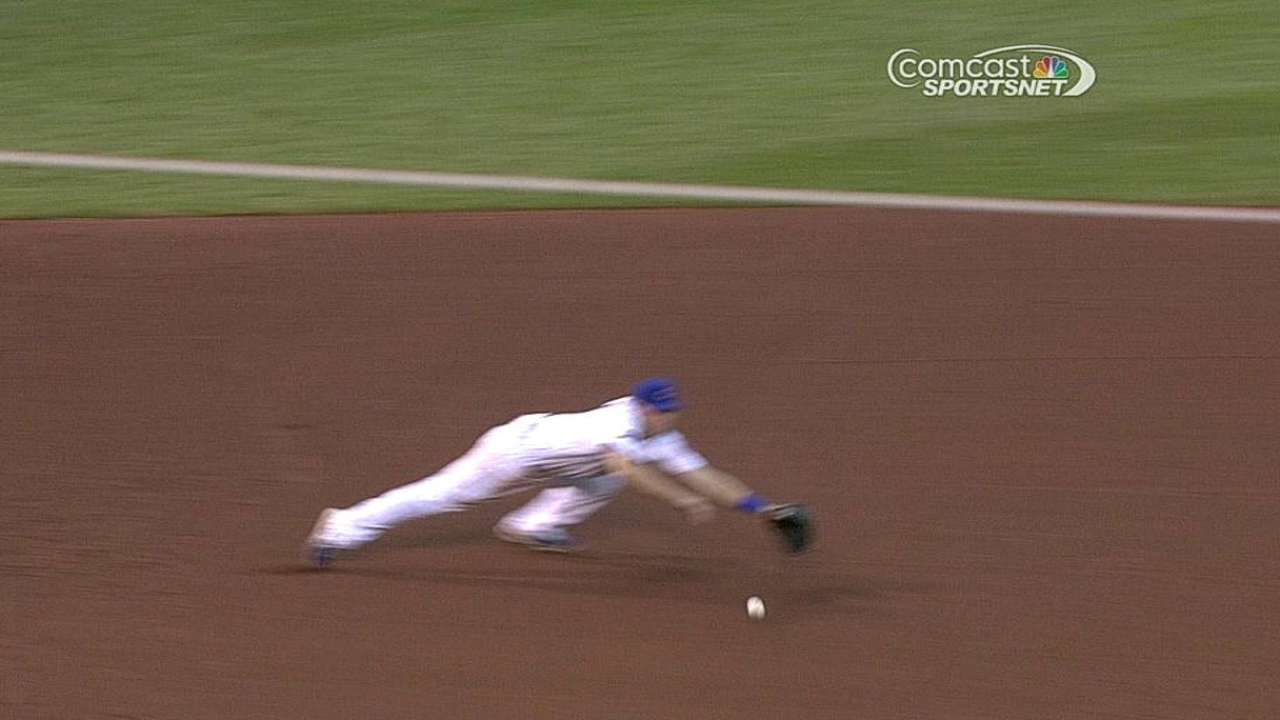 CHICAGO -- For Felix Doubront, Saturday marked the first time he pitched at Wrigley Field in his career. For Arodys Vizcaino, the ninth inning was huge because it was his first time pitching in the big leagues since 2011.
The moments were nice. But they weren't enough to stop the Pirates, who got just what they needed, and they did so in nine dry innings.
Francisco Liriano struck out nine and gave up three hits over six scoreless innings to lead the Pirates to a 5-0 victory over the Cubs, and complete a sweep of the game-plus played at Wrigley Field.
The regularly scheduled game was preceded by the completion of a game suspended on Friday because of rain, and the Pirates also won that contest, 5-3, in 11 innings. Pittsburgh is 4 1/2 games behind the Cardinals in the National League Central.
Counting the five innings played in the first game and the regularly scheduled game, the Cubs were held scoreless for 14 total innings. It's the 14th time they've been shut out this year.
"They've been swinging the bats," Pirates manager Clint Hurdle said of the Cubs, who were coming off a sweep of the Brewers. "We're aware of the scores when we come in, the way they played the teams in front of us. We made pitches, we stayed away from any kind of big innings."
Liriano took advantage of the aggressive young Cubs, and he struck out Javier Baez three times, marking the ninth time in 33 games that the rookie infielder has whiffed three times or more. Baez is batting .174.
"I don't see him pressing," Cubs manager Rick Renteria said of the highly regarded prospect. "I think he's getting away from his middle-away approach. That's one of the things he was working on down in the Minor Leagues. When he finally settled in and was swinging the bat well, one of the things he was doing was hitting the ball more to the middle to right-center field, which allowed him to see the ball and track the ball a little better.
"I just think he's away from the approach that gives him a chance to have some success."
Baez has played every game since his callup on Aug. 5, and he is now pressed into everyday duty with Starlin Castro sidelined with a high ankle sprain. Could Baez use a day off?
"I think it's the opposite," Renteria said. "You need to keep him in there and see if we can get him to trust what he was doing before he got here. The reality is, his approach to the other side of the field is one of the things that will help him."
Doubront took the loss in his second start for Chicago, serving up two runs over five innings. The problem was the third inning, the lefty said. With one out, Andrew McCutchen singled and Neil Walker doubled before Gaby Sanchez's hard-hit RBI groundout to third baseman Chris Valaika.
"I went too fast with my mechanics [in the third]," Doubront said. "I lost my mechanics, and then came back and repeated my delivery and was able to throw strikes after that."
Doubront needed 64 pitches to get through three innings, then just 17 combined for the fourth and fifth innings.
Jordy Mercer added a leadoff home run in the ninth off Vizcaino, who was making his first Major League appearance since Sept. 27, 2011. The right-hander, acquired from the Braves in July '12, has spent the last two seasons recovering from Tommy John surgery, which he had in Spring Training that year.
"His fastball was good," Cubs catcher Welington Castillo said. "He just hung a slider [to Mercer], and that was it. His fastball was there, and a changeup. For a first outing this year in the big leagues, it was good. I think he's going to do good. He's got good stuff. I still believe he can pitch in the big leagues."
So does Vizcaino.
"I'm happy because I'm back again," Vizcaino said. "I wasn't nervous."
Carrie Muskat is a reporter for MLB.com. She writes a blog, Muskat Ramblings, and you can follow her on Twitter @CarrieMuskat. This story was not subject to the approval of Major League Baseball or its clubs.