MLB.com Columnist
Richard Justice
Imperfect Royals hot at perfect time
KC elevating its game with sights set on first playoff berth in 29 years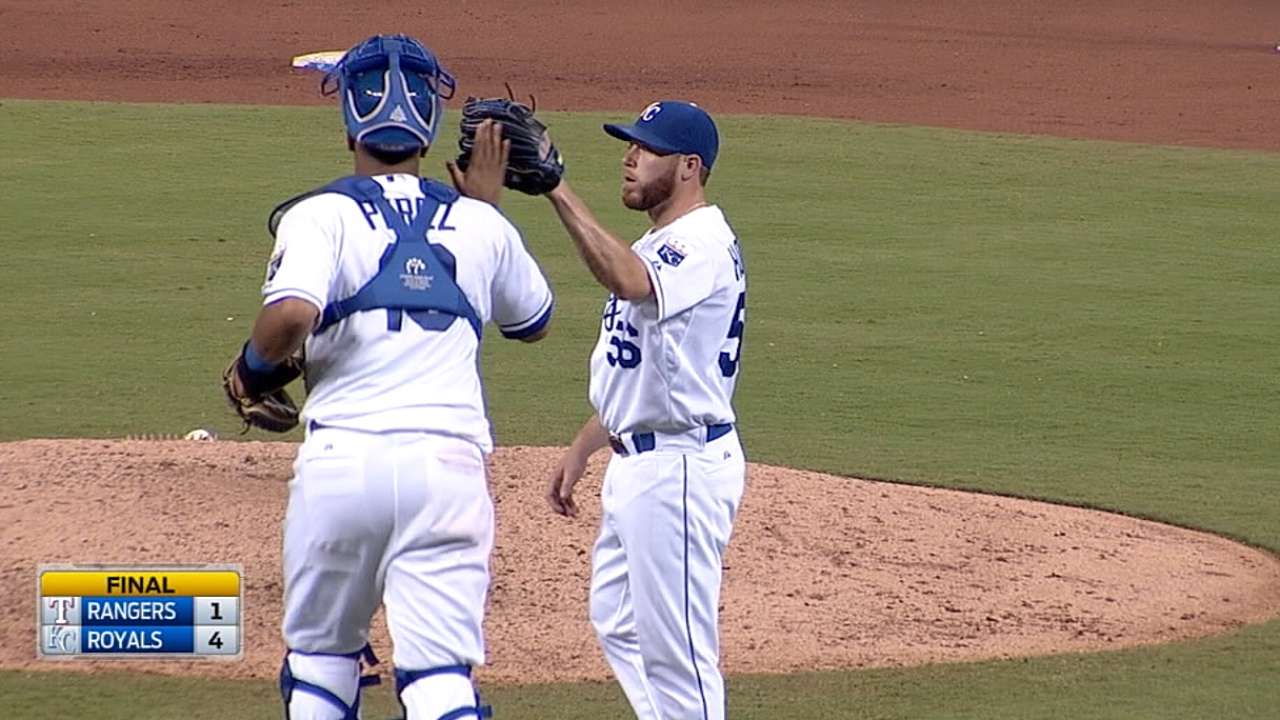 NEW YORK -- There's music and laughter and playful trash talk after yet another nail-biting victory. There's energy and confidence, too. There's a growing realization that the real fun could just be starting.
"Where else would I rather be in this world than having this much fun right here?" Royals manager Ned Yost asked.
There can't be many places.
"I don't know what's going to happen," Yost said. "But it's invigorating, it's fun and I'm just glad we're here."
It's that time of the year when every inning is important, when the taste of victory is just a bit sweeter and defeat sits in the pit of your stomach unlike it did a month ago.
"Yeah, September is a playoff atmosphere," pitcher James Shields said. "That's why I love September baseball, and I'm just glad we're in it."
Indeed, Kansas City is right in the middle of it.
"We're not leading the Major Leagues in wins by any stretch of the imagination," Yost said, "but we're playing great baseball."
Indeed, the Royals are playing terrific baseball.
At the moment, they're doing a really good imitation of a team capable of playing deep into October.
Their defense is the best in the game by miles. Their bullpen has hard throwers lined up for the late innings.
As Yost said, "If we can get past the sixth inning with a lead, we're going to be in pretty good shape."
And the starting rotation? At a time when the games matter most, Kansas City is performing at its highest level. The Royals' starters began Saturday with a 17-inning scoreless streak. In the past six games, they've got a 1.07 ERA.
As for that offense, well, when you've got all that pitching and all that defense, when you take care of the small stuff, you've got a chance.
Kansas City may not be a perfect team. There probably isn't one in baseball this season. But the Royals do enough things really well that they've got a great chance to be back in the playoffs for the first time in 29 years.
Best of all, they're playing their best when the games count the most. Since July 22, the Royals are 30-11.
That's the best record in baseball, and in that span of just less than seven weeks, they've made up a whopping 10 games in the American League Central standings, going from eight games down to two up on the Tigers.
"It's a blast," first baseman Eric Hosmer said. "It's been awhile since this town experienced a playoff team, and you can sense the energy out there."
The Royals opened a six-game road trip Friday night with a 1-0 victory over the Yankees in which Shields was absolutely brilliant in allowing just three hits in 8 1/3 innings. With closer Greg Holland dealing with some triceps soreness, Yost handed the ball to Wade Davis, who delivered one 97-mph heater after another to get the final two outs.
"I've got four guys down there that can close," Yost said.
The Royals got their only run in the third inning, when shortstop Alcides Escobar reached first on a Chase Headley error and hustled all the way to second. When Nori Aoki followed with a single, Kansas City had the only run of the game.
"In Spring Training, this is what we work hard to do," Shields said. "This is the fun part about the game. Hopefully, these guys enjoy the moment. A lot of these guys haven't been here before."
One of the reasons Royals general manager Dayton Moore traded a package of prospects to get Shields and Davis from the Rays two offseasons ago is because they had been there before.
In Shields, he got a pitcher who has cracked the 200-inning mark for eight straight seasons. He's a leader in terms of work ethic and performance, and he also raised the expectation level the moment he walked in the door.
But the Royals are more than just one guy. Outfielder Alex Gordon is playing his way onto some AL Most Valuable Player Award ballots, in part, because he might be the best defensive outfielder in the game.
But there's plenty to like about the Royals, and at the moment, it's working out the way the blueprint had it working out.
"Absolutely energizing," Yost said. "I was sitting there in the ninth inning [Friday], and your heart's pounding, the crowd's going crazy and I'm enjoying every second of it."
Richard Justice is a columnist for MLB.com. Read his blog, Justice4U. This story was not subject to the approval of Major League Baseball or its clubs.