O's fall to Rays on walk-off passed ball
Gausman strikes out seven over seven strong innings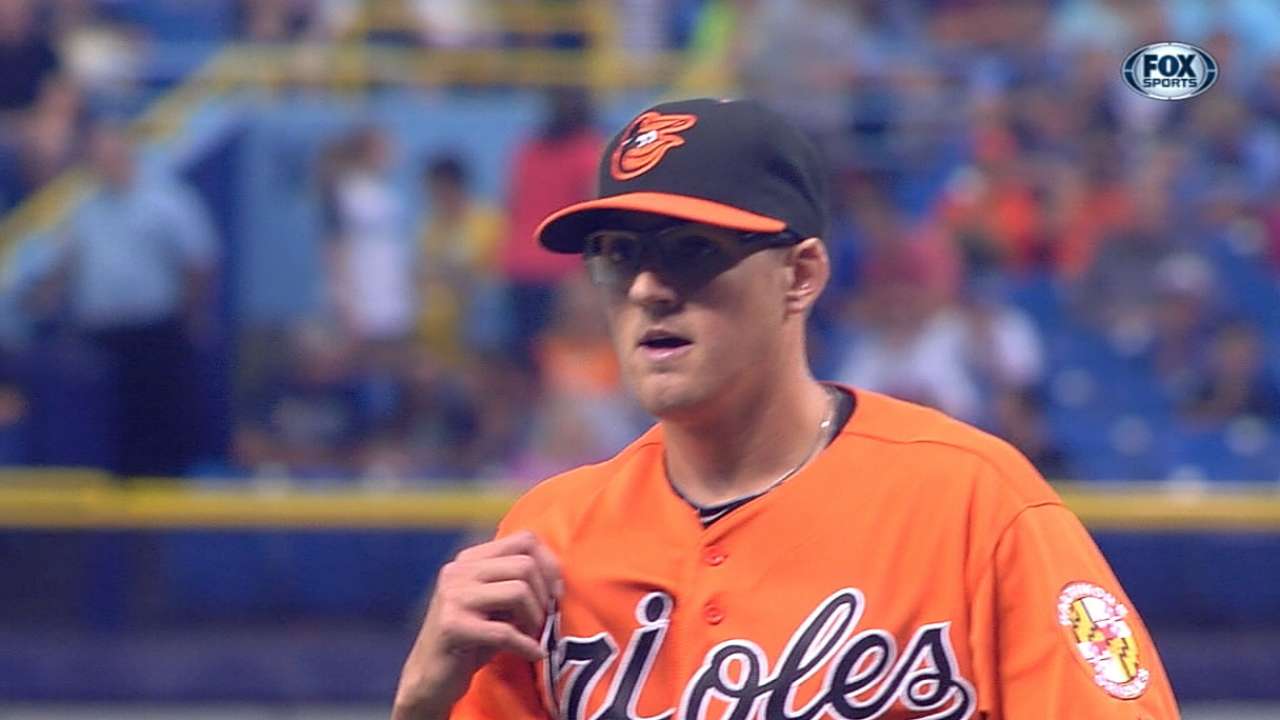 ST. PETERSBURG -- The Rays continued to play the role of spoiler in the American League East on Saturday afternoon, again slowing down the Orioles' pennant push with an unusual 3-2 win at Tropicana Field.
For the second game in a row, runs were hard to come by -- as the winning run scored on a two-out, walk-off passed ball by catcher Nick Hundley in the ninth. Yunel Escobar, who reached base on an error by Ryan Flaherty and advanced on a sacrifice bunt, crossed the plate when a pitch by Andrew Miller eluded Hundley.
"I didn't catch the ball," said Hundley, who accepted all the blame. "It was probably a strike. [It had nothing] to do with the pitch or the location. I just flat out missed it. We lost a game because I missed a ball. It's cut and dried right there.
"That's on me. I didn't make the play. I can't remember the last time that happened. I let the team down. I've got to do a better job."
Manager Buck Showalter tried to take some of the heat off his catcher.
"There were a lot of things that went wrong before that," Showalter said. "We can't dwell on that."
The ending marked the first time in 2,733 regular-season games that Tampa Bay won on a game-ending passed ball, according to STATS, Inc. The Orioles had not lost on a walk-off passed ball since at least 1974, STATS said.
Kevin Gausman worked seven strong innings for the Orioles, yielding two runs on five hits, while striking out seven and walking four.
"I was a little bit sporadic, for some reason," said Gausman, who has now worked at least seven innings in his last two starts. "But I felt good.
"Physically, I feel great. I feel I get stronger as the game goes on."
Steve Pearce returned to first base on Saturday and Delmon Young was back in the lineup as the designated hitter, as Showalter loaded his lineup with right-handed hitters against the Rays' Drew Smyly. It was Pearce's first appearance in the starting lineup since Aug. 29, and Young's first start since last Monday.
Chris Davis was not in the original starting lineup, but went into Showalter's office before the game and told the manager he wanted to play. Leading off the second inning, he belted the first pitch he saw from Smyly into the right-field seats for his 26th home run of the year.
"Chris doesn't realize I did that on purpose," Showalter quipped after the game.
With 21 games remaining, Davis is on pace to hit 30 HRs, which would mark his third year in a row reaching that plateau. With a current .196 batting average, he could join Arizona's Mark Reynolds (.198, 32 HR in 2010) as the only players in Major League history with 30-plus homers and a sub-.200 batting average.
The Rays took the lead in the third. Ben Zobrist walked and eventually scored on Evan Longoria's sacrifice fly. David DeJesus, who had singled, crossed the plate after Adam Jones couldn't hang on to Wil Myers' sinking drive to right-center.
Smyly worked the first six innings for the Rays, holding the Orioles to one run on four hits. He struck out eight and walked two.
"He's going to be a good one," Showalter said, praising the Rays' young left-hander. "We got to see two real good young pitchers today."
"He's tough, that's why it was such a big trade," said Gausman, referring to the Trade Deadline swap that sent Rays ace David Price to the Tigers for Smyly.
Smyly has worked 153 innings, prompting the Rays to consider shutting him down for the rest of the season -- possibly after one more start. That led Showalter to quip, "I wish they had done it a week earlier."
Hundley's single to left leading off the seventh inning missed being a home run by inches. But he was stranded at first, as Flaherty, Jonathan Schoop and Nick Markakis struck out.
The Orioles tied the score in the eighth. Pearce walked, took second on a throwing error by Rays reliever Jake McGee, and crossed the plate on Nelson Cruz's single to center.
Baltimore had runners on first and second with one away, but Young lined to third and Longoria helped turn an inning-ending double play.
"If Delmon doesn't hit that ball right at somebody," said Showalter, "maybe it's a better story."
Shortstop J.J. Hardy, who has been bothered by back spasms, was not in the lineup on Saturday.
"We're just trying to stay ahead of it," Showalter explained. "We're trying to be proactive.
"It didn't seem like he felt all that good after Friday night's game. But I expect he'll be in there Sunday."
Jim Hawkins is a contributor to MLB.com. This story was not subject to the approval of Major League Baseball or its clubs.