Rays gain walk-off win on passed ball
Smyly fans eight Orioles over strong six-inning performance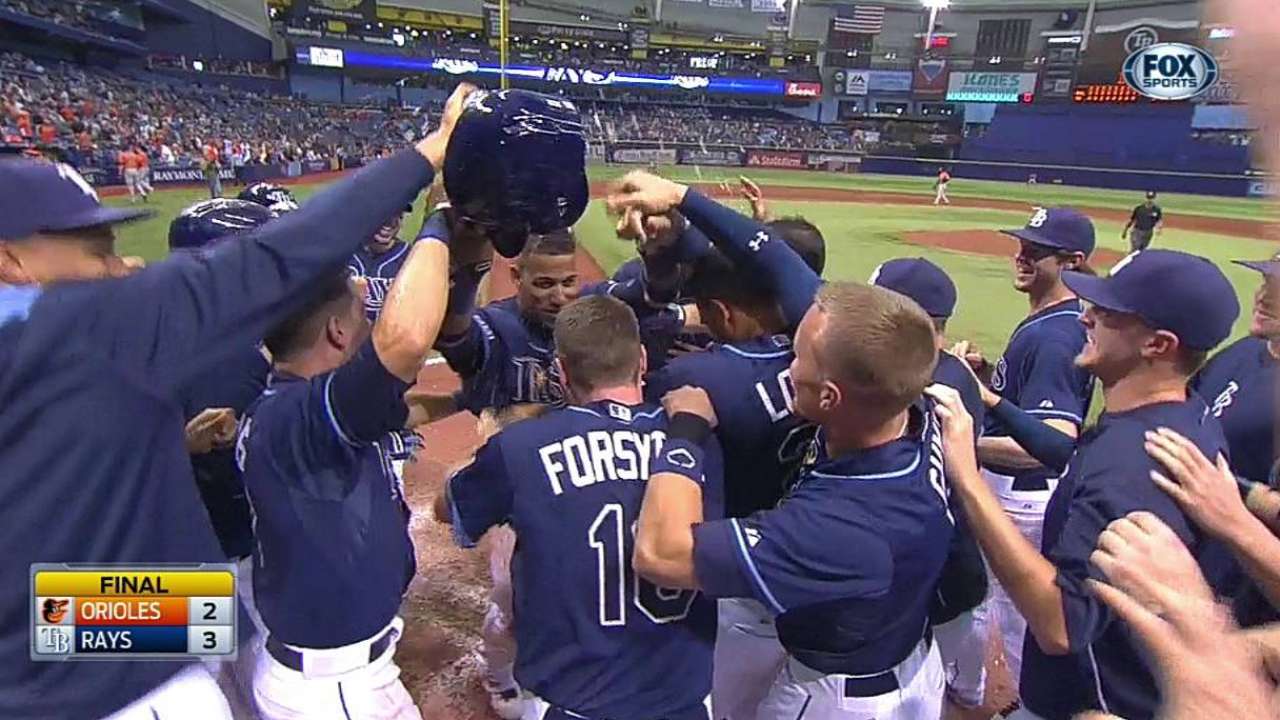 ST. PETERSBURG -- With the end of his season looming, Drew Smyly was denied a 10th win on Saturday at Tropicana Field. But he sure deserved one, as the Rays lost a lead late before recovering for a 3-2 walk-off win over the Orioles.
Pretty, it wasn't. With two outs in the ninth inning, Yunel Escobar -- who reached on Baltimore shortstop Ryan Flaherty's error to open the frame -- scored the winning run on a passed ball by catcher Nick Hundley.
"Poom, poom, poom, poom, poom -- and a big woof at the end," Rays manager Joe Maddon said, describing his team's ninth-inning rally, compared to the Orioles' game-ending miscue. "We'll take it any way we can, man."
An inning earlier, for just the second time all season, Jake McGee couldn't get the job done is relief. Entering the game in the eighth with a 2-1 lead, the left-hander blew his second save in 18 opportunities.
McGee walked Steve Pearce to lead off the inning and allowed pinch-runner Quintin Berry to advance to second when he lobbed a pickoff throw over James Loney's head at first base. Nelson Cruz followed with a seeing-eye single past Escobar, scoring Berry to tie the game. Both of McGee's blown saves this season have happened in the eighth inning at Tropicana Field against Baltimore on game-tying choppers by Cruz.
But Tampa Bay's first walk-off win on a passed ball clinched a series victory against American League East-leading Baltimore in advance of Sunday's finale.
Smyly, who has consistently kept teams in check during his short tenure with the ballclub, was in line to pick up his fourth win in a Tampa Bay uniform before McGee's hiccup.
Even the first-place O's could barely manage a scratch against Smyly, who went six strong innings -- with his only blemish being a solo home run by Chris Davis in the second inning. Facing one of baseball's most potent lineups -- Baltimore leads the Major Leagues with 186 long balls -- Smyly allowed four hits and two walks, while picking up eight strikeouts along the way.
"After he gave up that home run to Davis -- he did not like that moment at all," Maddon said. "I think he got annoyed after the home run, and I really saw this tenacious side of him."
It was no wonder. Two starts before Saturday's, when Smyly beat Kevin Gausman and the O's in Baltimore with seven innings of two-hit, one-run baseball, his lone mistake was also a second-inning solo shot by Davis. Those homers didn't sit well with the southpaw.
"I don't like giving up hits to lefties," Smyly said. "That really kind of gets under my skin, when lefties get on base against me. That's my strength ... making sure lefties don't get on. ... [I did not] let it happen again."
It hasn't been happening much, anyway. In seven games since joining the Rays from the Tigers on July 31 in the Deadline deal for David Price, Smyly has held opposing hitters to an AL-low .155 batting average, while compiling a 3-1 record and a 1.70 ERA. No other pitcher in Tampa Bay history has a better ERA in his first seven starts.
But Smyly now sits at 153 innings pitched for the season, well above his career highs in the Minors and Majors. With the Rays wanting to keep the 25-year-old to somewhere between 150 and 160 innings, he could be shut down any time now.
"I understand it completely," Smyly said. "You've just got to be careful. I know I'm young, so hopefully I've got a lot more years to play."
A lot of successful ones, if he has anything to say about it.
"I pitched really good for seven starts here, so why can't I do it for 30 starts next year?" Smyly said. "Look at Cliff Lee -- that's who I try to make myself after. He throws 90 [miles per hour], just dices guys up every game. He's outstanding. If he can do it, why can't I do it? All you've got to do is command -- command your pitches, execute them and don't give in. Be a competitor.
"The ceiling, I think, is very high. You can't limit yourself. You're not gonna say, 'I can never be that guy. I can never be David Price.' His skill set is outstanding -- I don't throw 98 [mph] like he does -- but you can still get a guy out. You've just got to get the guys out."
You don't need to tell Maddon twice.
"He can give you what you're seeing right now -- that's a pretty complete pitcher," Maddon said. "We're just holding him back, right now -- he's not holding himself back, we're holding him back. You'd have seen a guy that would've probably pitched seven, eight innings every start here had we let him."
No matter when Smyly's season ends, though, the Orioles didn't appreciate it not being before Saturday.
"Are they going to shut him down now?" Baltimore manager Buck Showalter asked after the game. "Wish they would've done it a week earlier."
David Adler is an associate reporter for MLB.com. This story was not subject to the approval of Major League Baseball or its clubs.