Cards, Crew exchange words following last out
Roenicke believes argument between players was misunderstanding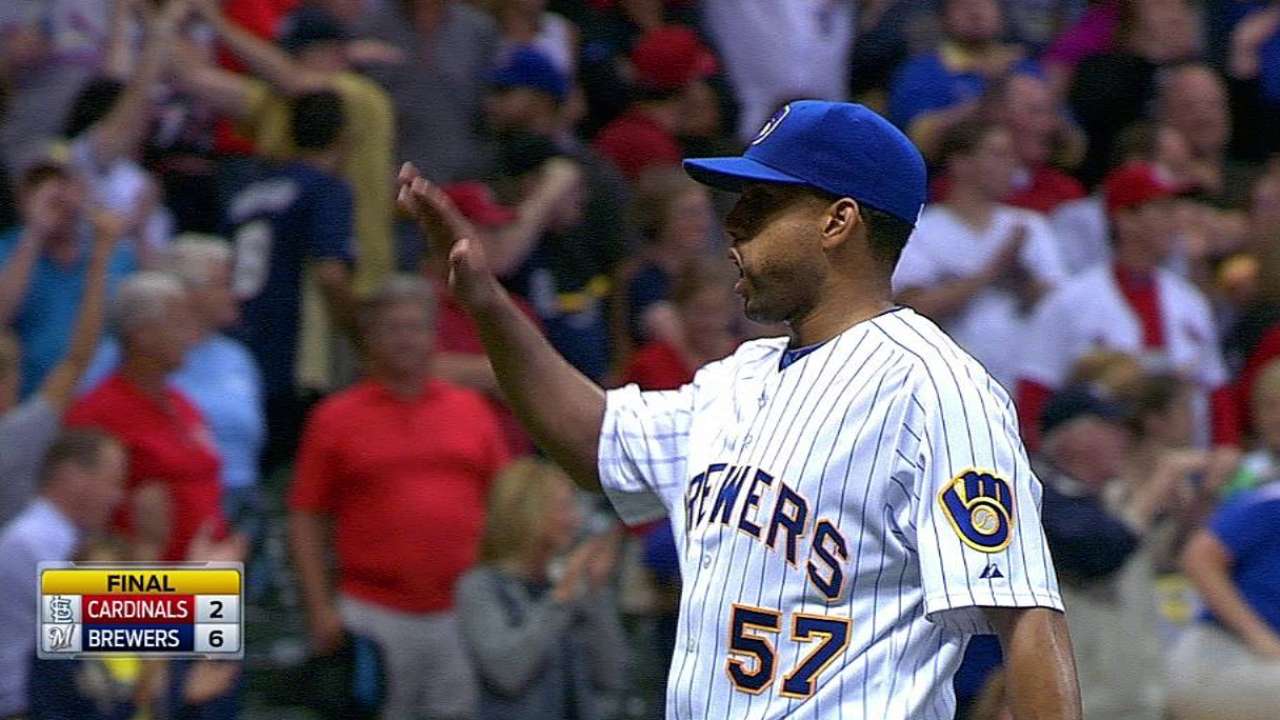 MILWAUKEE -- Brewers manager Ron Roenicke offered the most amusingly cryptic quote about what prompted players from both teams to gather on the infield in the moments following Milwaukee's 6-2 win over St. Louis at Miller Park.
"That was just something that we thought happened and I don't think it happened," Roenicke said.
He added: "It was no big deal."
It was an odd ending to a badly-needed Brewers victory. Francisco Rodriguez, pitching for the first time in nine days, and sealing the Brewers' first win in 11 days, retired Cardinals pinch-hitter A.J. Pierzynski on a game-ending flyout to left field. While the Brewers began gathering to shake hands, Pierzynski passed Rodriguez on the way back to the dugout.
Something about the moment displeased Rodriguez, who shared his feelings with Cardinals first base coach Chris Maloney. Suddenly, players from both teams were drawn to the discussion.
Nothing more than words were exchanged, and the Brewers resumed celebrating the end of a nine-game losing streak.
"Apparently, when A.J. was jogging off, he brushed against Rodriguez," Cardinals manager Mike Matheny said. "[Rodriguez] didn't like it. There was nothing said. He didn't think he touched him, but he got closer than what [Rodriguez] wanted. So he just turned around and asked our first-base coach what was that all about? No one even knew what was going on."
If Rodriguez had a different view, he was not there to express it. He did not appear in the Brewers' clubhouse while it was open to reporters, and a club official said he could not be located.
"I didn't say anything to him," Pierzynski said. "I didn't touch him. I was taking my stuff off and I turn around and guys are running out onto the field. I don't know exactly what was going on. ...
"I didn't say a word. Like I said, I didn't know what was going on until I turned around and there were guys running out of our dugout. You can watch the replay and clearly see that I didn't touch him or say a word to him. I don't know what that was all about. Just add it to the book."
Asked whether he had history with Rodriguez, Pierzynski said, "We've played a ton of games against each other. He's gotten me out and pumped his fist, and I've gotten some hits against him."
It was the third straight game for the Cardinals with a tinge of drama. On Wednesday, Pirates manager Clint Hurdle called it a "cheap shot" when Cardinals pitcher Shelby Miller nearly hit Andrew McCutchen after Pittsburgh pitchers had hit two Cardinals. And on Thursday, Matheny suggested that rookie Brewers infielder Hector Gomez did "jumping jacks" to block Jon Jay's view as Jay prepared to tag up from third base.
"I think it's interdivision," Pierzynski said. "It's a pennant race. Guys are on edge. Guys are playing hard and they're looking for anything to get a little boost on. That's all teams in September. You look at all the teams that are playing in their division and there seems to always be some chipping. That's just the way it is."
Adam McCalvy is a reporter for MLB.com. Read his blog, Brew Beat, and follow him on Twitter at @AdamMcCalvy. Jenifer Langosch is a reporter for MLB.com. Read her blog, By Gosh, It's Langosch, and follow her on Twitter @LangoschMLB. This story was not subject to the approval of Major League Baseball or its clubs.