Houston's homers hamper Samardzija's night
A's unable to recover from Carter's deep drive in sixth inning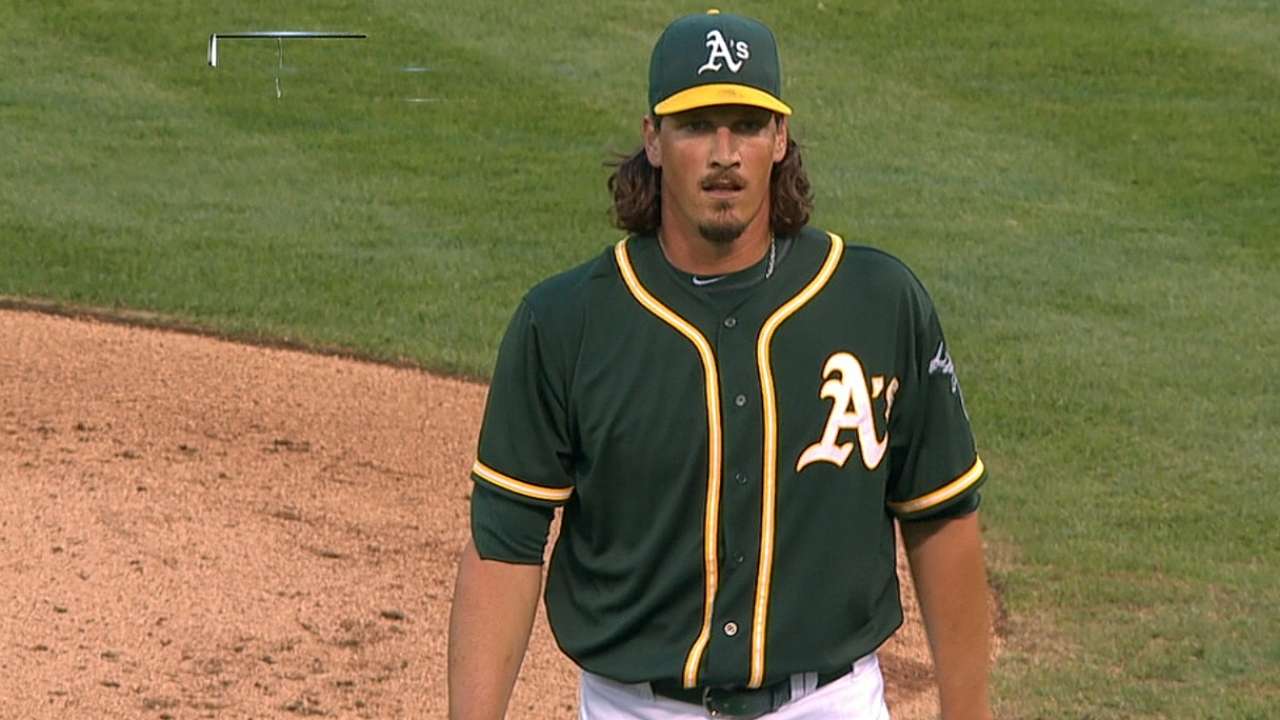 OAKLAND -- Few words remain to describe the A's plunge down the standings. Their play says it all.
A clumsy offense sputtered yet again in Friday's 4-3 series-opening loss to the fourth-place Astros, who gifted the A's a lead they just couldn't contain. One of their former employees did plenty of damage, though, as another Chris Carter homer bit them yet again.
Oakland has lost three straight, seven of eight, nine of 12 and 17 of 24 to fall a season-high six games back of the Angels in the American League West. With just 22 regular-season games left to play, the A's have to hope a Wild Card spot is their ticket to a third consecutive postseason appearance -- but even their grasp of that is quickly slipping.
The Mariners trail Oakland by only two, with the Tigers lingering 2 1/2 back.
"We're out here playing our butts off. We understand what's at stake and where we're at and how things are going," said starter Jeff Samardzija, "and we're trying to find that happy zone of not trying to press too hard and have fun, but also understanding that we need to do things a little differently. You want to go out and be that guy that changes things, and I wanted to do that today. I had my opportunity."
Samardzija struck out nine and didn't walk a batter in seven innings, but he also served up a go-ahead two-run homer to Carter in the sixth after getting ahead, 0-2. The count grew to 3-2, and Carter blasted the eighth pitch of the at-bat, a 97-mph fastball, over the left-center-field wall.
"I don't know what he changed or what approach he's going with now, but he's become a real tough out," said catcher Derek Norris. "You used to be able to throw him sliders all day and he'd just swing and miss 400 times in a row.
"But it was a good pitch. I went out to the mound to talk to Shark and I told him, 'You give me that good down-and-away fastball,' and he located it, and that one's on me. It wasn't a bad pitch. It was a good pitch, and a guy that seems to be locked in as of late put a good swing on it. I still don't know how he hit the ball out where he did and how far he did."
Carter has homered against the A's in four straight games, and he has seven total, along with 20 RBIs, in 16 games vs. his former team this season.
"You live and die with what your choices are out there," said Samardzija, "and it was definitely one I would like to have back and maybe mix a slider in or a sinker away. We'd thrown some fastballs by him earlier in the game, and I thought it was a good choice. He just put good wood on it and hit it out. It's a pitch I'd like to have back, for sure."
It would be easy to point fingers at Samardzija for this loss, except, "We had many opportunities to put that game out of reach before that even happened, and we didn't capitalize," said Norris.
Carrying a 3-2 lead into the fourth, the A's loaded the bases with no out. But Craig Gentry swung at the first pitch and grounded to third base for a fielder's choice at home, and Josh Donaldson proceeded to ground into an inning-ending 5-2-3 double play.
"You can't continue to put pressure on our pitching like this," said manager Bob Melvin. "If we can score some runs there, it's a completely different game. We already have a lead, we can add on. Certainly the tone of the game is a lot different going forward. But we don't score, and it puts more pressure on the pitching to be perfect and not give up any runs."
The A's stranded eight total on the night and went just 2-for-9 with runners in scoring position. Adam Dunn provided one of two RBI hits, giving him five RBIs in four games with the A's, but even that was an infield grounder against the shift.
The A's managed only six other hits, many of them bloopers, including Norris' soft RBI knock in a three-run third, and they're batting .197 over their last seven games.
"You let teams hang around long enough, they're going to come through and they're going to beat you, and I think that's more so the focal point for me than the pitch to Carter," said Norris. "We had multiple, multiple opportunities to score more runs and we didn't.
"We just got to be better. We're getting opportunities on the table and we're not coming through with the hit to cash them in. Guys just got to search within themselves and get back to playing baseball. It's not fun to watch."
"Everyone's going to keep playing here, we've got a lot of gamers in here, and a lot of baseball left to be played," said Samardzija. "I think we're excited, we're going to keep going at it and get back to where we're comfortable."
Jane Lee is a reporter for MLB.com. This story was not subject to the approval of Major League Baseball or its clubs.