Postseason Picture for Saturday, Sept. 6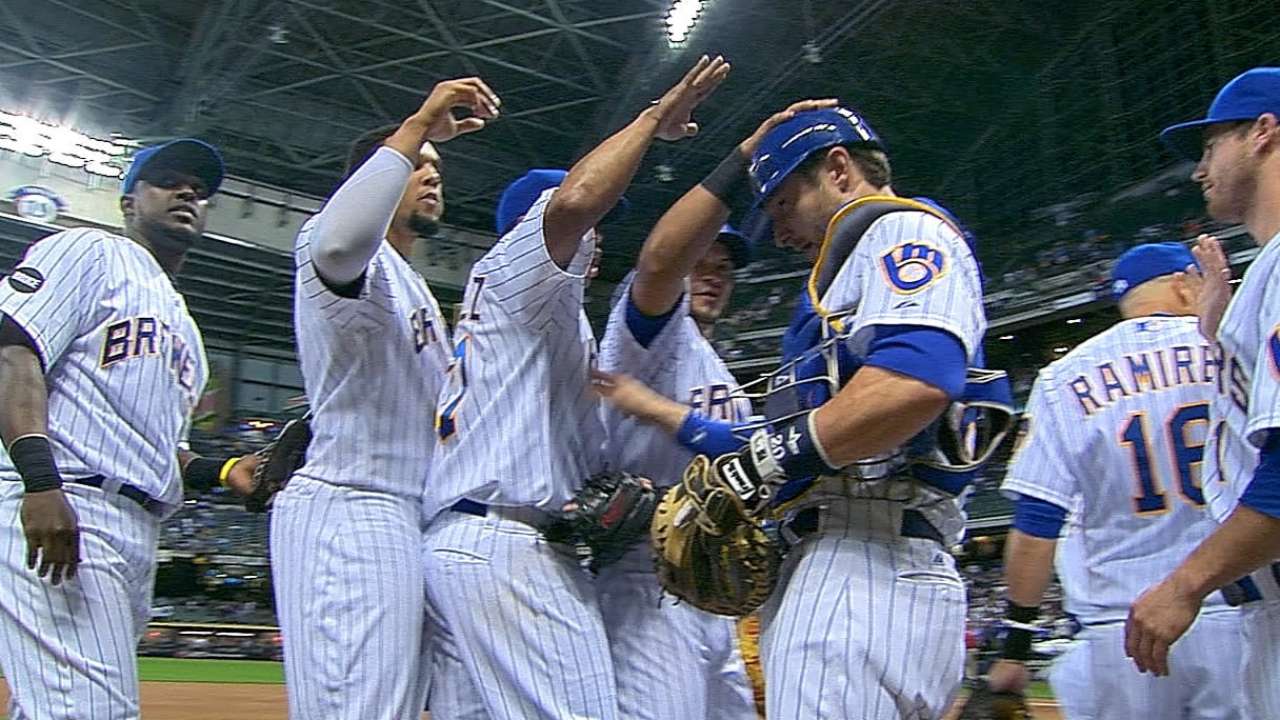 Milwaukee finally can exhale. The Brewers won one Friday night, turning away the Cardinals, 6-2, at Miller Park. Mike Fiers outdueled John Lackey and Scooter Gennett (three RBIs) and Khris Davis (two-run homer) drove the offense out of its slumber. To a screeching halt came the Cards' six-game winning streak and the Brewers' nine-game skid, leaving St. Louis three games in front of Milwaukee and five ahead of the Pirates in the National League Central. The Pirates and Cubs are scheduled to conclude their suspended 3-3 game on Saturday.
In the American League Central, James Shields lived up to his big-game reputation in the Royals' 1-0 decision over the Yankees. Kansas City pushed its lead to two games over the Tigers, who were swamped, 8-2, by the Giants after a two-hour, 42-minute rain delay in Detroit. Jake Peavy, in another stellar effort, claimed the win as San Francisco remained two games behind the NL West-leading Dodgers. Los Angeles edged the D-backs, 2-1, behind Dan Haren's 12th win and Kenley Jansen's 40th save. Matt Kemp launched his 18th homer.
IF THE POSTSEASON STARTED TODAY ...
American League
Wild Card: Mariners at A's
Division Series: Wild Card at Angels | Royals at Orioles
National League
Wild Card: Brewers at Giants
Division Series: Wild Card at Nationals | Cardinals at Dodgers
In a wild one in Minnesota, the Angels let a two-run lead get away on Trevor Plouffe's two-out, two-run double in the ninth but seized a 7-6 decision from the Twins on Erick Aybar's sacrifice fly in the 10th. Taking the AL lead, Mike Trout reached 100 RBIs for the first time before Aybar's 60th RBI, also a career best, won it. Kevin Jepsen saved it for closer Huston Street, who had been victimized by Plouffe.
The Angels moved six games in front of the fading A's and remained eight ahead of the Mariners in the AL West. The A's woes continued in a 4-3 loss to the Astros on Chris Carter's two-run homer off Jeff Samardzija, who also was victimized by Jon Singleton. Seven of Carter's 36 homers have come against the A's, his former club.
Powered by Kendrys Morales' two homers and No. 20 by catcher Mike Zunino in a 7-5 victory in Texas, the Mariners regained possession of the second AL Wild Card spot by a half-game over Detroit. The A's hold the first Wild Card, but their lead over the surging Mariners is only two games.
Kendrys goes yard twice and drives in four runs to earn tonight's #MarinersPOG. pic.twitter.com/8aakswxQLA

- Seattle Mariners (@Mariners) September 6, 2014
Like the Yankees, held to three hits by Shields and reliever Wade Davis, the Blue Jays let a chance get away to gain ground in the AL Wild Card hunt. The Indians and Yankees are 4 1/2 games behind the Mariners for the second Wild Card, the Jays five games back.
Losing left fielder Melky Cabrera for the season with a fractured pinkie finger, the Jays were feeling the blues after falling to the Red Sox, 9-8, in 10 innings on Yoenis Cespedes' fourth hit of the game, a walk-off single to deep center with the bases loaded. Cespedes has 93 RBIs, tied for fifth in the league.
Cespedes has driven in 20 percent of the runs the Red Sox have scored since they acquired him.

- Brian MacPherson (@brianmacp) September 6, 2014
Absorbing a 9-8 loss in 11 innings to the Phillies, the Nationals retained their seven-game cushion over the Braves in the NL East. In the NL Wild Card chase, the Giants lead the Brewers by three games, and the Braves are a game behind Milwaukee after falling to the Marlins, 11-3, in Miami. The Pirates are two behind the Brewers with the Marlins five back.
In support of Jarred Cosart's 7 2/3 strong innings, Marcell Ozuna had four hits and four RBIs, Donovan Solano matched his career high with four hits and Giancarlo Stanton added two hits and two RBIs, giving him an NL-high 104 to go with his league-best 36 homers.
"Everybody wants to get to the playoffs," said Cosart, who is 4-1 with a 1.99 ERA since coming to Miami on July 31 in a deal with Houston. "Everybody wants to do that. But if we focus on winning one game at a time, we'll have a better shot. We've kind of been up and down and playing about .500 ball. We're trying to get to the next step."
Comerica Park is the scene of a classic confrontation Saturday between two of the game's elite starters, the Giants' Madison Bumgarner taking on the Tigers' David Price in a duel of elite southpaws.
TODAY'S KEY GAMES TO WATCH (all times ET)
Giants (Bumgarner, 16-9) at Tigers (Price, 13-10), 1:08 p.m. Preview
The marquee matchup of the day. Bumgarner was 4-1, 1.57 in August while Price leads the AL in innings (210 1/3) and strikeouts (232).
Astros (Feldman, 8-10) at Athletics (Kazmir, 14-7), 4:05 p.m. Preview
An important game for the A's and Kazmir, who is in the midst of a career year but has been rocked in his past two outings by the Angels. Feldman is 4-2, 3.32 in his past six starts.
Royals (Duffy, 8-11) at Yankees (McCarthy, 8-14), 4:05 p.m. Preview
Both starters have been better than their records suggest. Duffy has a 1.33 ERA in his past three starts without a win to show for it. McCarthy has been solid in pinstripes, but Alex Gordon and Billy Butler have given him trouble.
Pirates (Liriano, 3-10) at Cubs (Doubrant, 3-4), 4:05 p.m. Preview
Liriano has been pitching well without run support. Andrew McCutchen and his Bucs are trying to stay within range of the Cardinals in the NL Central and the NL Wild Card spots.
Braves (Wood, 10-10) at Marlins (Eovaldi, 6-10), 7:10 p.m. Preview
Stanton takes aim at Wood as the Marlins try to close ground in the NL Wild Card race. Eovaldi hopes to avenge a 1-0 loss in his most recent start, against the Braves.
Cardinals (Lynn, 14-8) at Brewers (Lohse, 12-8), 7:10 p.m. Preview
A pair of tough-minded right-handers lock up as the Cards try to open up distance on the Brew Crew and Pirates in the NL Central. Scooter Gennett and Jean Segura have had success against Lynn, while Yadier Molina has been rough on Lohse.
MAGIC NUMBERS
To calculate a team's magic number, take the number of games it has remaining and add one. Then subtract the difference in the number of losses between that team and its closest pursuer.
AL East: Orioles 14 over Yankees
AL Central: Royals 21 over Tigers
AL West: Angels 17 over A's
AL Wild Card 1: A's 21 over Mariners
AL Wild Card 2: Mariners 22 over Tigers
NL East: Nationals 16 over Braves
NL Central: Cardinals 19 over Brewers
NL West: Dodgers 20 over Giants
NL Wild Card 1: Giants 19 over Brewers
NL Wild Card 2: Brewers 21 over Braves
TIEBREAKER SCENARIOS
A tiebreaker game will be played to determine a division winner, even if the tied clubs are assured of participating in the postseason. If a division championship tiebreaker is necessary, the head-to-head record between the clubs will determine home-field advantage. If the head-to-head record is tied, then division record will be the next tiebreaker.
If two clubs are tied for the two Wild Card berths, home-field advantage will be determined by the head-to-head record between the clubs. If the head-to-head record is tied, then division record will be the next tiebreaker.
Lyle Spencer is a reporter for MLB.com. This story was not subject to the approval of Major League Baseball or its clubs.