With Holland day to day, Davis locks down save
Royals closer dealing with tight right triceps; setup man closes out Shields' gem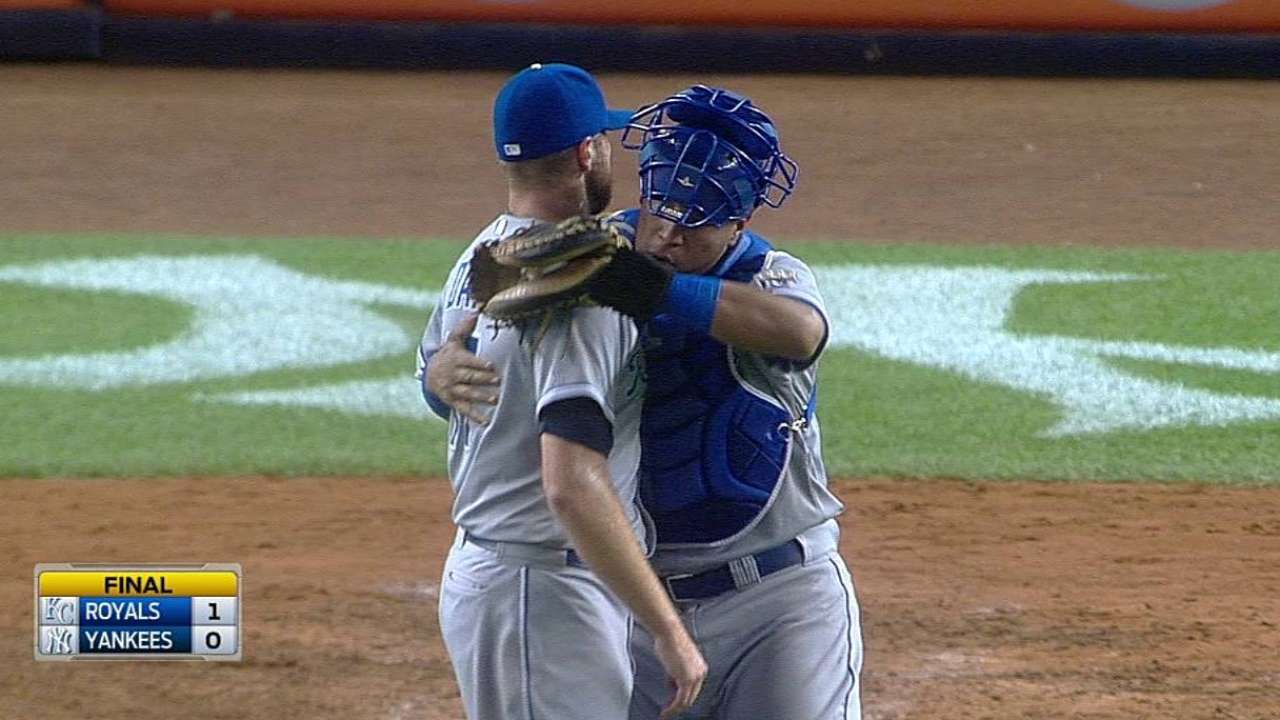 NEW YORK -- All signs pointed to closer Greg Holland finishing the final two outs of the Royals' 1-0 victory over the Yankees on Friday night. Instead, manager Ned Yost called on typical setup man Wade Davis, who struck out the final two hitters to earn his first career save.
After the game, Yost explained that in Holland's last save against Texas on Wednesday, the closer experienced some right triceps tightness, so he didn't want to risk anything with one of the game's best relievers.
"I'm not pushing with the guys we have down in the bullpen," said Yost. "[Holland] is still a little tight. [Kelvin Herrera, Davis and Holland are] instrumental in what we're trying to do, they're elite bullpen guys, and we've got to protect them."
Before Saturday's game, Yost said Holland was still stiff but doing better, and the Royals will continue to monitor how he feels after some routine throwing.
"Any time you get that stiffness and tightness in your biceps or triceps, it's like a warning, 'Hey, slow down a little bit,'" said Yost. "We've been using him a lot, these games dictate that we use him a lot. Hopefully, it's just a day or two or three recovery and [he'll] be ready to go. We'll judge it when he plays catch, see how he feels, and go from there."
The way Davis has pitched this season didn't make Friday's decision too much of a gamble, and the righty preserved the masterful 8 1/3 innings from starter James Shields.
"I think you've got to approach it all the same," said Davis, who was notified before Friday's game he could pitch the ninth. "You've got to go out there and give it three outs no matter what inning it is. It's all pretty close to being the same as far as who you face in the lineup, the situation of the game. If you've got a close game, you lock it down."
"I've got all the confidence in the world in Wade Davis," said Yost, who indicated Saturday he'd be comfortable with Kelvin Herrera or Aaron Crow closing out a game if needed. "He came in firing 97-mph fastballs, and you know he was up to the challenge."
The end result was more of what the Royals have come to expect from their bullpen, which has become increasingly more reliable throughout the season. It even made Shields reflect.
"It's cool. The two ex-Rays boys pitched the game off [Friday]," Shields said laughing. "It's good to see. I'm really proud of [Davis]. He worked really hard to get where he's at right now. He's really determined, really focused, and I guess that's one of the reasons [general manager] Dayton [Moore] brought him over here."
Jake Kring-Schreifels is an associate reporter for MLB.com. This story was not subject to the approval of Major League Baseball or its clubs.