D-backs react to GM shakeup
Gibby, players disappointed to see Towers go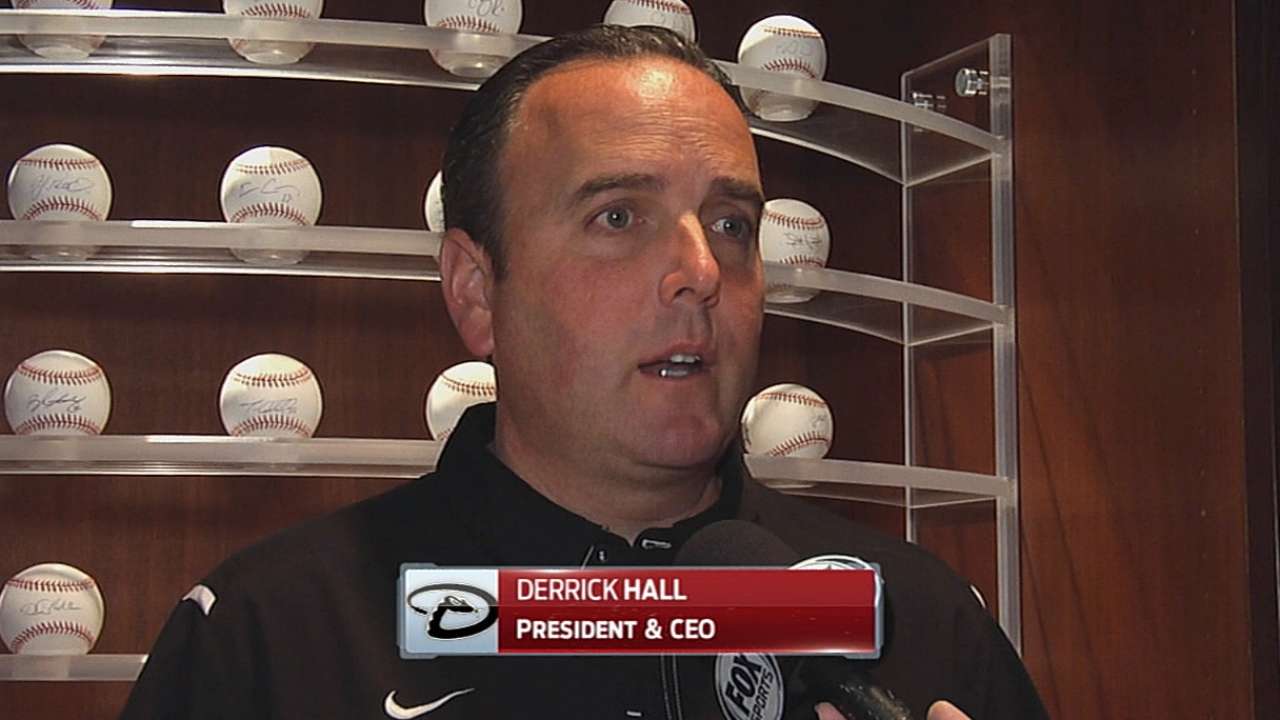 LOS ANGELES -- In the midst of a difficult, injury-riddled season, the D-backs relieved Kevin Towers of his duties as general manager on Friday, a move that manager Kirk Gibson called "disappointing."
Could that move also impact Gibson's status with the organization?
"I have no idea," Gibson said Friday at Dodger Stadium. "I come out here every single day, try to prepare the team to play good baseball, make the right plays, make the right reads, preach fundamentals that we started from Day 1. Nothing's really changed for myself and my staff or the team. The results haven't been good yet. I think we've played very competitively. We've had a good attitude about it. Guys continue to work to try to get better, and we'll do that until the last day in this season, and we'll see what happens from there."
D-backs chief baseball officer Tony La Russa announced the decision to restructure the staff on Friday, saying that Towers was offered a new role in the front office, heading up professional scouting.
Towers and Gibson have been at the helm of the team since 2010, when Gibson took over as interim manager in July and Towers took over as the franchise's fifth GM in September. Despite their close relationship, Gibson said he doesn't think Towers' fate is necessarily intertwined with his own.
"I don't think we're married," Gibson said. "We had a great working relationship. Obviously, we've developed a good friendship. He's a great baseball man, he's a man of integrity and he cares about people. So anybody would feel for a guy going through what he's going through. At the same time, I know he understands it. We all understand it."
The D-backs have gone 320-317 under Towers, winning the AL West in 2011.
But the D-backs entered Friday's series opener with the Dodgers 19 games out of first place at 59-81.
While the team had heard rumblings of a possible front-office change, the announcement caught a few players off guard.
"There's been a lot of stuff talked about, but the timing, I don't think anybody was expecting it when it happened," reliever Brad Ziegler said. "And maybe it was by design. They have the reasons for that, and I don't know. But we were driving on the bus last night, and it came across Twitter, and we were all like 'Oh, gosh, KT It sounds like K.T. got fired.'"
Added catcher Miguel Montero: "At the end of the day, you know, we didn't really play well. So obviously, they have to start making changes somewhere. It's unfortunate that the first change is him because he's such a great guy, such a good baseball guy."
Gibson said Towers was the kind of general manager who shows love for everyone who works for him -- and that the relationship was reciprocal. He said he hopes they can continue to remain united.
"Our goal, when we came into it was to win a world championship," Gibson said. "And I don't think that goal has changed for KT or myself or anyone in the organization."
Steve Gilbert is a reporter for MLB.com. Read his blog, Inside the D-backs, and follow him on Twitter @SteveGilbertMLB. This story was not subject to the approval of Major League Baseball or its clubs.