Offensive woes hang around for Bogar's debut
Rangers out-homered by Seattle, 4-1, in interim manager's first game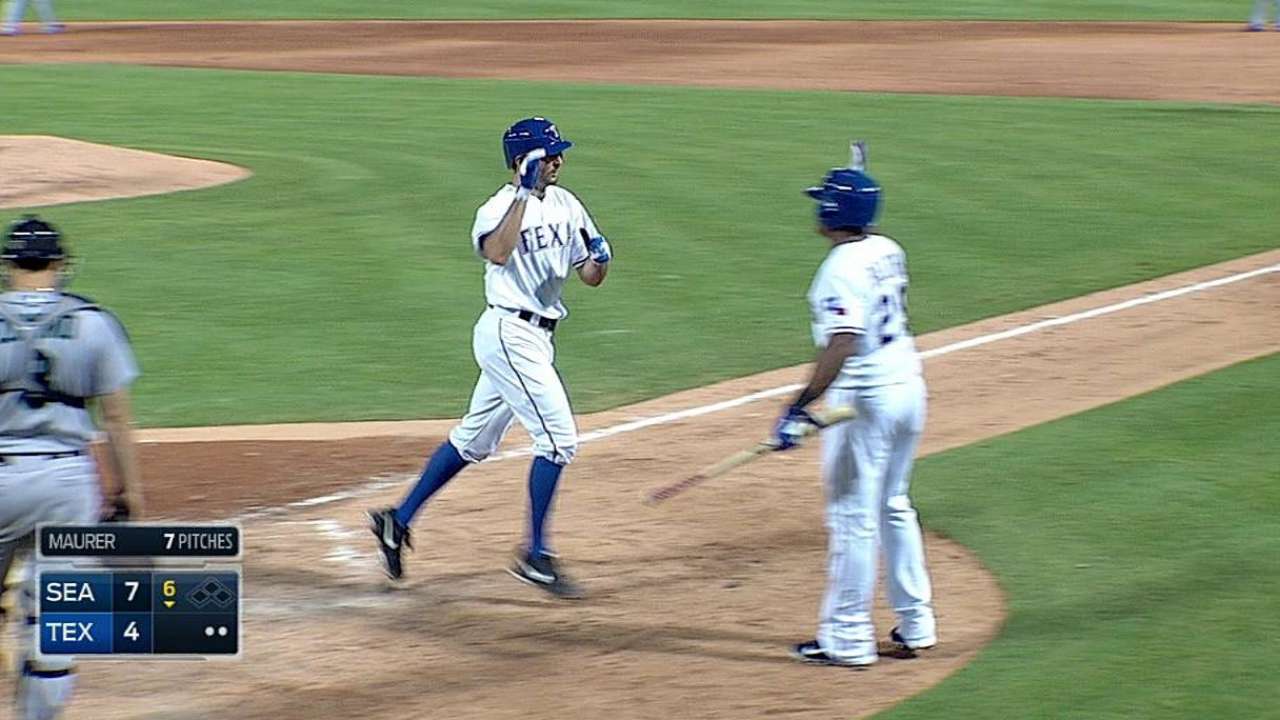 ARLINGTON -- The night was different. As new manager Tim Bogar pointed out, it has been eight years since anybody but Ron Washington was running the Rangers on the field.
But the same problems that the Rangers have been dealing with all season haven't gone away and that was evident again in a 7-5 loss to the Mariners on Friday night. The main problem for Washington was the massive number of injuries and Bogar got the appropriate welcome in his managerial debut.
The Rangers are now going to be without Alex Rios for at least a week and maybe longer because of an infection in the bruised right thumb that has bothered him almost since the All-Star break.
With Rios and Robinson Chirinos (stiff neck) sidelined, Bogar was left to go with rookie Tomas Telis in the No. 3 spot and Ryan Rua in the No. 5 spot in his first lineup. Both were playing in their eighth Major League game.
With Rios absent from a lineup that has been clobbered by injuries all season, the Rangers were simply out-powered by the Mariners. The Rangers out-hit their opponent, 13-7. But the Mariners smashed four home runs, including three off Rangers starter Scott Baker.
"I just didn't make my pitches when I need to," Baker said. "When I made good pitches, I got outs. When I made good pitches, I didn't get outs. If I had made better pitches, the results would have been different."
Kendrys Morales hit two home runs for the Mariners, while Mike Zunino and Brad Miller each hit one.
Adam Rosales had a two-run home run for the Rangers but the only other extra-base hit was a ninth-inning double by Leonys Martin. The Mariners have out-homered the Rangers, 16-12, this season.
That may not seem like much but in the past 13 years, going back to when Alex Rodriguez left Seattle for Texas, the Rangers had out-homered the Mariners 313-208 in head-to-head games. The Rangers also hit an average of 65 more home runs per season as a team than the Mariners beginning in 2001 until this year.
The Rangers, trailing from the second inning on, were able to get the tying run to the plate in the ninth. But Mariners reliever Fernando Rodney was able to get Adrian Beltre to fly out and Rua on a grounder to end the inning and spoil Bogar's debut.
"I actually enjoyed it from the fact that every one of those guys battled the whole game," Bogar said. "We gave up some runs early but we didn't give up. We just came up a little short. We just need to continue to get good at-bats with runners in scoring position and get hits with two outs."
That was a familiar lament of the previous manager, who abruptly caught his players by surprise when he resigned on Friday afternoon. Just like everybody else, the players had no indication that this was coming.
"We've got no choice but to play the game," Beltre said. "It was a little different, the first time playing without Wash, but we have to go on. Obviously we're used to Wash being there, but he's not, so we're trying to keep our minds in the game."
"It's tough," Rosales said, "It's a sad day. Wash has always been good to me and helped make me a Major League player. It will be difficult missing his passion he brings to the game every day. He is a manager you want to play for."
T.R. Sullivan is a reporter for MLB.com. Read his blog, Postcards from Elysian Fields, and follow him on Twitter @Sullivan_Ranger This story was not subject to the approval of Major League Baseball or its clubs.