Boxberger breaks strikeout record for Rays relievers
Right-hander K's 93rd, 94th man vs. O's, passes Howell's mark set in 2008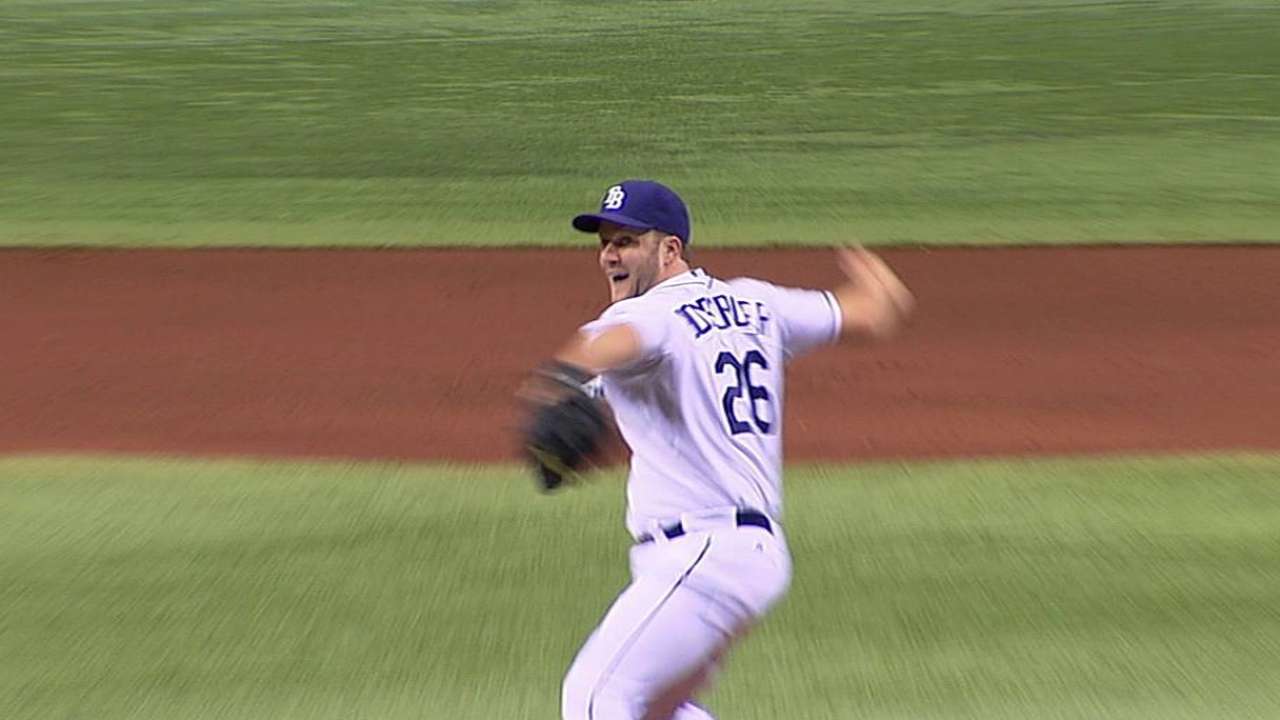 ST. PETERSBURG -- Brad Boxberger set the Rays' single-season record for strikeouts by a relief pitcher in Friday's 3-0 win over the Orioles at Tropicana Field.
Boxberger recorded his 93rd strikeout of the season in the eighth inning when he got Jonathan Schoop swinging on his first batter of the night. That surpassed J.P. Howell's mark of 92 set in 2008, which Boxberger had tied on Tuesday.
Boxberger also struck out David Lough to end the eighth, extending his own record to 94 K's -- and he hopes he's not done.
"It's still the beginning of September, so there's still a lot of time," Boxberger said.
Making up half of the Rays' lockdown "Jake and The Box" tandem along with left-hander Jake McGee, Boxberger has been one of the team's best relievers in 2014, sporting a 1.95 ERA. He has struck out more than 40 percent of the batters he's faced, and he is averaging 14.1 strikeouts per nine innings.
With veteran Rays relievers like Grant Balfour and Joel Peralta having struggled this year, Boxberger has been hugely important to the Tampa Bay bullpen.
"What he's done, it's kind of helped define it," manager Joe Maddon said. "The fact that Boxy surfaced, he really became this bridge."
The right-hander also has the second-most strikeouts of any reliever in the Major Leagues this year, trailing only the Yankees' Dellin Betances (124).
But what Boxberger is most proud of aren't those -- or any -- numbers.
"Probably just being able to establish a role in the bullpen and being able to stay here and help the team out this year," Boxberger said. "And then going into next year, being able to put together something to help us get through next year."
David Adler is an associate reporter for MLB.com. This story was not subject to the approval of Major League Baseball or its clubs.