Ziegler shut down for season
D-backs reliever set for left knee surgery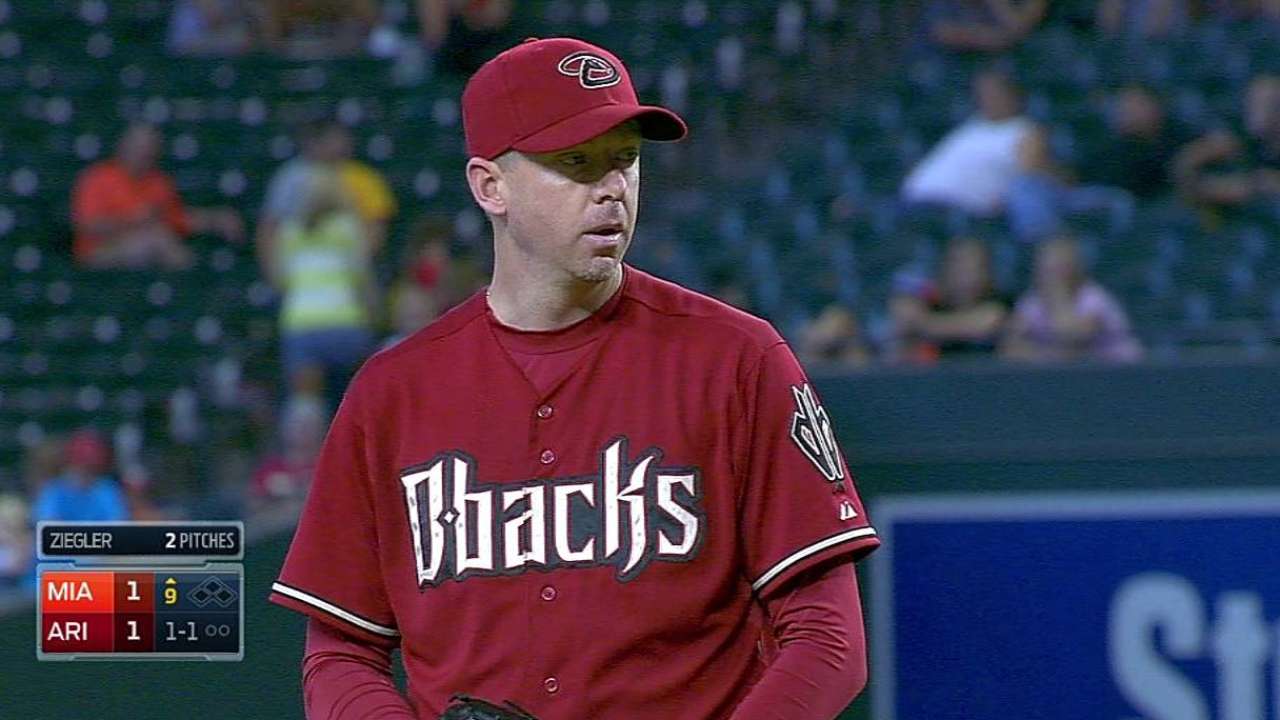 LOS ANGELES -- The D-backs have shut down Brad Ziegler for the remainder of the season after the reliever received a second opinion on his left knee Friday.
After seeing Dr. Neal ElAttrache in Los Angeles, Ziegler said that he will undergo surgery on his knee Tuesday in Phoenix to repair the fraying of cartilage just under his kneecap. Ziegler first felt the injury June 27 during conditioning drills but tried to pitch through it. He threw his last inning of the season Thursday night in a win against the Padres.
"It's frustrating," Ziegler said. "I kind of expected it for a while. When you get two MRIs that say essentially the same thing, it just kind of leads you to believe it's not going to get better without doing surgery. Kind of hoping we'd be able to put it off until the end of the year, but with the severity of it, with cartilage, it doesn't regrow, so if I keep wearing it down, it's only going to end up causing more damage down the road."
Ziegler said the best estimate for his recovery time is 12 weeks, but he said that could change depending on the results of the surgery.
Ziegler's numbers took a noticeable dip in the second half of the season. After posting 2.42 ERA in 48 1/3 innings before the All-Star break, the right-hander had a 6.27 ERA in 18 2/3 innings after. D-backs manager Kirk Gibson said he had noticed a change in Ziegler's delivery -- that he wasn't able to bend as low.
Acquired from the Athletics, Ziegler has been with the D-backs since the middle of 2011, posting a 2.63 ERA in 246 games and 229 1/3 innings.
"He's been very reliable," Gibson said. "Thrown a lot of games, probably as many or more the last three years as anyone in the game. When he came over here he was more of an against-right-hander guy, but we talked from almost Day 1, I wanted to use him against lefties and righties, and he developed his slider better and better changeup, and he's been very effective for us."
Ziegler, 34, said doctors sounded optimistic about his recovery. He's hopeful acting now will prevent further damage.
"After 34 years of being very active in my life, it's finally caught up to me a little bit," he said. "So I'm hoping to fix this, get it taken care of and hope it not be an issue for 70 years."
Michael Lananna is an associate reporter for MLB.com. This story was not subject to the approval of Major League Baseball or its clubs.