De La Rosa, Rox make two-year deal official
Left-hander is happy to call Coors Field home through 2016 season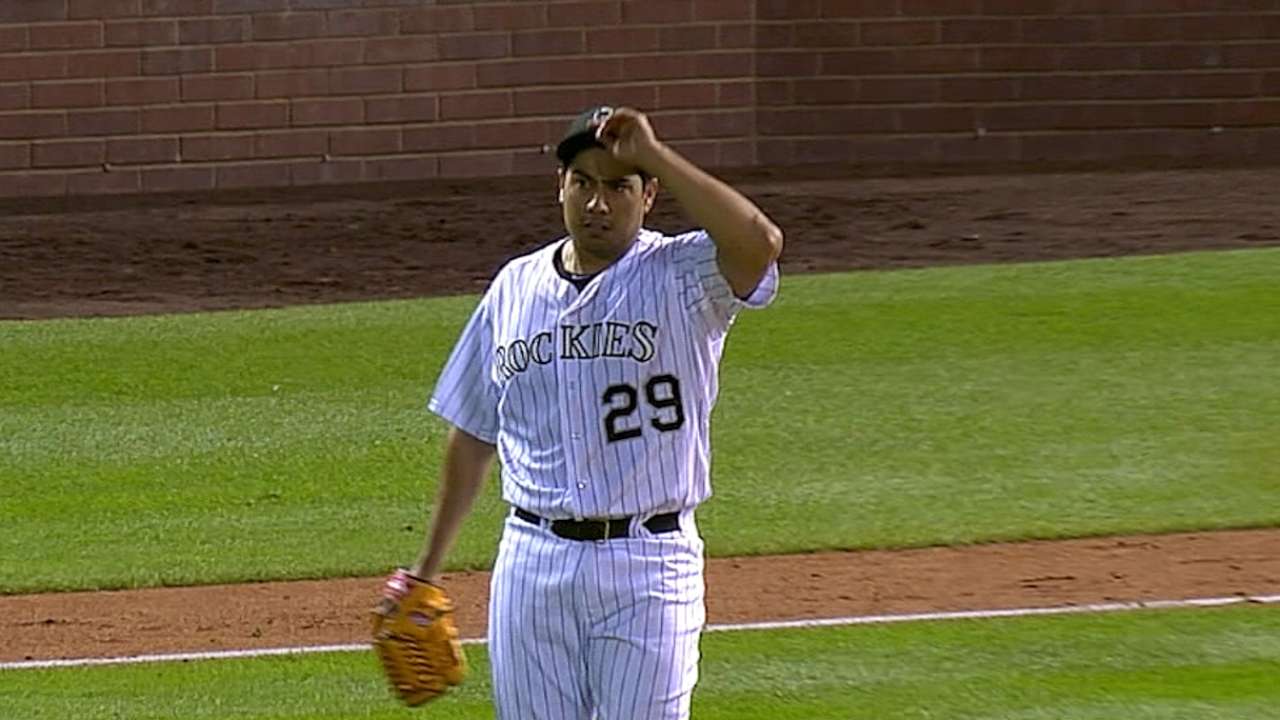 DENVER -- To most, $25 million is a lot of money. To the Rockies, it's a relative bargain to pay for a pitcher who means as much to their organization as Jorge De La Rosa does.
De La Rosa officially signed the two-year extension on Friday that will pay him $12.5 million per season and keep him in Colorado through 2016.
The 33-year-old lefty was set to be a free agent at season's end. But being the walking, talking Coors Field anomaly that he is, there was no chance the Rockies were going to let De La Rosa test the market.
"He actually prefers to pitch here," manager Walt Weiss said. "There's a short list of guys who can actually say that ... He should be the poster child for this place as a pitcher."
In his seventh season with the Rockies, De La Rosa already owns the Coors Field wins record at 44.
Coors Field, of course, is widely known as the most extreme hitter's park even after the implementation of the humidor. Yet time and time again, De La Rosa has proven he's immune to the altitude effect.
Since 2008, De La Rosa's .759 home winning percentage is second best to only Los Angeles' Zack Greinke.
"That's a pretty amazing statistic, especially when you think of the history of the park," Weiss said. "So to be able to keep Jorgy around is pivotal."
With many big-time pitching prospects coming through the pipeline the next few years, Weiss also knows it's pivotal to have a guy around as living proof that it's possible to succeed at Coors Field.
"He's a great example for the young pitchers," Weiss said. "Really, when it comes down to it, he's a pitcher that turned his career around at Coors Field. It's a nice selling point for us, but it's also great motivation for our young pitchers in the organization."
And when Weiss says "turned his career around," he means it. Before being acquired from Kansas City for cash considerations in 2008, De La Rosa had surrendered 111 earned runs in 178 2/3 innings for the Royals, good for a 5.64 ERA.
So when he went on to post a 4.03 ERA in 433 2/3 innings in a confidence-killing ballpark like Coors Field, it was a surprise to everyone involved, De La Rosa included.
"I never imagined this," De La Rosa said. "I heard a lot about this stadium when I was in rookie ball with Milwaukee. They said how hard it is to pitch here. But as soon as I got here and started pitching and throwing, it [wasn't] bad to me. It's more of a mental thing. I just try to do my job with balls and strikes."
De La Rosa has held strong to the belief that his breaking ball is actually better at home than on the road and his numbers support that theory.
The Rockies' ace has won nine of this 13 starts at Coors Field this season with 3.19 ERA. On the road, he's 4-8 with an ERA more than two full runs higher (5.29).
Luckily for De La Rosa, he no longer has to worry about calling anywhere but the Mile High City home for the next two seasons.
"I'm relaxed now, knowing where I'm going to be for the next two years," De La Rosa said. "This place really turned my career around."
Cody Ulm is an associate reporter for MLB.com. This story was not subject to the approval of Major League Baseball or its clubs.