Marlins back Cosart with season-best effort
Ozuna, Solano lead 18-hit attack behind righty's fourth straight win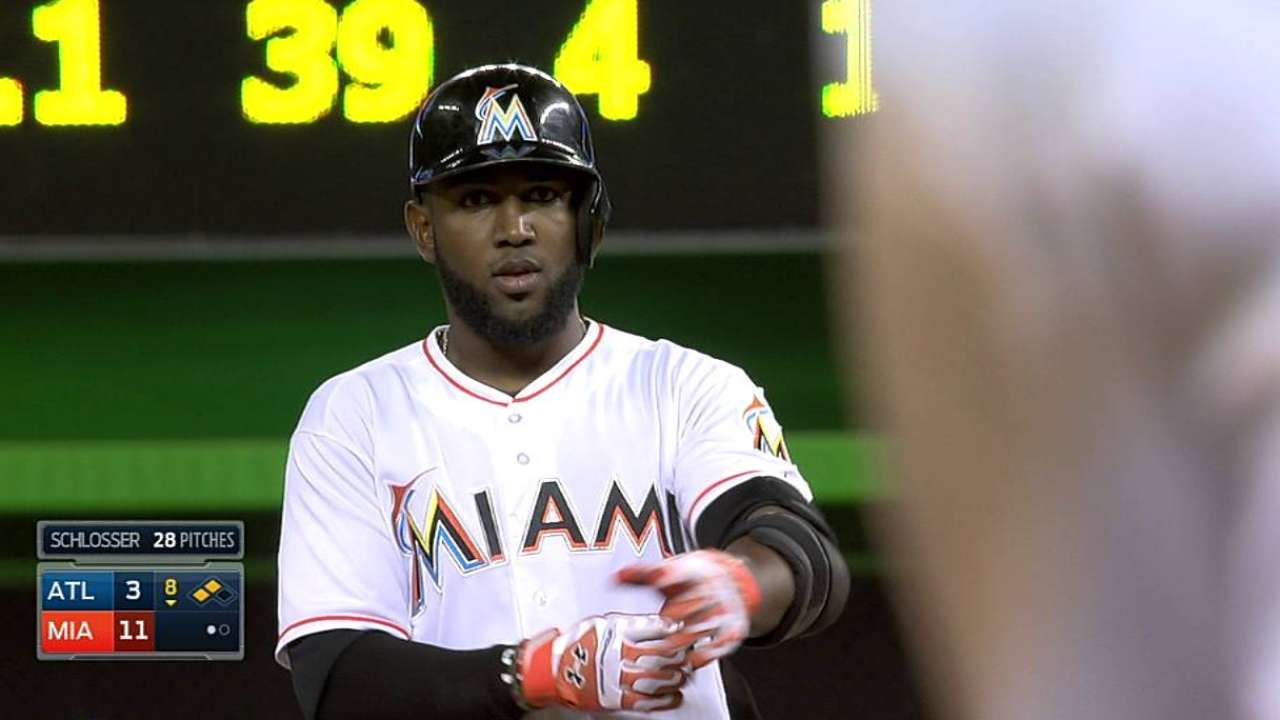 MIAMI -- Time is running out on the Marlins' playoff chances, but Jarred Cosart is doing his part to keep his team in the race. The right-hander allowed three runs and struck out six in 7 2/3 innings, collected a hit and scored a run in an 11-3 victory over the Braves at Marlins Park on Friday night.
Marcell Ozuna had four hits and four RBIs, Donovan Solano matched his career high with four hits and Giancarlo Stanton added two hits and two RBIs to pace a season-high -- and Marlins Park-most -- 18-hit attack.
It's crunch time for Miami, which took the series opener with Atlanta after dropping two of three against the Mets. But behind Cosart's fourth straight winning decision, the team crept back to 68-71 with 23 games remaining.
"Everybody wants to get to the playoffs," Cosart said. "Everybody wants to do that. But if we focus on winning one game at a time, we'll have a better shot. We've kind of been up and down and playing about .500 ball. We're trying to get to the next step. Hopefully I could do my part tonight."
Since being obtained from the Astros on July 31, Cosart has been Miami's most dominant pitcher. The 24-year-old is 4-1 (1.99 ERA) since the trade, and Miami is 5-1 in his six starts.
"That was fun to watch and see those guys put together strings of great at-bats," Miami manager Mike Redmond said. "Cosart did a great job putting up some zeros and giving us a chance to score some runs. We had a nice approach and were ready to put pressure on them early."
Cosart limited the Braves to one run on three hits and carried an eight-run lead into the eighth inning. Atlanta chipped away with a pair of runs off the right-hander, who has gotten through that elusive eighth just once this season.
"I think it might be I'm looking ahead, because I really want to finish the game," Cosart said of his third straight start exiting in the eighth inning. "So maybe just focus on executing more pitches."
In his last five starts, Cosart's ERA is 1.27 (five earned runs in 35 1/3 innings). He had a string of 49 2/3 innings and 207 consecutive batters without allowing a home run come to an end in the seventh. Freddie Freeman opened the inning with a homer to left-center.
It was the first blast Cosart surrendered as a Marlin, and first since July 7 at Texas while he was with Houston.
Cosart pulled off the difficult task of beating the same team in back-to-back starts. Last Saturday at Turner Field, he threw seven shutout innings.
"I feel like [Cosart] was better in Atlanta than he was tonight," Braves outfielder Jason Heyward said. "He was able to get a cushion early. With his stuff, it's not hard to get in a groove. Tonight was just one of those nights where he was able to get a lead early and then settle in."
The Marlins came out swinging, collecting 10 hits and scoring six times off Aaron Harang, who was lifted after 3 2/3 innings. Harang has given up five or more runs just four times in his 29 starts this season. Two of those games have occurred at Marlins Park.
Cosart got off to a fast start, retiring the side in order with two strikeouts in the first. Miami responded quickly, scoring twice in the first off Harang.
Christian Yelich doubled to open the inning, and he went to third on Solano's single to right. With one out, Casey McGehee ripped an RBI single to center, and Ozuna collected a two-out run-scoring hit.
The lead grew to four runs after Miami pushed across two more in the third inning. Stanton got things rolling with a single, and he stole his 11th base. With two outs, Ozuna and Justin Bour delivered back-to-back run-scoring doubles.
Miami kept the pressure on Harang in the fourth inning, again striking for two runs. Cosart helped his cause with a one-out single -- his second big league hit. With two outs, Solano singled and Stanton ripped a two-run double to right-center, ending Harang's night.
Stanton boosted his NL-leading RBI total to 104.
"It's really comfortable as a starter to go out there and jump on the other guy early," Cosart said. "I've been in the other boat too as what happened to Harang tonight. It makes you more comfortable."
Joe Frisaro is a reporter for MLB.com. He writes a blog, called The Fish Pond. Follow him on Twitter @JoeFrisaro. This story was not subject to the approval of Major League Baseball or its clubs.