Ankle sprain sidelines Vogt through weekend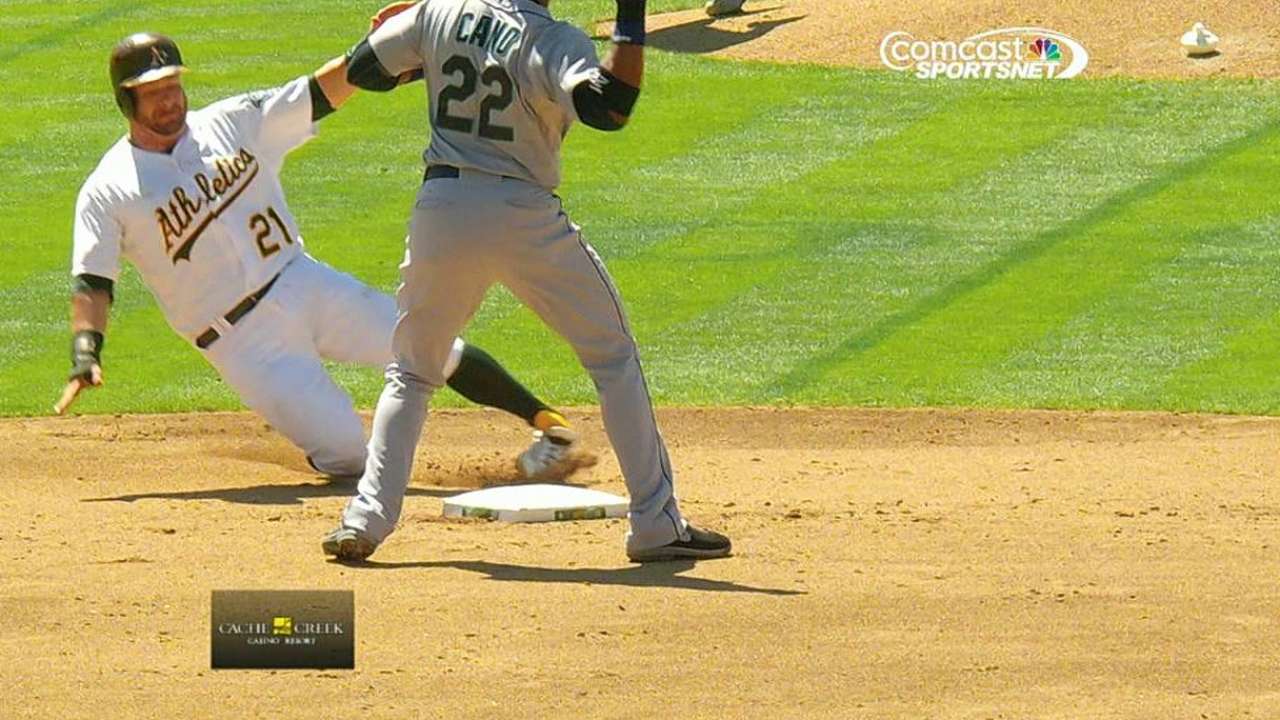 OAKLAND -- Stephen Vogt is not expected to participate in the A's three-game series against the Astros this weekend because of a left ankle sprain he suffered Wednesday.
Vogt won't even do any baseball activity in that span, instead sitting on the sidelines alongside a lengthy list of rehabbing A's. But the time at least affords him the opportunity to not only rest the ankle but his right foot, too. A bone bruise in the foot has prevented Vogt from catching for several months.
The A's have since played him at first base and in the outfield to keep his bat in the lineup, particularly when a right-hander is on the mound. Vogt is batting .316 with eight of his nine home runs against right-handers, though he's batting just .213 over his last 30 contests after hitting .361 over his first 44.
As a club, the A's have struggled greatly on offense of late, leading them to go against the grain Friday and start Adam Dunn against Astros lefty Brett Oberholtzer -- a typical no-no under Oakland's platoon system.
"We do have some guys who are still struggling a little bit offensively, but this is the time we need to come out of it some," said manager Bob Melvin, "and having [Dunn] in the lineup gets another guy in there who's swinging the bat well, even though it's against some of the fundamental things that we do."
Worth noting
• Closer Sean Doolittle (right intercostal strain) is slated to throw a bullpen session from flat ground on Saturday. From there, barring any setbacks, he'll progress to the mound, and Melvin said he'd expect Doolittle to throw at least one bullpen, probably two, before being activated from the disabled list.
• John Jaso ran the bases on Friday for the first time since going on the seven-day concussion DL. He could be activated soon and be available as a designated hitter or pinch-hitter.
• Infielder Nick Punto, who has been sidelined by a hamstring strain for more than a month, is feeling better to the point where he's expected to try to run at full speed this weekend.
Jane Lee is a reporter for MLB.com. This story was not subject to the approval of Major League Baseball or its clubs.