Selig honored at SU2C fundraising telethon
Commissioner and his wife Sue have been with organization since its inception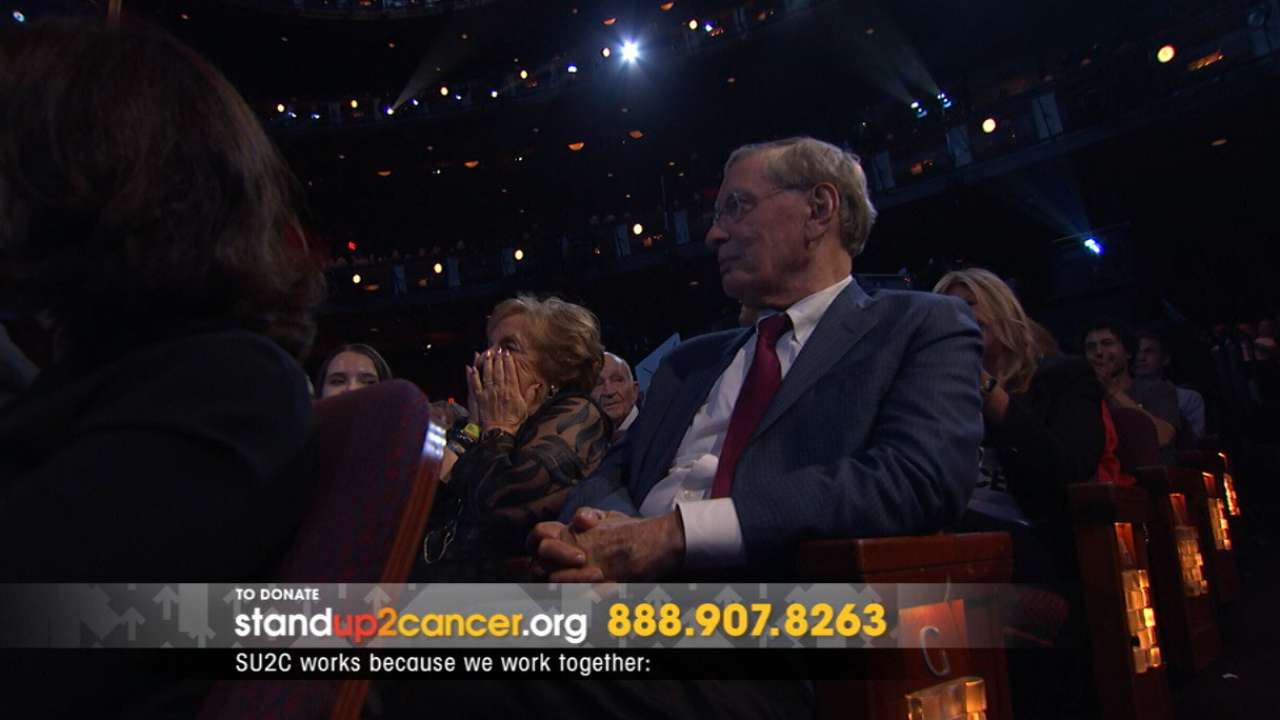 Commissioner Bud Selig and all of Major League Baseball were recognized during Friday's fourth biennial Stand Up To Cancer fundraising telethon seen just about everywhere, and the public continued to financially support 12 scientific "Dream Teams" that are trying to end a cancer plague that has claimed countless lives.
"A man is with us tonight who believes that baseball is more than a game; it is a social institution that can improve our communities," actor Jon Hamm said during the telethon inside the Dolby Theatre in Los Angeles. "He and his wife Sue and 30 Major League Baseball teams and owners have been with Stand Up To Cancer since the beginning. He is more than the Commissioner of Baseball, he is a cancer survivor and our friend. Please join me in thanking Mr. Bud Selig."
As part of the acknowledgement, the telethon unveiled a never-before-seen vignette featuring 2014 All-Stars standing up to cancer, including Derek Jeter, Mike Trout, Jose Bautista, Miguel Cabrera, Paul Goldschmidt, Adam Jones, Jon Lester and Giancarlo Stanton.
Those vignettes ended in a moving way, with Jeter holding up one of the now-familiar SU2C placards bearing the name of a Hall of Famer taken by cancer in 2014 and saying:
"All of baseball stands up for Tony Gwynn."
Stand Up To Cancer was backed from the outset in 2008 by founding donor MLB and supported year-round by MLB and its 30 clubs, with more than $40 million committed to date. Selig and his wife were honored at the 2010 event, as SU2C named its first Innovative Research Grant after the Seligs because at that time they were the first major donor to SU2C. Friday marked the fourth and final SU2C telethon to be staged during his tenure, given his retirement before next season.
The Seligs were in attendance Friday at the event, and he acknowledged the applause.
MLB has collaborated with Stand Up To Cancer on significant awareness-building efforts, including public service announcements, in-stadium promotion and fundraising events, and it has dedicated one World Series game to the initiative for each of the past three years.
During the last Winter Meetings in December, MLB and its clubs staged their second annual SU2C Auction that raised more than $120,000 over four days.
"I am proud of Major League Baseball's industry-wide support of Stand Up To Cancer and the many creative ways in which our game has contributed to its extraordinary mission," Selig said in December. "The auction at the Winter Meetings is particularly special because it was inspired by brave members of the baseball family who are among our peers. We hope to bring many joys of the game to our fans while advancing the vital work of our friends at Stand Up To Cancer."
The first three SU2C telecasts took place on Sept. 5, 2008, Sept. 10, 2010, and Sept. 7, 2012, and they were made available to more than 190 countries. Entering Friday's telethon, more than $261 million had been pledged to support SU2C's innovative cancer research programs.
All of Friday's donations for the telethon go to cancer research, awareness and education.
Since 2008, SU2C has funded the dozen Dream Teams of researchers and two translational research teams, as well as 26 young innovative scientists whose high-risk, potentially high-reward projects are aimed at ending cancer's reign as a leading cause of death worldwide. SU2C breaks down barriers that slow progress in finding an end to cancer in our lifetimes.
Celebrities who participated in this telethon included: Gwyneth Paltrow, Katie Couric, Reese Witherspoon, Pierce Brosnan, Jennifer Aniston, Halle Berry, Kiefer Sutherland, Ben Stiller, Will Ferrell, Mark Harmon, Rob Lowe, Eric Stonestreet, Jesse Tyler Ferguson, Tony Hale, Dane Cook, Kareem Abdul-Jabbar, Marg Helgenberger, Matt Passmore, Rob Riggle, Italia Ricci, Ethan Zohn, Bree Turner, Robert Downey Jr., Melissa McCarthy, Steve Carell, Sofia Vergara, Ben Falcone, Kevin Bacon, Anna Kendrick, Tony Goldwyn, Dave Grohl, Hailee Steinfeld, Josh Gad, Giada De Laurentiis, Jaime King, Mira Sorvino, Joe Manganiello, Jordana Brewster, Alison Sweeney, Amanda de Cadenet, Charlie Wilson and Diem Brown.
Each of them were part of the appeal to help build public support for SU2C's groundbreaking translational research that, according to SU2C, can provide patients with new therapies to save lives now. Special musical performances included: The Who, Jennifer Hudson, Lupe Fiasco & Common, Ariana Grande and Dave Matthews Band.
Paltrow and Joel Gallen of Tenth Planet Productions will co-executive produce the broadcast of the telethon, which is a program of the Entertainment Industry Foundation. Instead of the traditional phone bank staffed by celebrities, this telethon featured a "digital lounge" on the set, hosted by Couric. Stars in the digital lounge reached out to viewers via phone, Facebook, Instagram and other social media platforms through a new campaign called "We're Calling You."
Follow @SU2C on Twitter and Instagram, and like their page at facebook.com/su2c.
SU2C was founded on the belief that collaboration would play an integral role in advancing cancer research. To date, the organization has brought together more than 750 of the best and the brightest research scientists from 112 institutions in six countries to work together in order to save lives now. SU2C-funded researchers have planned, launched or completed more than 140 clinical trials.
Mark Newman is enterprise editor of MLB.com. Read and join other baseball fans on his MLB.com community blog. This story was not subject to the approval of Major League Baseball or its clubs.