Gomez's wrist healing faster than anticipated
Outfielder takes batting practice, may return to lineup against Marlins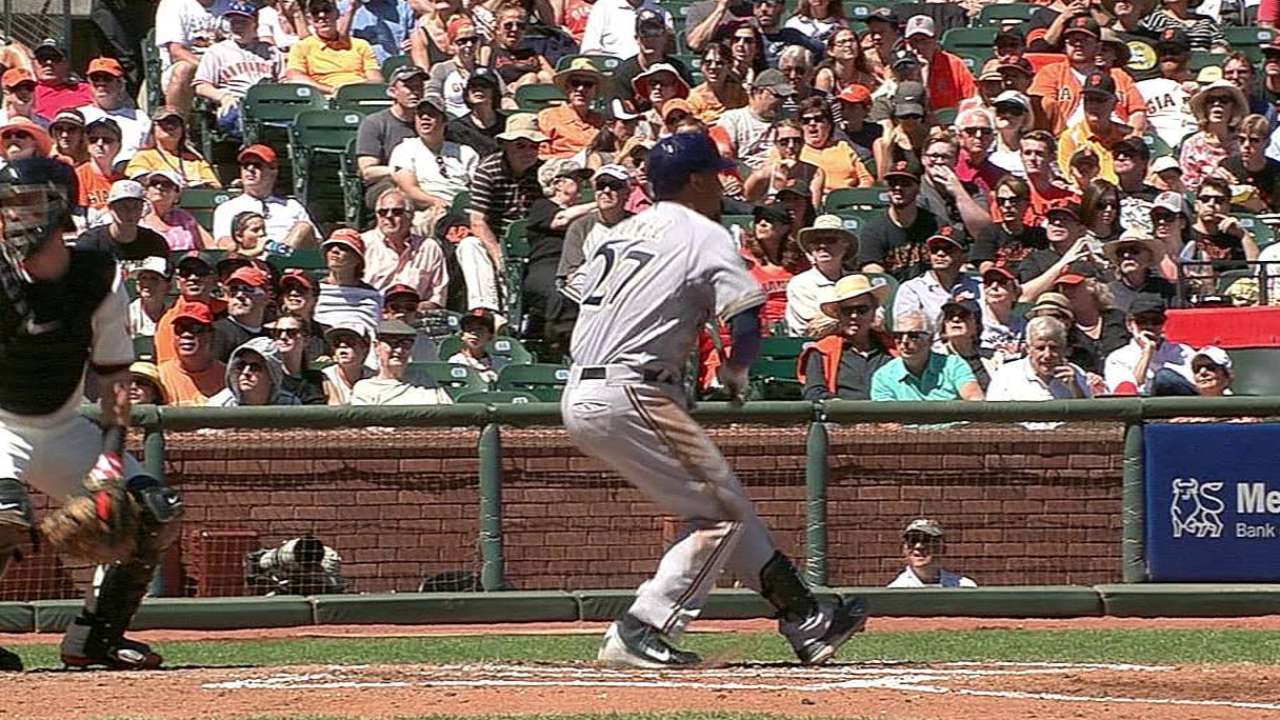 MILWAUKEE -- Carlos Gomez was back in the batting cage Friday a few days ahead of schedule, his sprained left wrist healing more quickly than the Brewers originally anticipated. He could be back in the Brewers' lineup early next week against the Marlins.
Without putting a specific timetable on Gomez's comeback, manager Ron Roenicke said things are moving "a lot faster than I initially heard."
Gomez was equally optimistic.
"Everything was good. Everything made progress," he said after taking swings in the cage Friday afternoon. "I hit, so tomorrow I'm going to hit again. Maybe Sunday or Monday, one of those days [he will be ready to play]."
Gomez felt a pop in his wrist during a Sunday swing at San Francisco, and the original plan shut him down for at least one week before he resumed baseball activities. But by mid-week, after an MRI revealed a sprain, Gomez was feeling better, and he was cleared to take swings Thursday after a visit with head team physician William Raasch. On Friday, Gomez played soft toss and took some swings in the batting cage against hitting coach Johnny Narron. On Saturday, Gomez plans to take batting practice on the field.
"He was maybe 50 percent today. It's what he can tolerate," Roenicke said. "We don't want him to do it again. He has to be confident when he's out there in a game. He needs to know he can swing -- hopefully not crazy -- but hard like he does and everything will be OK."
Getting Gomez to dial back will be difficult, since his hitting approach boils down to "swing hard." But Roenicke expressed confidence Gomez can do it.
"I've seen him do that and succeed," Roenicke said. "When he had his back issue, he was hitting the ball the other way and it was actually a really nice swing. I think he can tame it down some and I don't think it will hurt his game to do it. I don't think you can ask him to just go up there and swing easy, but instead of going up there and trying to hit it 500 feet, just take a nice swing and try to square it up -- like he does the first two or three rounds of BP."
Adam McCalvy is a reporter for MLB.com. Read his blog, Brew Beat, and follow him on Twitter at @AdamMcCalvy. This story was not subject to the approval of Major League Baseball or its clubs.