Scully 'overwhelmed' by Selig honor
Dodgers legend receives Historic Achievement Award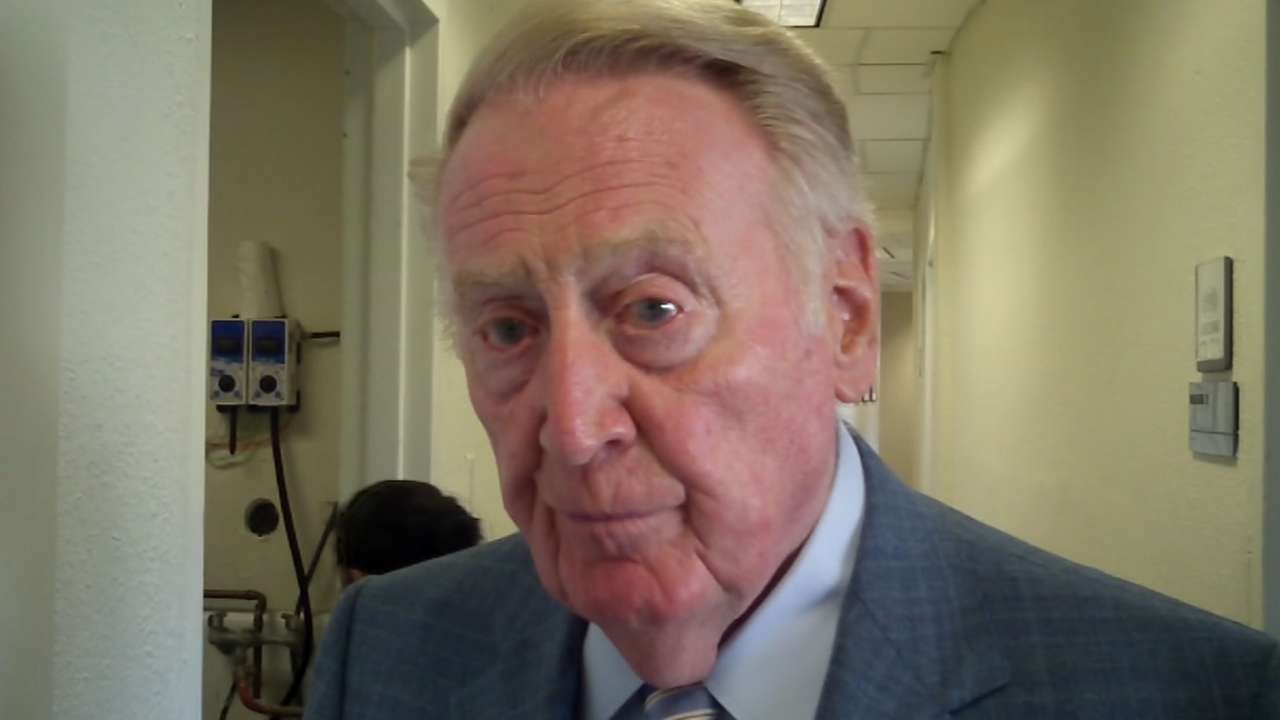 LOS ANGELES -- Vin Scully on Saturday said he was still "overwhelmed" after being presented the Commissioner's Historic Achievement Award by retiring Major League Baseball Commissioner Bud Selig on Friday.
Scully, the iconic Hall of Fame voice of the Dodgers in his 65th season, is the 14th recipient of the award and only the second non-player, joining Jackie Robinson's widow, Rachel.
"I was listening to the Commissioner reel off the reasons I got the award, and it was rather overwhelming in itself," Scully told MLB.com on Saturday. "I always feel awkward getting an award because in my heart and soul, whatever I've been given comes from God."
Before presenting the trophy to an emotional Scully, Selig said: "I thank him for a lifetime of extraordinary service to the Dodgers franchise. There's never been anyone better behind the mic. Hearing his voice makes me feel better. He's chronicled history, and now he's part of that history. From Koufax to Kershaw, he's represented the game beautifully.
"I think back on his career and everything he's done and seen. For somebody who grew up listening to the radio, that was my bond with baseball for many years. You have no idea what a privilege this is."
The honor caught Scully a little by surprise.
"I knew this much. I did a 45-minute interview with the Commissioner for MLB and he said he wanted to give you something but it won't be in front of the public," Scully said. "I figured I'd do the interview and he'd give me a watch. The last thing I thought is that he'd do it in a press conference.
"I was totally overwhelmed. It was the furthest thing from my mind. I was really overcome. I'm glad I didn't have to speak, I muttered something to him. I'm thankful I had a couple of hours before I had to go on the air. It blew me away. I don't mean to dismiss it, but I won't dwell on it. That's just the way I feel. I greatly appreciate it."
The award was created in 1998 to recognize accomplishments and contributions of historical significance. The previous recipient was Mariano Rivera last year.
Prior to the Scully announcement, Selig spoke at a luncheon for Dodgers employees and the club presented him with a $50,000 check for Stand Up To Cancer, as well as a gift of four original Dodger Stadium seats, signed by Sandy Koufax, Tommy Lasorda, Don Newcombe and Fernando Valenzuela.
In a news conference to announce the award, Selig also touched on issues ranging from the impasse over distribution of the club's new Time Warner regional sports network, SportsNet LA, to the bankruptcy that led to the club's sale from Frank McCourt to Guggenheim Baseball Management.
On the sale, Selig called the club's bankruptcy "a sad chapter for me," but "I'm damn proud of where [the franchise] is today."
"I regard baseball as a social institution with the responsibilities that come with it," he said. "For me, it's a quasi-public institution and you can debate on the quasi. The L.A. situation was very difficult, but all's well that ends well. This one really ended well."
On the new network, Selig said MLB has "done as much as we can do and will continue to do to break the impasse." He said the stalemate, which has limited availability of Dodgers telecasts in Southern California, while "regrettable and unfortunate" was not foreseeable.
"I'm sometimes very hard on myself and ask, 'What should you have done?'" he said. "But it's just one of those things that happens in life. I know how hard the Dodgers have tried and will continue to. Nobody is taking this for granted or lightly. It's been a great source of concern from Day 1."
He said he was optimistic a resolution will be reached so the dispute doesn't carry over into the 2015 season because "it's in no one's best interests. Some way, some day we will get this done."
Selig also said MLB Rule 7.13 on blocking home plate "like any rule, needs refinement" that likely will happen during the offseason. But he said there "actually has been very little controversy. I'm almost surprised by the lack of controversy. We've had very little complaints -- almost none."
Ken Gurnick is a reporter for MLB.com. This story was not subject to the approval of Major League Baseball or its clubs.