MLB.com Columnist
Richard Justice
Jeter's final days a chance to say thanks
Opportunity to have seen Yankees captain play is and was a treat for us all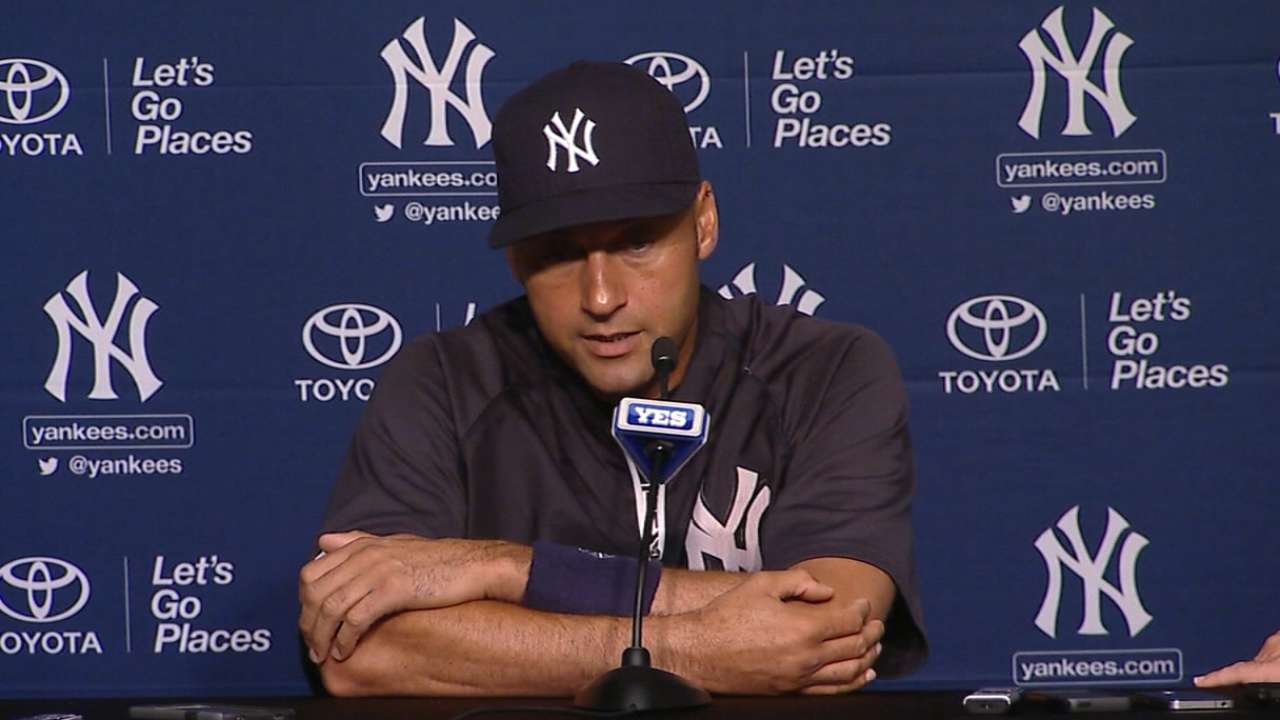 NEW YORK -- Thankfully, Derek Jeter seems to understand. He may not be comfortable with all of it. He certainly didn't ask for it.
Jeter may be going along because he understands it's more about us than about him. He has always had a sixth sense about this stuff.
Let's be clear right up front about that part of the deal. Jeter would prefer the focus be on the playing field, especially with the Yankees fighting and clawing to grab a playoff berth.
They've reached a point where every loss is crushing, where every inning feels as if it might decide the season.
This is what Jeter is most comfortable with. This is one of the things he's certain to miss the most. When players retire, they almost always talk about missing the same things. Camaraderie with the guys. Being part of a team.
And being in the arena, that is, playing for championships, fighting as a group and then winning or losing together.
Anyway, Jeter hasn't asked for any of the tributes that have already taken place this season, or the ones remaining. He surely didn't need the gifts, even though he has been gracious about them. As for the various tributes, he's obviously accustomed to praise by now.
There's something else at play here. This is our opportunity to tell Jeter thank you for these 20 seasons. We'll attempt to capture every moment of these last few weeks in our hearts and minds.
Some of us never saw Ted Williams or Joe DiMaggio play. But we know people who did. All these years later, there's still reverence in their voice. To see someone perform at the highest level is an amazing thing.
That's how it has been to watch Jeter play baseball. We're the lucky ones because someday we'll tell the grandkids what that was like. He might just be the greatest player who ever lived. No, I don't mean he's better than Babe Ruth or Hank Aaron.
I mean that if you lined up all the things that help define a player -- winning, playing well, representing the franchise honorably -- there has never been a better player than Jeter.
He took pride in every aspect of the game, from practicing that little flip throw that saved a playoff series in Oakland to knowing precisely where to stand at shortstop for this hitter or that one.
Jeter has always played with a certain dignity. He hurries but he doesn't rush. He's always under control. He has never seemed overmatched. To be a baseball fan now is to appreciate how seriously he took his craft.
In Jeter's 20 seasons, he has been a regular guest in our home each October. He's the last active player from five championship clubs, and to Yanks fans, he represents the best memories they'll ever have.
So, yes, a lot of this baseball season has been devoted to honoring this incredible player. This is us, not him. If you've got Jeter fatigue, that's on you.
Through it all, Jeter has been the same guy he has been for the last 20 years. He has said the right thing and shown his appreciation at every turn.
Jeter seems occasionally uncomfortable with the additional attention, but he hasn't complained, either. He has, as always, been gracious with his time and cautious with his words.
One of the more remarkable things about this guy is that in 20 years in the world's largest media market, he has had virtually no missteps. Maybe that's one of the things people like so much about him. He has never given anyone a reason to dislike him.
You see it in places like Boston, where their instincts tell them to boo this guy the moment he steps on the field. They can't do it. They do boo sometimes, but it's halfhearted. Even New England can't hate Derek Jeter.
So as the Yankees honor Jeter on Sunday, it's not because he wants or needs the attention. Instead, it's our way of telling him how much we appreciate both the kind of player he has been and the kind of man.
We'll wonder if we'll ever see another as good as Jeter has been. We'll wonder what watching the Yanks will be like without him. In another time and place, Yankees fans probably had the same thoughts when DiMaggio and Mickey Mantle departed.
What they learned is that other players come along. Some of them are very good players, too. Some of them win championships.
But there will never be another Jeter. There's no way we can fully tell him how much we appreciate the honor of watching him. But we'll try anyway. We just have to. We want him to know.
Richard Justice is a columnist for MLB.com. Read his blog, Justice4U. This story was not subject to the approval of Major League Baseball or its clubs.