Miller tosses off mound, participates in fielding drills
Lefty reliever believes he is ready to return from left leg cramp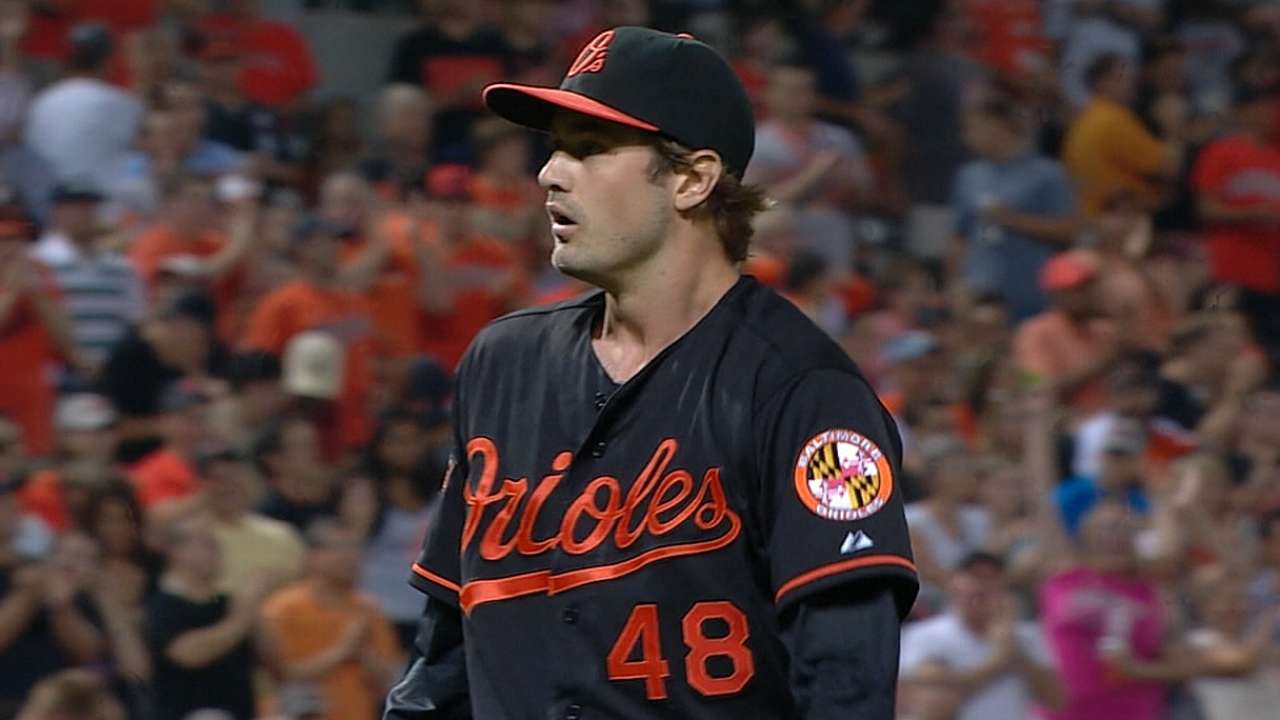 ST. PETERSBURG -- Lefty reliever Andrew Miller threw off the mound on Friday for the first time since he experienced a cramp in his left leg on Monday and limped off the field in the eighth inning against the Twins.
"It felt real good; I think everybody is happy with where we've come," said Miller, who joined the Orioles in a trade with the Red Sox at the non-waiver Trade Deadline on July 31. "I should be ready to go."
O's manager Buck Showalter preferred to take a more coy approach to the 29-year-old Miller's availability.
"We'll see what the game brings," Showalter said.
In addition to his bullpen session, Miller also went through a series of fielding drills to test his left leg.
"I feel like they ran me through the gauntlet out there and I survived, so I should be ready to go," Miller said.
Speaking after his bullpen session was concluded, Miller also said the injury was not nearly as serious as some feared.
"We thought it was pretty minimal, and we still think that," Miller said "It pretty much grabbed on my last pitch. I wouldn't necessarily call it a strain or pull or even a cramp. It was way below that. Just a pretty minor thing."
Miller, who broke into the Majors with the Tigers in 2006, spent a month on the disabled list with a strained left hamstring with the Red Sox in '12.
"It's probably somewhat related," Miller said. "I'd imagine it has something to do with either the way I pitch or that part of my body or something. But ultimately, I knew it was nowhere near the severity of the last one."
• The Orioles have signed Cuban pitcher Lazaro Leyva, pending a physical and confirmation of his age. Leyva will report to the fall instructional league next week in Sarasota, Fla.
Jim Hawkins is a contributor to MLB.com. This story was not subject to the approval of Major League Baseball or its clubs.