Grandy breaks out after Collins tweaks lineup
Slumping outfielder drives in four from sixth spot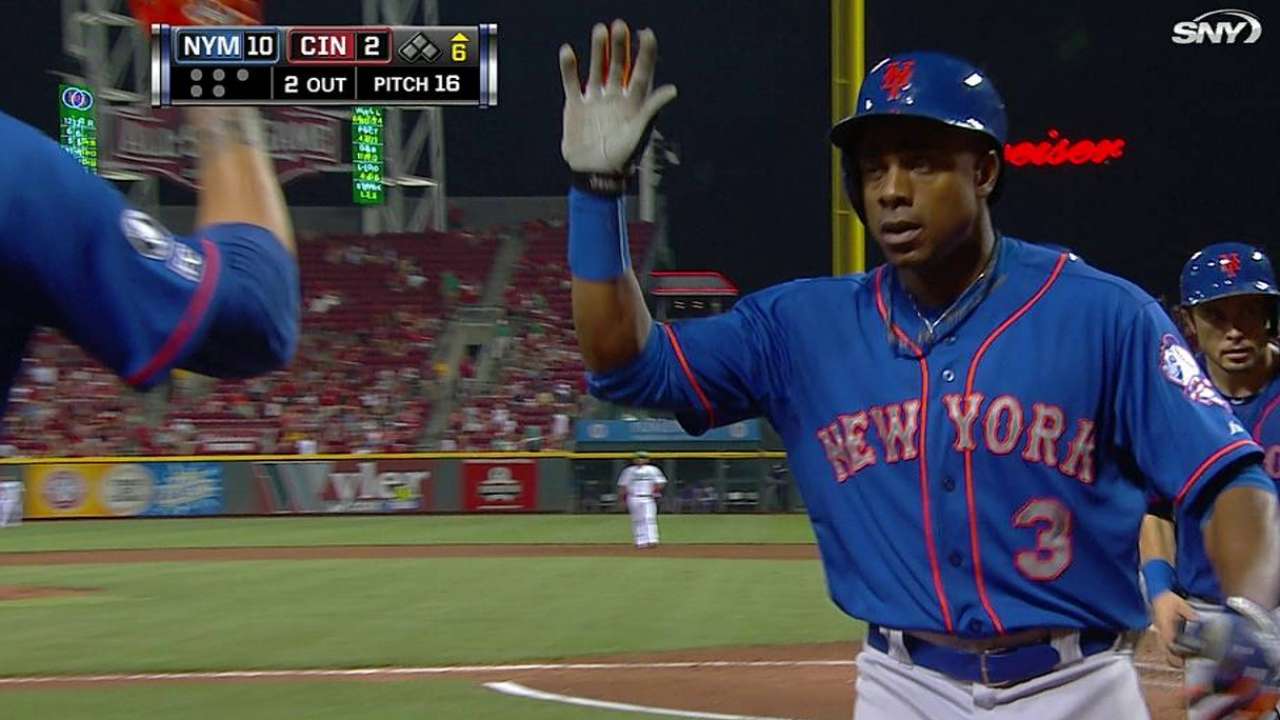 CINCINNATI -- The Mets' offense has struggled for most of the season, and New York entered Friday's series opener against the Reds at Great American Ball Park batting .237 as a team. But over their previous six games, the Mets had posted a .269 clip. Manager Terry Collins filled out his lineup card on Friday accordingly, shuffling a bit based on who's hot and who's not.
New York responded and belted a season-high five home runs en route to a 14-5 win over the Reds. The 14 runs were a season high, and the Mets tied a season high with 18 hits in the win.
Collins penciled the still-struggling Curtis Granderson into the sixth spot in the batting order after Granderson didn't play on Wednesday, saying he plans to bat the veteran down in the order for a few games. The sixth slot is one in which Granderson had only had 10 plate appearances in 2014, compared with a combined 509 plate appearances from the first, second and cleanup spots in the lineup.
Granderson snapped an 0-for-18 skid with an RBI double in the first inning and hit a three-run homer in the sixth to tally a season-high four RBIs. But he said his spot in the batting order didn't make a difference.
"I've batted in every spot in the lineup over the course of my career, so to get moved up, down, middle, out, it's nothing new to me," Granderson said. "I just always check the lineup and see where I'm at every day."
"You hope [Friday's performance] really jump-starts him," Collins said of Granderson. "He's really struggled and he knows it, and he's really worked hard. To hit a home run like that I think is really going to get him going. I talked to him before the game about whether he had any issues moving down in the lineup, and he said, 'Absolutely none.' And that's his personality. You can put him wherever you want to put him, and I hope a lot of the other guys feel that same type of [way]."
Collins also had Matt den Dekker, who entered Friday batting .367 (11-for-30) with a .939 OPS over his previous 10 games, batting second for the second consecutive game. den Dekker went 0-for-4 with two walks.
"I think the changes he made [when he was sent down to Triple-A] -- he got a taste of what it takes to hit in the Major Leagues, and you realize you need to make adjustments," Collins said of den Dekker before the game. "He went down and he made the adjustments, and it's certainly paid off the way he's swinging right now. While he's hot, we'll leave him up there. Kind of like what's happening at the top of the order, and hopefully it continues."
Manny Randhawa is an associate reporter for MLB.com. This story was not subject to the approval of Major League Baseball or its clubs.