Spangenberg trying to avoid concussion risks
Padres rookie is being proactive by eliminating dangerous slides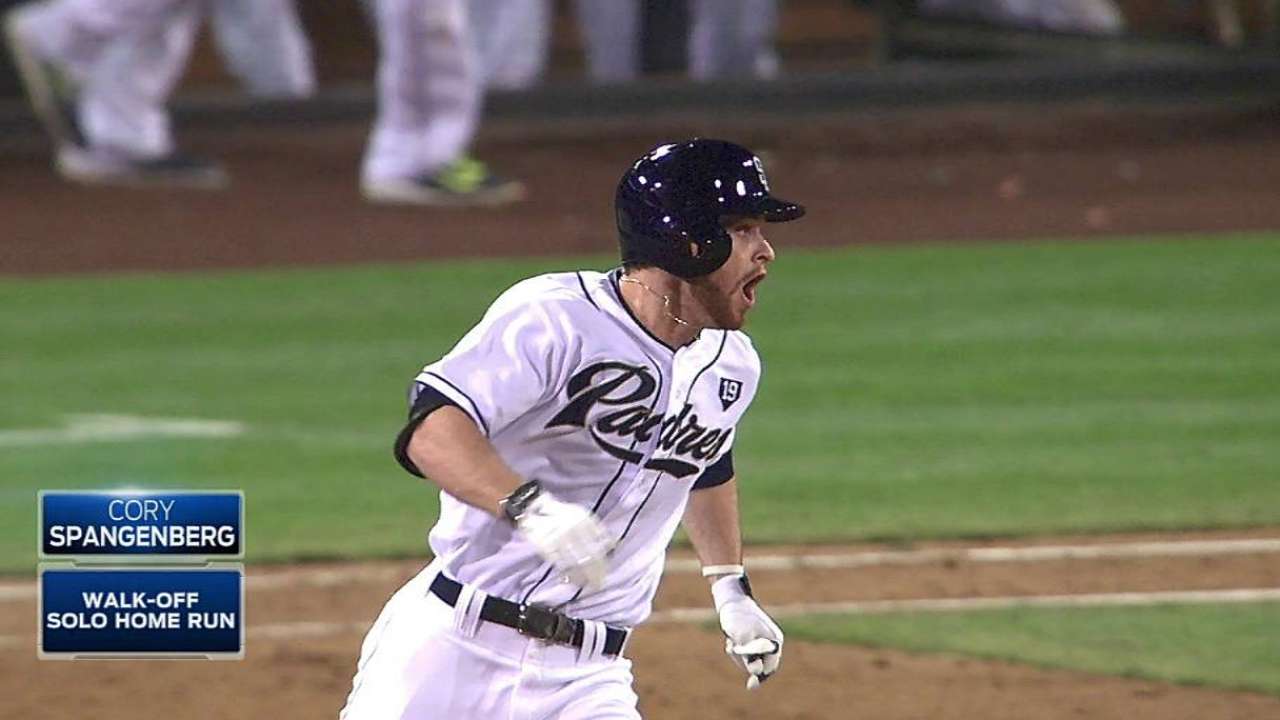 DENVER -- After missing significant playing time over each of the past two seasons due to concussions, Padres' rookie infielder Cory Spangenberg wears a mouth guard when he plays and he has vowed to never again slide head first.
In his first four games with the Padres, Spangenberg has avoided any potentially harmful slides and he will continue to be vigilant moving forward, beginning on Friday in the opener of a three-game set against the Rockies.
On April 15, while playing for Double-A San Antonio, Spangenberg sustained his second concussion in as many years during a head-first slide into second base.
"I slid into second base and took a knee to the head," Spangenberg said. "It happened in the first inning and I stayed in the game. I was a bit dizzy and lightheaded, but finished the game. After the game, I told the trainer. I felt the same [symptoms]. I guess it was wishful thinking."
Spangenberg recognized the symptoms from the previous summer when he missed six weeks after sustaining his first concussion, though this wasn't from a slide.
Spangenberg was struck in the back of his head with a ball while playing catch with a teammate. He had what he called a splitting headache at first, one that wouldn't go away. He never thought he would miss so much playing time, but the concussion symptoms were slow to go away.
The Padres were cautious with Spangenberg -- last year and especially this time around. He sustained the concussion in mid-April and he didn't appear in a game until June 25 when he played for the team's Arizona League entry, before eventually working his way back to San Antonio.
Spangenberg is hopeful concussions are part of his past.
"You heard a lot about concussions, all the studies that go into them and you hope it doesn't happen to you," Spangenberg said. "For me, I hope it doesn't happen again."
Spangenberg wasn't in the starting lineup on Friday, as he came into the series opener batting .300 in his first 10 at-bats in the Major Leagues with one home run and three RBIs while seeing time at third base and second base.
Corey Brock is a reporter for MLB.com. Keep track of @FollowThePadres on Twitter. This story was not subject to the approval of Major League Baseball or its clubs.