MLB.com Columnist
Mike Bauman
Fiers just the man Brewers needed to play stopper
Right-hander throws sixth straight quality start to end Milwaukee's skid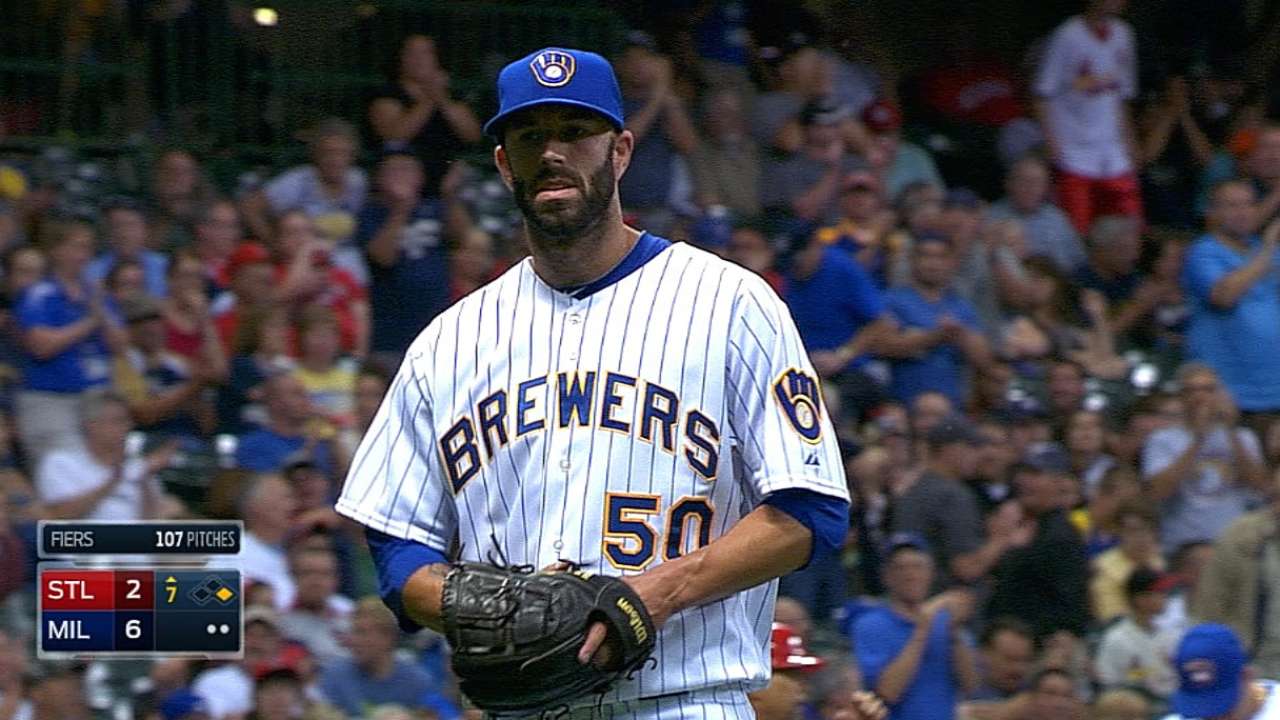 MILWAUKEE -- At this point, Mike Fiers deserves a key to the City of Milwaukee. Or at the very least, a key to a brewery.
The Milwaukee Brewers had suffered a collective collapse over the last nine games. Everything; pitching, hitting, defense, all of it coming up short. In the process, the Brewers had been outscored, 58-18, in those nine losing efforts. Their 150-day stay in first place had ended and they found themselves four games back of the St. Louis Cardinals in the National League Central.
Even though this losing streak had been a true team effort, what was missing the most was a shutdown starting pitching performance. Too often during this streak, Milwaukee's starters had put the team in large early deficits that a struggling offense could not overcome.
This is where Fiers came in Friday night at Miller Park. Another loss to the Cardinals would have put the Brewers five games back in the division race and would have taken the losing streak to double digits. An already grim situation could have taken another large step toward calamity.
But Fiers wouldn't let that happen. He worked 6 2/3 innings, limiting St. Louis to two runs. Scooter Gennett did the heavy lifting for the lineup with three runs batted in, Khris Davis had a two-run home run, and Milwaukee was back in the victory column, 6-2.
Fiers has been terrific since being called up from Triple-A after Matt Garza went out with an oblique injury. Garza has rejoined the rotation, but it would be impossible to remove Fiers at this point.
In his six starts, Fiers is 5-1 with a 1.87 ERA. All of his starts have been quality starts. Fiers has worked seven or more innings in four of the six starts. In an outing against the Cubs, he only went six innings, but he struck out 14.
Fiers' work against the Cardinals on Friday night was fairly typical. He painted the corners with his fastball and kept the Redbirds off balance with a big curveball. And the Cards had been tearing it up, having won their last six straight, scoring 36 runs in the process.
But on this night, Fiers became the stopper for this rotation and this club. After nine straight losses, the quality of his pitching helped the Brewers break the losing habit.
"Another great outing for him, one we needed badly," Milwaukee manager Ron Roenicke said. "I thought he threw the ball great. And he did lay down two really good [sacrifice] bunts."
That was helpful. Fiers' sacrifice in the third inning put runners on second and third and set the table for a two-run single by Gennett. In the fifth, another sacrifice by Fiers put Jean Segura on second. Segura scored on a double by Gennett.
The bunting is a plus. The core issue is how good Fiers has been on the mound.
Fiers has been the Brewers' most consistent starter over the last month. And if there was ever a "must" game, Friday night's contest looked a lot like one of those.
"He has pitched outstanding for the time he has been up here," Roenicke said.
This game may have meant even more than usual to Fiers. The Brewers are wearing patches commemorating Bruce Seid, their director of amateur scouting, who died earlier this week at age 53.
Fiers was the first of Seid's Draft choices to reach the Major Leagues, arriving in 2012. Fiers, never a hard thrower, was selected in the 22nd round of the 2009 First-Year Player Draft. Fiers didn't automatically project as a can't-miss prospect, but he had Seid's unwavering support. That meant a lot to Fiers' career, so wearing the patch in Seid's honor also meant a lot to Fiers.
"He was a guy that had confidence in me to get to the big leagues," Fiers said. "He always put in such a good word and he always had the utmost respect for me. He knew that I could pitch and he saw that in me. Him telling them to get me up to the big leagues helped my career and it helped my life.
"He had a big contribution in me pitching here tonight."
On this night, when Milwaukee desperately needed a victory, Fiers returned that contribution with interest.
"We needed a win, and I just wanted to provide them with a quality start and give our team a chance to win," Fiers said. "It's a big relief, but we've got more work to do."
Fortunately for the Brewers, they have Mike Fiers in the rotation to do some of that work.
Mike Bauman is a national columnist for MLB.com. This story was not subject to the approval of Major League Baseball or its clubs.