Fiers, Gennett help Crew snap skid, gain on Cards
Right-hander allows two runs over 6 2/3 innings in a much-needed win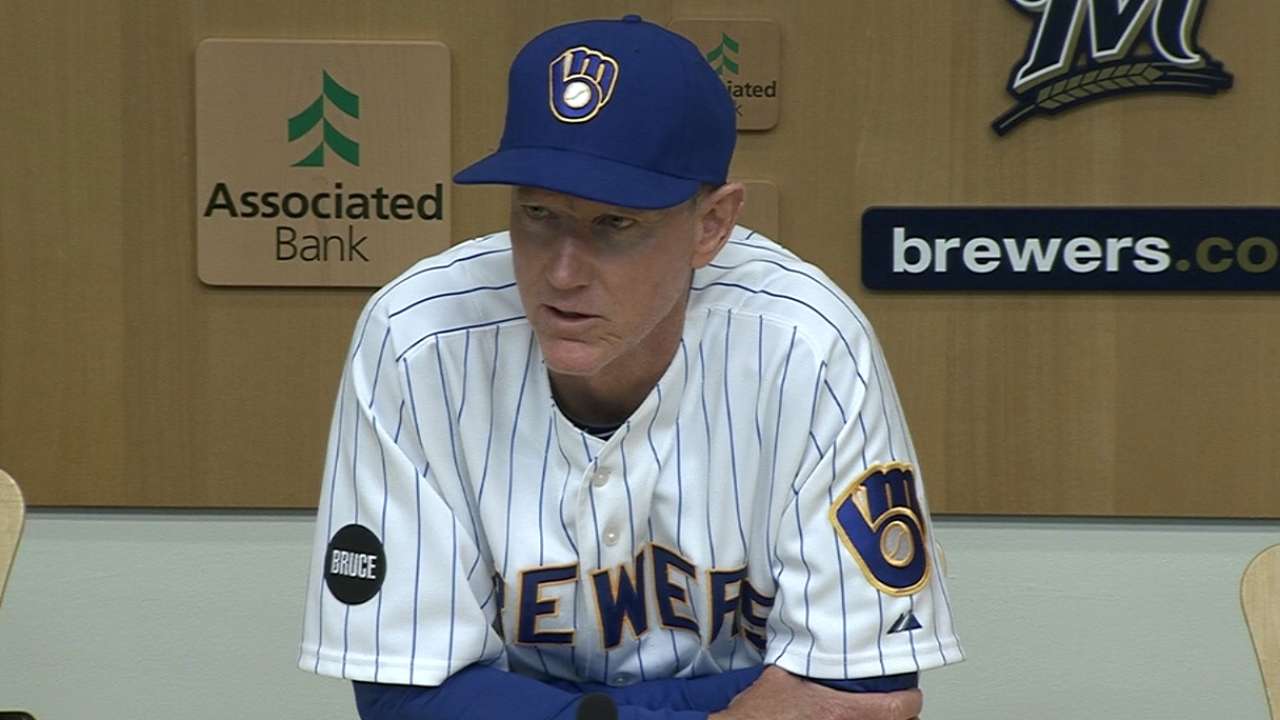 MILWAUKEE -- Finally, something for Brewers fans to cheer about in September.
Mike Fiers pitched another gem, Scooter Gennett drove in three runs and Khris Davis hit a game-breaking home run to help the Brewers shed a nine-game losing streak with a 6-2 win over the Cardinals Friday at Miller Park.
It took 10 tries, but the Brewers at long last logged their 74th victory to match last year's total. They pulled back within three games of the first-place Cardinals in the National League Central, and, with a Braves loss, reclaimed sole possession of the NL's second Wild Card.
"Our luck, it looks like it's coming around," said Gennett. "It's nice to see that."
You can close the books on the NL's longest losing streak this season. During the Brewers' nine-game slide, they averaged two runs per game and surrendered 6.44. A loss Friday would have saddled the Brewers with only the ninth double-digit losing streak in 46 seasons as a franchise, all but two of which came on the way to a sub-.500 record.
"All those losses in a row, we didn't play well, but I think we've turned it around and are playing some good baseball right now," Fiers said. "We're hitting the ball, we're pitching. It's only a matter of time before it turns around for us."
The right-hander ensured the Brewers found the end of their slide by holding the Cardinals to two runs on seven hits in 6 2/3 innings. Called up in August after Matt Garza suffered a rib-cage strain, Fiers has delivered a 1.94 ERA in his six starts, pitching at least six innings and allowing three or fewer runs in each of them.
He also contributed to the game's first scoring rally with a sacrifice bunt in the third inning ahead of Gennett's two-run single. That hit gave the Brewers their first lead at the end of an inning since Sunday in San Francisco, when Milwaukee mounted a 1-0 lead in the first only to lose, 15-5.
When Fiers held St. Louis scoreless in the top of the fourth, the Brewers had their first multi-run lead that lasted more than a half-inning in eight games, and when Gennett doubled home another run in the Brewers' two-run fifth inning, the team had its first lead of greater than two runs in 10 games -- since the blowout victory in San Diego that preceded the losing streak.
"I was just trying to make something happen," said Gennett, who exited as a precaution in the eighth inning as the Brewers continue to monitor a troublesome right quadriceps. "We talked about it yesterday. We've been hitting the ball [well], it just wasn't falling for us. Tonight it was good to see some balls fall, and when we got runners in scoring position we took care of business."
After going 0-for-9 with runners in scoring position in Thursday's series opener, the Brewers were 3-for-5 in those situations Friday.
The Cardinals found their way onto the scoreboard against Fiers when Jhonny Peralta homered in the sixth inning, but Davis answered with a two-run shot against St. Louis starter John Lackey.
It was Davis' team-best 22nd home run this season, and it sealed Fiers' fifth victory in six starts. He yielded to reliever Zach Duke with two outs and two runners aboard in the seventh inning.
Jonathan Broxton and Francisco Rodriguez, pitching in the same game for the first time since the Brewers acquired Broxton on Sunday to fortify the late innings, finished Fiers' win.
"It's not just the high fastball," Cardinals manager Mike Matheny said of Fiers. "He gets good tilt and angle on it as well. I think he has a combination of both -- he hides the ball well, it plays harder than what the radar gun says. The ball gets on guys pretty quick. But he made good breaking ball pitches early in the count, as well. Guys had trouble picking him up today."
It was a well-timed gem for the Brewers.
"When you lose this many ballgames, sometimes as much as you want to come out and still fight and still have good energy, it's difficult," Brewers manager Ron Roenicke said. "These guys have done a good job with that and hopefully moving forward, we'll continue to play the type of game we played the last two days and we'll see what happens."
Adam McCalvy is a reporter for MLB.com. Read his blog, Brew Beat, and follow him on Twitter at @AdamMcCalvy. This story was not subject to the approval of Major League Baseball or its clubs.