Lackey off his game as Cards' streak ends
St. Louis now sitting three games above rival Brewers in Central race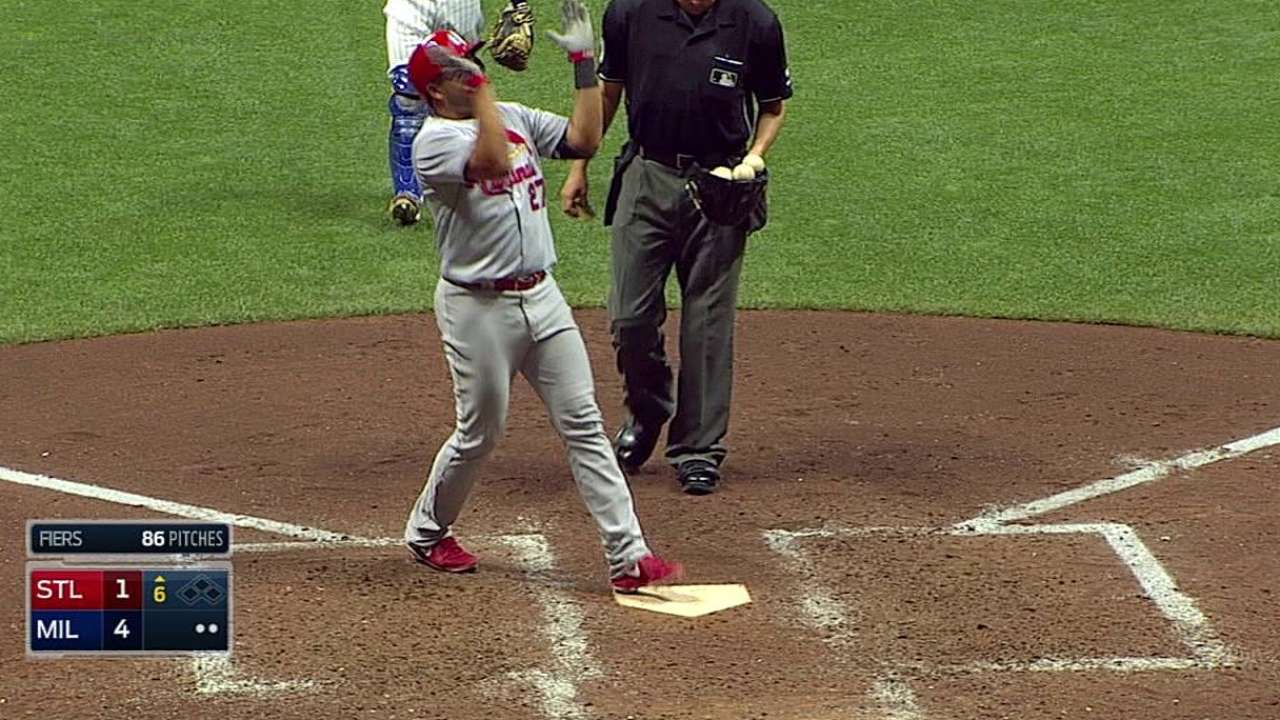 MILWAUKEE -- Speed and sacrifices stalled the Cardinals' run of six straight wins on Friday, as the Brewers got back on track by beating their division foe, 6-2, to stop the growing separation atop the National League Central.
The Brewers, playing in front of a Miller Park crowd of 35,103, closed the Cardinals' division lead to three games with a split of the first two games in a four-game set. Milwaukee's nine-game losing streak ended, as did the Cardinals' season-best winning streak. Also snapped was the Cardinals' run of four straight victories in games started by Trade Deadline acquisition, John Lackey.
"Kind of a weird one tonight," Lackey said afterward. "I felt like I threw better than the line score. I had pretty good stuff. They got a couple big hits and I had a little bit of bad luck to start some of those innings."
Milwaukee stung Lackey for three two-run innings, the first two of which were sparked by the bottom of the Brewers' order. In both, eight-hole hitter Jean Segura beat out infield hits, and starting pitcher Mike Fiers executed a sacrifice bunt. That set up leadoff hitter Scooter Gennett to drive home three runs on a pair of run-scoring hits.
His two-run single in the third came on the seventh pitch of an at-bat that Lackey started ahead, 0-2. Once the count ran full, Lackey challenged Gennett with a strike, noting afterward that he preferred to take his chances against the second baseman than load the bases for Jonathan Lucroy.
With the hit, the Brewers enjoyed their first two-run lead at the end of an inning since Aug. 27. They pushed the advantage to four with two more runs in the fifth. Gennett and Lucroy produced two-out RBI singles in that inning.
"Yeah, we really haven't had that early lead in a while," Gennett said. "Especially against a team like this, you want to get ahead early. It was just nice to keep adding to it. I think that's the most important thing -- once you get ahead you've got to put them away, and we did a good job of that tonight."
After Jhonny Peralta put the Cardinals on the scoreboard with a solo homer (the 175th home run of his career) in the sixth, Khris Davis answered with a two-run blast off Lackey, whose night would end after that inning.
"If that doesn't happen," manager Mike Matheny said of the home run, "we're in a 4-2 game right there and it would be a typical John Lackey start for us. He was still strong. The home run really put it out of reach for him, at least, and we had to go get some help."
That home run did alter how Matheny used his 'pen behind Lackey and allowed him to get work for long relievers Tyler Lyons and Justin Masterson. Masterson threw a clean inning in his first appearance since being removed from the rotation.
Offensively, the Cardinals missed their chance to strike first. Lackey was also unable to execute the sacrifice as well as Fiers, and that cost the Cardinals a run in the third when Jon Jay produced a two-out single. Daniel Descalso advanced first-to-third on the hit, but would be stranded there.
"I cost myself a run there," Lackey said. "It would have been nice to score the first run, for sure."
Fiers, who had allowed seven runs in his five starts for the Brewers this season, helped his club avoid its first 10-game losing streak in eight years with the quality start. He was chased with Oscar Taveras' pinch-hit infield single in the seventh, a hit that came on the ninth pitch of the at-bat and scored Peter Bourjos from second.
"Great at-bat," Matheny said of Taveras' fifth hit in 11 pinch-hit at-bats. "One of the best we've seen from him, just fighting off tough pitches and taking some of the better swings we've seen."
But the Cardinals, seeking their first seven-game winning streak since 2010, couldn't score again. They put two runners on against Brewers closer Francisco Rodriquez, idle for the last eight days, before Rodriguez notched three straight outs.
The intrigue wasn't quite over, though, as Rodriguez took exception at how close A.J. Pierzynski, who flew out to end the game, jogged past him on the way to the dugout. Pierzynski said afterward that he didn't touch or say a word to Rodriguez, though the Cardinals briefly spilled out onto the field when Rodriguez stopped first-base coach Chris Maloney to complain of Pierzynski's route.
It was the latest in a three-day series of minor verbal scuffles -- Pirates manager Clint Hurdle called Shelby Miller's near-hit of Andrew McCutchen a "cheap shot" on Wednesday, and Matheny argued that third baseman Hector Gomez did "jumping jacks" to interfere as Jay tagged from third on Thursday -- for the club.
"It's a pennant race," Pierzynski said. "Guys are on edge. Guys are playing hard. And they're looking for anything to get a little boost on. That's all teams in September. You look at all the teams that are playing in their division and there seems to always be some chipping. That's just the way it is."
Jenifer Langosch is a reporter for MLB.com. Read her blog, By Gosh, It's Langosch, and follow her on Twitter @LangoschMLB. This story was not subject to the approval of Major League Baseball or its clubs.