MLB.com Columnist
Bill Ladson
LaRoche improving after under-the-weather heroics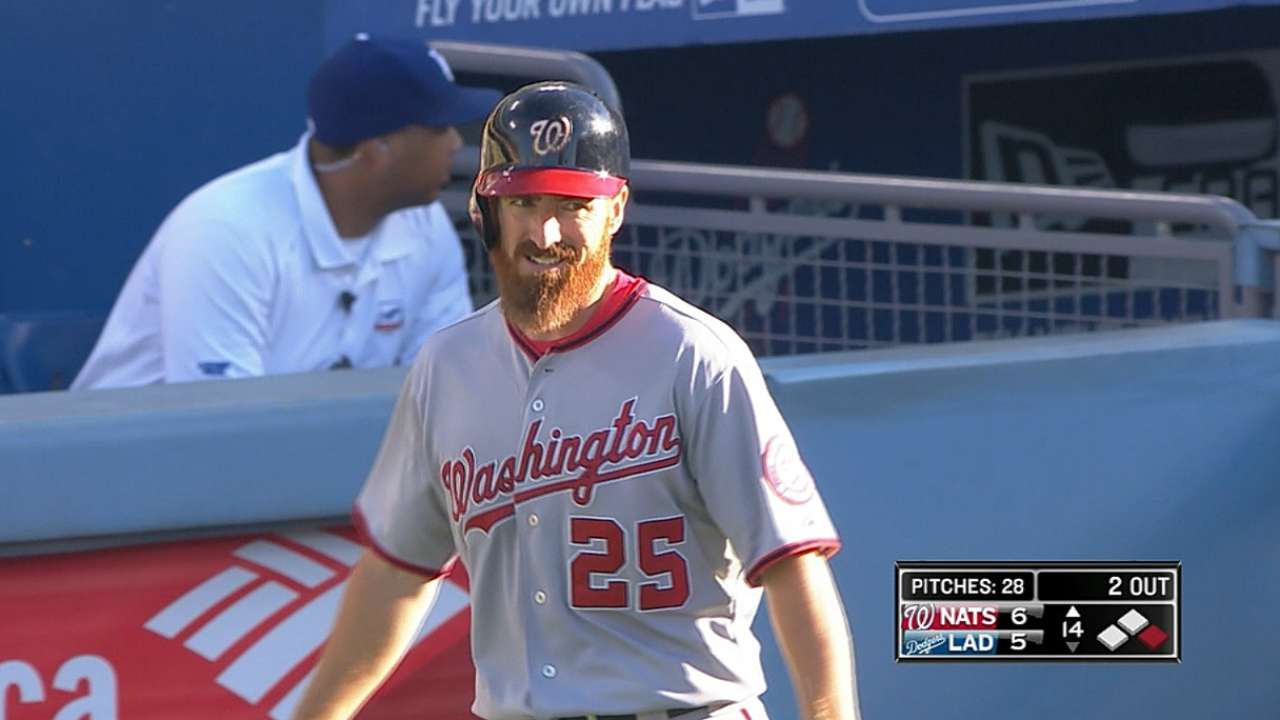 WASHINGTON -- Besides dealing with lower-back tightness and a painful left elbow in the wacky 8-5 victory over the Dodgers on Wednesday, Nationals first baseman Adam LaRoche had flu-like symptoms.
Asked how he was before Friday's game against the Phillies, LaRoche said he was feeling like he was getting over an accident.
"With that said, it is slowly getting better," LaRoche said. "The back feels a little better today, I'm kind of getting over the flu today and my elbow feels a little better today. We have three things we are treating and trying to get rid of."
Although he was ailing, LaRoche had one of his best games in a Nationals uniform, knocking in five runs. He didn't enter the game until the ninth inning. His head was pounding because of the flu, but he had an IV placed and that helped him get ready for the late innings. LaRoche was trying not to pass out because he felt that weak.
He forgot to bring his bats into the dugout and decided to use Jayson Werth's bat. LaRoche, who broke one of Werth's bats early in the count, grabbed another one of Werth's bats and hit a two-run home run over the left-field wall to tie the score at 2.
LaRoche was heroic two innings later against Brandon League. With the bases loaded, LaRoche didn't know if he could swing the bat. An inning earlier, he was hit on the left elbow by Dodgers right-hander Jamey Wright. The elbow swelled up quite a bit and it mentally took the focus off his back. LaRoche thought about laying down a bunt because his swing wasn't that good.
He decided not to bunt because he noticed that Dodgers third baseman Juan Uribe was playing as if LaRoche was a speedster. Uribe was even with the base and on the grass. LaRoche swung and hit the ball to left field, scoring Anthony Rendon and Werth.
"Chalk that up to luck," LaRoche said."The swing didn't feel great. In that situation, some adrenaline took me out of that pain. It still didn't feel good."
The game was tied at 5 in the 14th inning, when the Nationals rallied against right-hander Kevin Correia. With runners on first and third, LaRoche hit into a fielder's choice but Ian Desmond scored on the play. With the day off Thursday, LaRoche said he feels better, but doesn't feel great.
"I rested all three of those ailments," LaRoche said. "I come back today. I still feel a little bit of all of it, but I'm definitely better. I plan on playing."
LaRoche hit a two-run homer, his 21st, in his first at-bat on Friday vs. the Phillies.
Bill Ladson is a reporter for MLB.com and writes an MLBlog, All Nats All the time. He also could be found on Twitter @WashingNats. This story was not subject to the approval of Major League Baseball or its clubs.