First-place Dodgers get a boost from Haren
Kemp's homer helps righty become LA's fourth to 12 wins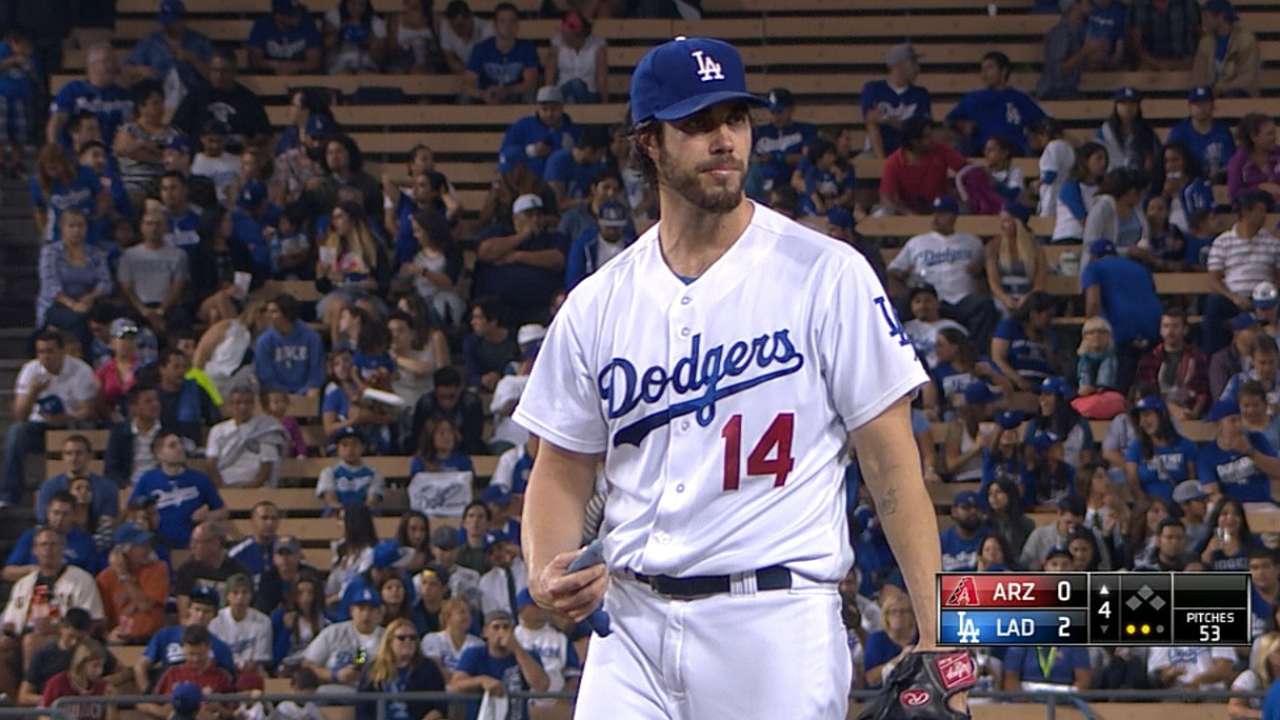 LOS ANGELES -- The Dodgers have four starters with at least 12 wins for the first time since 1985, which means Dan Haren has been among their most successful fourth starters in decades.
With a home run from Matt Kemp the difference, Haren continued his late-season revival as the Dodgers edged the D-Backs Friday night, 2-1, to remain two games ahead of the Giants in the National League West.
After a five-game losing streak that had Haren on the verge of losing his spot in the rotation, the former D-backs right-hander has won four of his last five decisions. He joins Clayton Kershaw, Zack Greinke and Hyun-Jin Ryu to give the Dodgers one of their deepest rotations. In '85, it was Orel Hershiser, Jerry Reuss, Fernando Valenzuela and Bob Welch with at least 12 wins each.
Haren allowed one run on four hits in six innings with six strikeouts. He needs 18 more innings this year to reach 180 and trigger a $10 million guaranteed salary for 2015.
Although Haren, like teammate Josh Beckett, has hinted that he might not want to pitch next season, the Dodgers might need him with Beckett, Paul Maholm and Chad Billingsley ending this season injured and eligible for free agency in the winter. He's 4-1 against Arizona this year and the Dodgers are 13-4 against their division rivals from Phoenix.
Haren admitted he "absolutely lost confidence, for sure. Anybody would with the stretch I had" when "everything that could go wrong did go wrong." He made minor mechanical adjustments to reduce the spin at the end of his delivery, began throwing more curveballs and sharper cutters to left-handed hitters.
Haren said he hasn't thought about the postseason and whether he will have a role.
"I know, obviously, we've got the front three guys and then, you know, if there's a need for a fourth guy, of course I'd want to pitch," he said. "But I haven't really thought that far ahead. I'm just trying to win these games and pitch good for the team."
Rookie reliever Pedro Baez, a converted third baseman who is quickly earning important innings, retired the four batters he faced. The right-hander has allowed one run in his last 15 1/3 innings over 12 appearances.
"He gives us a power arm, a guy who can make a mistake and miss a bat," manager Don Mattingly said. "Guys come up and do well, they get more [opportunities]."
The Dodgers lost two pitchers with power tools similar to Baez -- Shawn Tolleson, on waivers to Texas, and Chris Withrow, to Tommy John surgery. Neither Brian Wilson nor J.P. Howell, who again shared eighth-inning duties after Baez, have shown the ability to overpower batters anymore.
After Baez, Howell and Wilson, Kenley Jansen pitched a perfect ninth to become the fourth Dodgers closer with a 40-save season (joining Eric Gagne, Todd Worrell and Jeff Shaw), rebounding from a blown save Wednesday.
"If you want to do this job a long time, you can't worry about games like Wednesday," said Jansen. "You have to realize we're human, not machines. You've got to be able to move on."
The Dodgers picked up where they left off Wednesday, stranding loaded bases in the first inning after three singles and a hit batter. The rally killer was Hanley Ramirez's double-play grounder, on which he was ruled safe at first base, then out upon further review after D-backs manager Kirk Gibson's challenge. The Dodgers are 17-for-100 with the bases loaded this season.
Arizona starter Vidal Nuno gave the Dodgers another chance in the second, and they capitalized. He walked A.J. Ellis with one out. Haren fouled off two bunt attempts, then stroked an 0-2 pitch for a single to center. With two outs, Ramirez's bloop single on another 0-2 pitch scored Ellis.
"I was probably a little hyped up knowing that fans were out there and just trying to hold the thrill a little bit," said Nuno, who grew up in the San Diego area. "But after that situation of bases loaded and then the next inning, I calmed down a little bit and took a breather and realized it's not me and settled down and commanded all my pitches after that."
Kemp led off the third inning with a foam party, an opposite-field home run that landed in Arizona's bullpen. It was his 18th of the year.
Arizona trimmed the lead in a 31-pitch fifth. A.J. Pollock led off with a slow roller that hit the third-base bag for a single and Jake Lamb sprayed a double down the left-field line to move Pollock to third. Didi Gregorius, who stole a hit from Justin Turner in the fourth inning with a nice play at shortstop, flied out to center fielder Yasiel Puig, whose late throw to the plate missed the cutoff man and allowed Lamb to take third. Haren limited the damage by striking out Nuno, walking Ender Inciarte and getting a forceout grounder from Chris Owings.
"I was determined not to let the second run score," said Haren. "I was able to strike out the pitcher and that was really important."
After Kemp's home run, Nuno retired 14 consecutive Dodgers.
Ken Gurnick is a reporter for MLB.com. This story was not subject to the approval of Major League Baseball or its clubs.