Nuno once again stung by D-backs' cold bats
Lefty spins gem vs. Dodgers, but falls to 0-5 with Arizona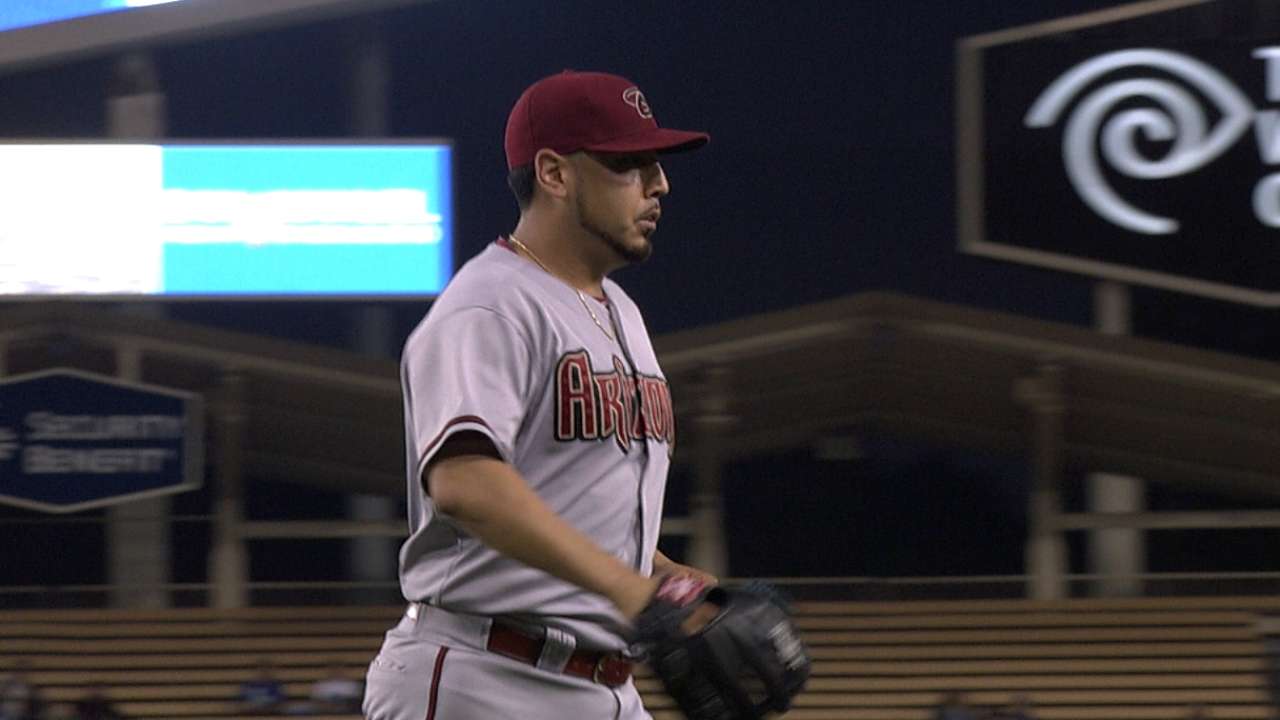 LOS ANGELES -- When D-backs pitching coach Mike Harkey eyed the list of potential trade candidates from the Yankees in July, one name immediately grabbed his attention: Vidal Nuno.
A former Yankees bullpen coach, Harkey was well acquainted with the left-hander and what he could offer, and 11 starts into his Arizona career, Nuno has justified Harkey's faith. The D-backs, though, have yet to return the favor. For Nuno, Friday night's 2-1 loss to the Dodgers was an all too familiar result.
The left-hander allowed fewer than three runs for the fifth consecutive start -- the seventh time he's done that in his last eight starts. He lasted seven innings and allowed just one hit after the third. But in the end, Nuno left Dodger Stadium still searching for his first D-backs win.
"He's done his job," manager Kirk Gibson said. "We just didn't score runs again."
Nuno's been waiting for run support for quite some time. Since joining Arizona on July 6, Nuno entered the series opener winless in 10 starts -- going 0-4 with a 3.23 ERA. He scattered seven Dodgers hits and allowed just two runs, but he still dropped to 0-5 since the deal.
"It's not frustrating," Nuno said. "It's going out there and putting up zeros and giving guys a chance to win. It is in the back of my mind a little bit, but I just go out there and try to have fun and get the job done."
After escaping a two-out, bases-loaded jam in the first inning, Nuno allowed an RBI single to Hanley Ramirez in the second and a home run to Matt Kemp to lead off the third. But he settled down from there, not allowing a baserunner until Yasiel Puig walked and Ramirez singled in the seventh.
That pattern was similar to his last start -- an eight-inning, two-hit, one-run loss to the Rockies in which Nuno retired the last 20 batters he faced.
Born in National City, Calif., this was a homecoming of sorts for Nuno, who had an assortment of family and friends in the stands. He said their presence might have had him a little too energized early in the game.
"Oh yeah, I was probably a little hyped up knowing that fans were out there and just trying to hold the thrill a little bit," Nuno said. "But after that situation of bases loaded and then the next inning, I calmed down a little bit and took a breather and realized it's not me and settled down and commanded all my pitches after that."
Arizona, meanwhile, was stifled by Dan Haren, who spent three seasons with the D-backs. The right-hander allowed one run on just four hits and a walk in six innings, striking out six.
The D-backs didn't have runners in scoring position until the fifth inning, when third baseman Jake Lamb followed up an A.J. Pollock single with a double. Pollock came around to score on Didi Gregorius' sacrifice fly, but Arizona couldn't capitalize any further.
Nuno had a chance to help his cause with a runner on third and one out, but he struck out swinging. And after Ender Inciarte walked, Chris Owings grounded into a forceout to end the threat.
"I was determined not to let the second run score," Haren said. "I was able to strike out the pitcher, and that was really important."
Haren and the Dodgers' bullpen combined to no-hit the D-backs from the sixth inning on, with Dodger closer Kenley Jansen throwing a 1-2-3 ninth to record his 40th save.
"Our offense has struggled as of late, and we just have not scored enough runs to get these guys victories," Gibson said. "The pitching has been very, very good."
And Nuno knows that more than anyone.
Michael Lananna is an associate reporter for MLB.com. This story was not subject to the approval of Major League Baseball or its clubs.