Mets mash five homers to down Cincy
Colon goes seven strong innings with plenty of backing in rout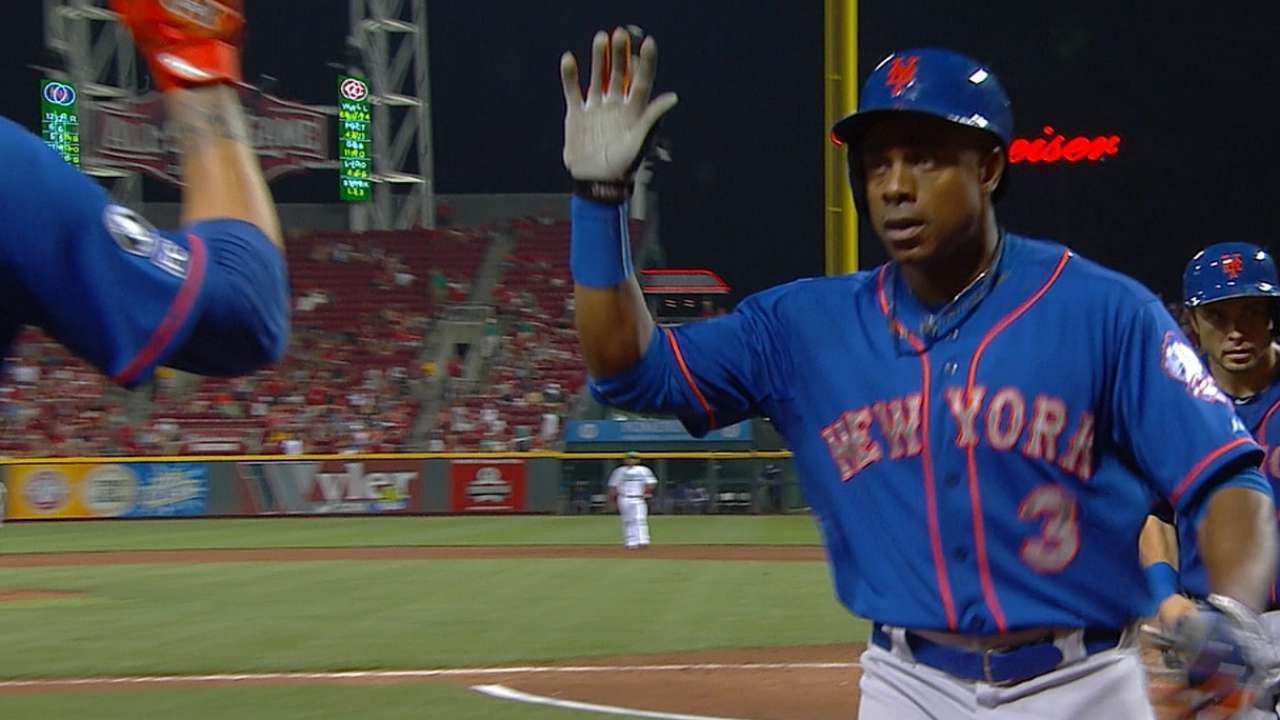 CINCINNATI -- The Mets' offense began to show consistent life as the club took two out of three from the Marlins in Miami earlier this week. And despite an off-day on Thursday, a humid night in a hitter-friendly ballpark was a recipe for more success at the plate for New York on Friday.
The Mets blasted five home runs, including a three-run shot on a four-RBI night by Curtis Granderson, in a 14-5 win over the Reds behind a strong outing from Bartolo Colon at Great American Ball Park.
Granderson's big night was one of many for Mets hitters in a game that represented the most prolific offensive contest the Mets have enjoyed this season:
• David Wright continued to heat up, tying a career-high with four hits (achieving the feat for the 20th time in his career and third time this season), including an RBI double in the seventh. The three-hit effort was his second in his last three starts; he had one three-plus hit game in his previous 53 games.
• Travis d'Arnaud set a career-high with four RBIs, three of them coming on a three-run homer in the fourth inning off Reds starter Alfredo Simon. He is batting .563 (9-for-16) on New York's current road trip.
• The 14 runs the Mets scored is a season high, and the 18 hits tied a season high.
• The five Mets homers in the game were the most the club hit in a single contest since also hitting five against the Nationals on Sept. 30, 2006, in Washington.
Granderson started the game in the sixth spot in the batting order for only the third time in '14, but said it didn't really make a difference in him snapping an 0-for-18 skid.
"Any time you can get hits, it's always a good thing," Granderson said. "Especially when it comes at a time you can help your team get a victory, it's always a positive thing. Skids are always going to be a part of it; it's definitely not the first and definitely not the last, it's just part of baseball."
Granderson said there was no specific difference he could point to as an explanation for why he hit only his second homer in his last 35 games and set a season high with four RBIs.
"It's just baseball being baseball," he said. "I wish I could tell you more."
Granderson's shot -- a 392-foot blast to right field in the sixth against Reds reliever Ryan Dennick -- was New York's second homer of the evening. The first came courtesy of d'Arnaud, whose 363-foot liner to left extended the Mets' advantage to 6-2.
"I was just looking for a pitch I could hit, and fortunately I got it," d'Arnaud said of the first-pitch curveball he smashed. "I tried to put a good swing on it."
d'Arnaud has endured his struggles this season, being optioned to Triple-A Las Vegas in June and, following a stronger July after being recalled, languishing at the plate again in August. But he's been coming on strong recently.
"I'm just trusting the process and keeping things simple since I've been back up," he said. "And just having fun with all the guys here."
Other Mets had fun on Friday, too.
Wilmer Flores belted his third homer of the season in the fifth, a 431-foot solo shot to left against J.J. Hoover to make it 7-2.
Dilson Herrera's second career homer in the eighth -- a 374-foot drive to left against Daniel Corcino -- pushed the lead to 10 runs.
Lucas Duda, who has been going through struggles of his own at the plate, crushed a two-run homer to center in the eighth off Corcino -- his 27th of the season -- to cap the night's long ball barrage.
Colon gave up a solo homer to Devin Mesoraco in the first and another run in the second on a Jason Bourgeois comebacker with a runner at third that Colon couldn't field cleanly, enabling Brandon Phillips to score from third.
But beyond that, the veteran right-hander was stellar, going seven innings and allowing two runs on seven hits, walking one and striking out two.
"He was sick. Had he been feeling good, he'd have gone nine tonight," Mets manager Terry Collins said of Colon. "He's had a real bad cold the last couple days … He said he was OK and, fortunately, settled down and gave us some good innings."
"The home run [by Mesoraco] was a hanging curveball, but after that I knew that I was pitching in this ballpark, so I needed to concentrate more on executing location down in the zone, and being aggressive, but down in the zone where I could minimize damage," Colon said through translator Ricky Bones.
The Mets may not be making a postseason push, but that doesn't mean they aren't playing for something over the last month of the season. They've shown that on this road trip.
"We've still got 21 games left," d'Arnaud said. "This is a crazy game and you've just got to go out there grinding every day. September's the biggest month of the year, I think, and if we all just go out there and have fun, we can win games."
Manny Randhawa is an associate reporter for MLB.com. This story was not subject to the approval of Major League Baseball or its clubs.