Breakout star Mo'ne Davis visits MLB Fan Cave
Little Leaguer was first girl to throw a complete game shutout at LLWS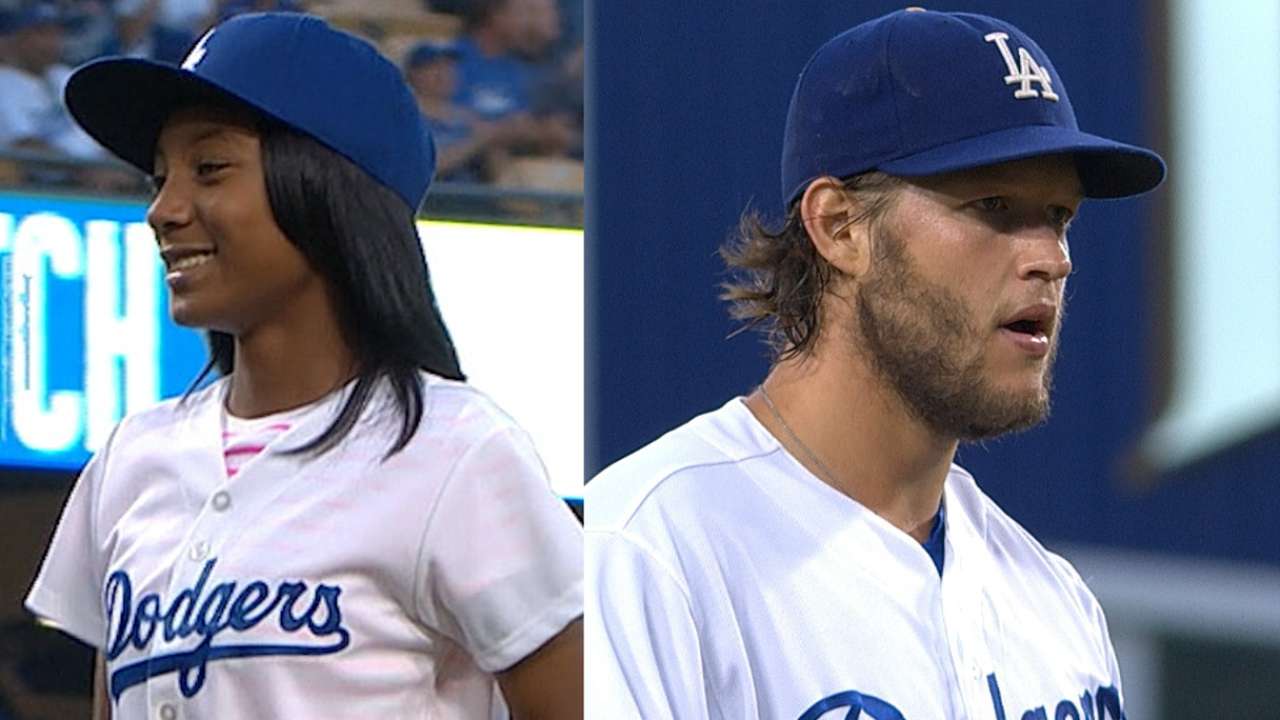 NEW YORK -- In the past month, Little Leaguer Mo'ne Davis has graced the cover of Sports Illustrated, signed autographs for Yasiel Puig, thrown out the first pitch at Dodger Stadium and -- on Friday night -- was scheduled to make an appearance on "The Tonight Show Starring Jimmy Fallon."
Despite the sudden fame surrounding the Little League World Series sensation, a visit to the MLB Fan Cave on Friday afternoon served as a reminder that the 13-year-old star pitcher is, in many ways, just an average teenager.
Davis, along with teammate Scott Bandura, took a quick tour of the baseball haven before Davis and Bandura put their competitive spirits on full display. The duo first went head-to-head in a game of table tennis before switching over to video games where they battled in a brief game of MLB 14: The Show. They then ended their visit with a quick game of billiards.
At one point, Davis politely asked if she could take a quick trip down the Fan Cave's orange home run slide before doing a second round of interviews.
"Today is going to be one of the best days of this whole traveling thing," said Davis, who went immediately from the Fan Cave to tape her appearance on The Tonight Show. "This whole week, and month, has been pretty awesome. It's a lot of fun."
Between all the fun and interviews and appearances, though, Davis does her best to just be a normal kid. The trip to New York City, for instance, came just one day after she started her eighth grade year back home in Philadelphia. Davis said she went to a few classes and met some new kids on her first day Thursday before taking off Friday for the roadtrip.
Davis' first day at school came on the heels of her trip to Los Angeles earlier this week, during which she threw out the first pitch Tuesday at Dodger Stadium. Davis also spent the day meeting and hanging out with Dodgers players, as well as part-owner Magic Johnson.
That's just the beginning of the list of celebrities Davis has come in contact with since becoming the first girl ever to throw a complete game shutout at the Little League World Series last month. Prior to meeting Johnson at Dodger Stadium, Davis met another Lakers legend, Kobe Bryant, last week in Chicago. Bryant, a Philadelphia native himself, bestowed praise upon the youngster and informed her that his daughters had been watching her pitch and rooting for her on TV.
That list continued to grow on Friday as Sharon Robinson, the daughter of Jackie Robinson, and film director Spike Lee made surprise appearances at the Fan Cave.
"I've known about Jackie Robinson since I first started playing baseball," Davis said, "so it was pretty cool to meet his daughter. I couldn't believe she was here."
Steve Bandura, Scott's father and the coach of the Little League Team, also made the trip alongside his young players. For all the hoopla surrounding Davis, and his team as a whole for the past month, he said a day like Friday was a welcomed treat for Davis and his son.
"Mo'ne gets swamped with interviews and asked the same questions over and over, but days like this are just awesome," Bandura said. "She's having a great time here and I know for my son, this place is just heaven."
It's these types of experiences that Bandura never would have expected when his team made the short trip to Williamsport, Pa. last month to compete in the LLWS. Bandura knew he had a special ball club -- and a special player in Davis -- but even he admitted he didn't fully grasp how big the story had become until Davis became the first Little Leaguer ever to land on the cover of Sports Illustrated.
"I've been trying to tell people about Mo'ne for the past three years, but nobody listen. They're all listening now," Bandura said. "You're kind of in a bubble up there [in Williamsport] so to speak. I knew it was big at home because I saw the newspapers and heard people talking, but I didn't realize it was so big nationally until that cover dropped. It's been almost surreal."
Though the magazine came out while Davis and her teammates were still competing in Williamsport, she didn't let it faze her approach to the game. Even with all the attention at such a young age, Davis carries a calm, seemingly unflappable demeanor. Through it all, she always put her team first, something that Bandura says makes her teammates rally around her in a protective, supportive manner instead of letting her instant fame bother them.
"I was just focused on having fun with my team and the other teams [in Williamsport] because I knew it was going to go by quick," Davis said. "That was our one and only chance to do something like that so I tried to make the most of it while we were there and just block everything else out."
As for Davis' plans this fall, she has already started her soccer season with the high school team and she will continue playing baseball in a fall league. She also plans to make the most of any free weekends, though those have been few and far between with her schedule.
"I like to sleep. So I'm usually either eating, sleeping or playing sports," Davis said. "Once I get a free weekend off, I'm just going to sleep. It's going to be great."
Paul Casella is a reporter for MLB.com. Follow him on Twitter @paul_casella. This story was not subject to the approval of Major League Baseball or its clubs.