Reds can't keep Mets in the yard in Cincy
New York hits five homers, sends Cincinnati to fourth straight loss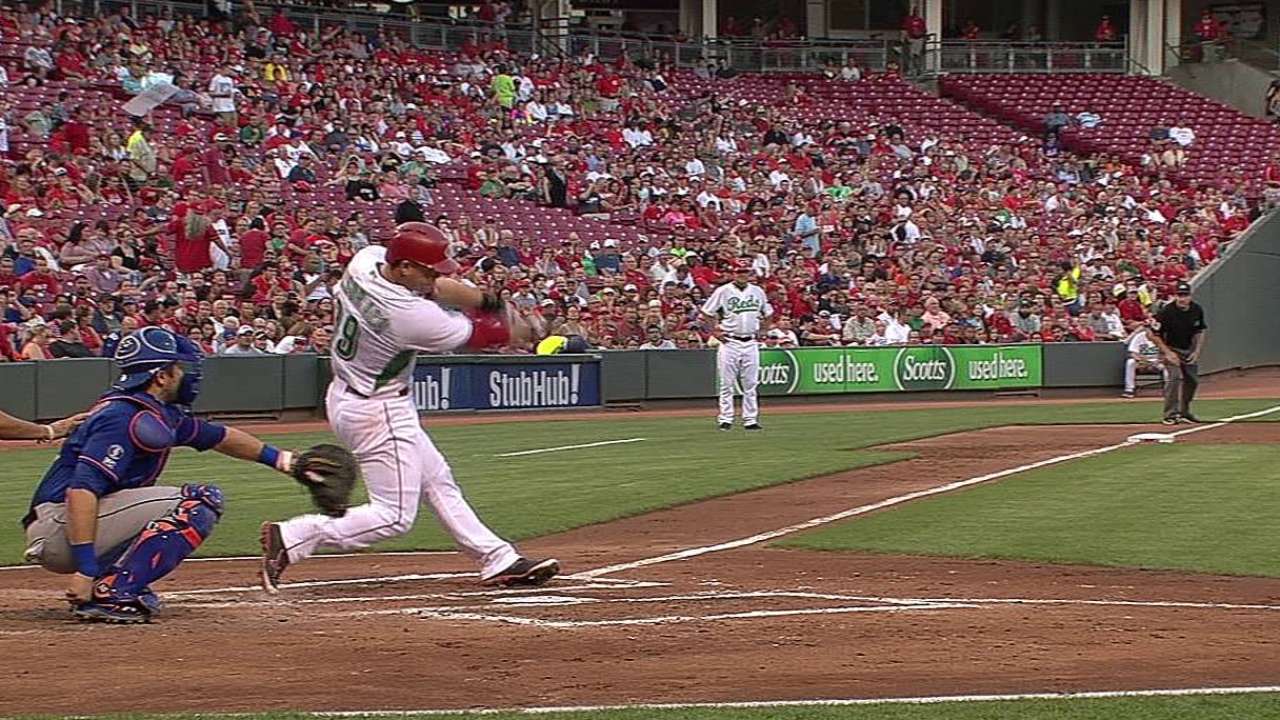 CINCINNATI -- The lackluster performance of the Reds lineup has been well scrutinized as part of the club's second-half spinning out of contention. Now the double whammy of the pitching staff getting pummeled has taken hold of late, too.
Friday's 14-5 defeat to the Mets extended the current Reds losing streak to four games, and six of the last seven. Cincinnati's pitchers tied a season-high in runs allowed while allowing a season-high 18 hits -- including five homers.
"They scored in every inning but one. It didn't give us any chance to be in the game," Reds manager Bryan Price said. "That was no fun for anybody. We kept people here for three hours for fireworks. That's a shame."
Since the All-Star break, the Reds are 15-31 as one wheel after another seems to fall off.
"Nobody wants to be embarrassed like this," Price said. "We know we have an extremely poor record since the end of the All-Star break. A lot of things haven't worked out terribly well. We're all professionals. You have to play 162. This can get worse, believe me. Or it can get better. It's one of the two. We have three-plus weeks to go in the season. Nobody wants to sit through this for three weeks."
The Reds' pitching staff has given up 34 runs and 47 hits in the four losses. Meanwhile, the streak has exposed a Reds rotation that has frayed while falling behind early and often.
Mat Latos, Dylan Axelrod, Mike Leake and Friday starter Alfredo Simon have combined for 19 innings pitched while allowing 22 earned runs including eight home runs. The opponent has scored first in each of the last six games.
Simon threw 96 pitches over four innings of labor while giving up six earned runs, eight hits and three walks with five strikeouts. Since the All-Star break, he is 1-7 with a 5.27 ERA in 10 games.
"He was behind, especially in that first inning. It got his pitch count up," Price said.
Through his first two innings, Simon managed to face 14 batters. Despite walking Lucas Duda with the bases loaded and two outs in the fourth, he trailed by only a 3-2 score. By the fourth inning, Simon could not keep it close.
In the fourth, and again with two outs following a walk, Travis d'Arnaud slugged Simon's first pitch for a three-run home run to left field that made it a 6-2 game. The Reds' long-embattled bullpen fared no better. J.J. Hoover took over the in the fifth inning and gave up Wilmer Flores solo homer with one out. In the sixth with two outs, lefty September callup Ryan Dennick surrendered Curtis Granderson's three-run homer to right field.
In the seventh, Logan Ondrusek gave up three walks and David Wright's fourth hit of the game -- an RBI double that made it a nine-run game. For good measure, rookie Daniel Corcino allowed two homers -- Dilson Herrera's leadoff homer in the eighth and Lucas Duda's two-run shot in the ninth.
Mets starter Bartolo Colon had more than enough cushion to work with as he lasted seven innings. In the first inning, Todd Frazier lined a one-out single to center field and was thrown out ambitiously trying for a double. It cost the Reds a run as next batter Devin Mesoraco ripped a solo homer to left field -- his 22nd of the season and second in two nights to make it a 2-1 game.
The Reds' second inning started off promising with back-to-back singles and Brandon Phillips scoring on Colon's fielding error on Jason Bourgeois' comebacker. But nothing further developed and Colon was able to settle and give up only three singles the rest of his night, retiring his final nine in a row. Frazier homered in the eighth inning and two more runs scored in the ninth when it was already way out of reach.
Since 2013, the Reds have lost 42 straight games where they allowed six or more earned runs. According to the Elias Sports Bureau, that tied the club record set twice previously in 1901-02 and 1910-11.
"There's really not a whole lot to say at this point," Mesoraco said. "It's getting to be day after day, the same thing. We're going out there and putting in good effort and we're not playing well enough. We're not able to get enough hits. We're not able to hold down the other teams' offense."
Mark Sheldon is a reporter for MLB.com. Read his blog, Mark My Word, and follow him on Twitter @m_sheldon. This story was not subject to the approval of Major League Baseball or its clubs.