Bradley back, but not in lineup
Farrell tries to balance crowded outfield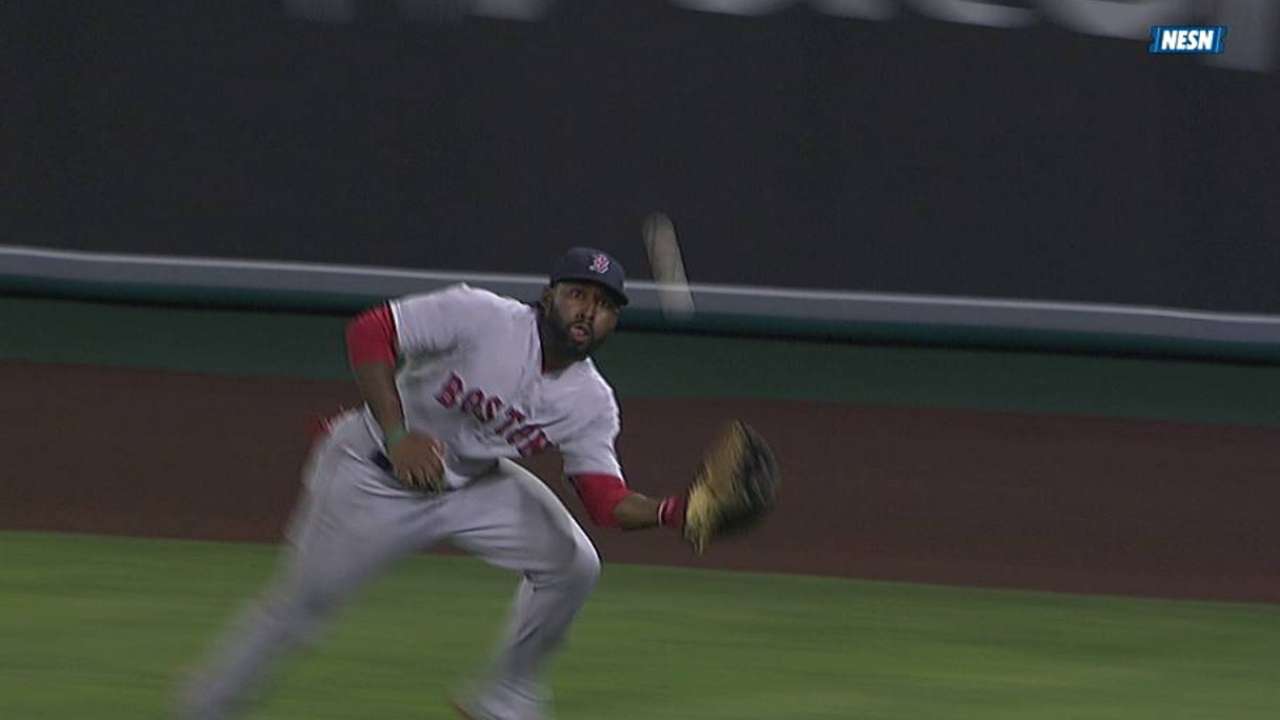 BOSTON --- When the Red Sox optioned Jackie Bradley Jr. to Triple-A Pawtucket on Aug. 18, manager John Farrell said the outfielder would work on his swing and be back in September. Bradley was with the team and active Friday, albeit not in the starting lineup against the Blue Jays.
Bradley, one of the game's best defensive center fielders, played almost every day through the first 4 1/2 months of the season, but a .216/.288/.290 line over 112 games wasn't cutting it. Boston sent him down in hopes of improving his offense, and Farrell said Friday that Bradley has "somewhat" progressed -- at least enough to bring him back up with rosters expanded, although it remains to be seen how much he'll play in the final weeks of the season.
"It will be a balance to get everybody some equal playing time," Farrell said. "And I can't even guarantee it will be equal because we're trying to get a read on multiple guys."
Mookie Betts, Boston's No. 1 prospect according to MLB.com, is chief among those "guys." Betts has played center regularly since Bradley was demoted, as there wasn't room for both on the 25-man roster. Betts came through the system as a second baseman, but with Dustin Pedroia there for the long haul, he was moved to the outfield this season.
"Mookie has done a very good job and has moved ahead of others on the depth chart," Farrell said.
Since being recalled Aug. 18, Betts has hit .290/.380/.500 with nine walks and 10 strikeouts over 71 plate appearances. Bradley has hit .212/.246/.273 with 18 whiffs and only three walks in 66 times at the dish for Pawtucket in that time frame.
Yoenis Cespedes is firmly entrenched in left field, and Farrell said Daniel Nava has done plenty to earn starts against right-handed pitching as a right fielder. Betts has swung the bat well and played good enough defense in center to play every day.
The club also wants to see what Allen Craig, acquired July 31 from St. Louis, can do in right field. He missed about three weeks in August with a sprained left foot. After batting .315 with an .830 OPS in 2013 for the Cardinals, he's hit .226 with a .622 OPS this season.
Cuban defector Rusney Castillo also figures to be in the mix for playing time in center in the final weeks. He signed a seven-year, $72 million deal two weeks ago and is with Double-A Portland.
Steven Petrella is an associate reporter for MLB.com. This story was not subject to the approval of Major League Baseball or its clubs.