Uehara temporarily out as closer
Righty won't be shut down; Mujica to fill in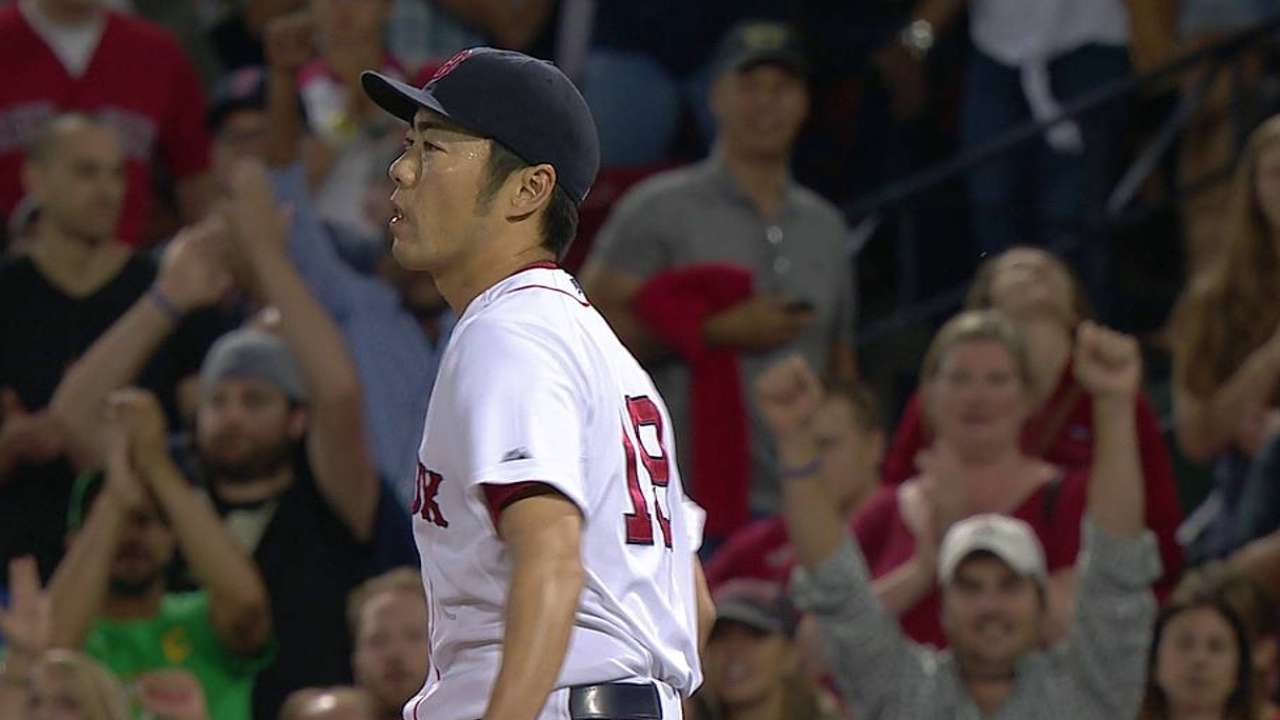 BOSTON --- The Red Sox have temporarily lifted Koji Uehara from the closer role and will use Edward Mujica in his place, manager John Farrell said Friday. Uehara isn't injured, so there's no reason to shut him down for the rest of the season, Farrell added.
"We'll probably give him a couple days to regroup some and then look to get him back in some lower-level situations," Boston's skipper said. "Ideally, we'd have him close out games before the season is out. And that's the plan moving forward. When that is remains to be seen."
Mujica has a 4.13 ERA and has allowed just two earned runs in his last 15 innings. The Red Sox called up lefty Drake Britton on Friday because Uehara will take a few days off.
Uehara has struggled over the last few weeks and the club opted to rest him for a week. On Tuesday, he allowed a solo home run and another hit in a non-save situation, then on Thursday, he gave up a pair of ninth-inning homers in a 5-4 loss to the Yankees.
Uehara relies heavily on his split-finger, and that's what has gotten him into trouble lately. According to Fangraphs, he's used it 48.1 percent of the time since the start of the 2013 season, the highest percentage of any reliever who uses a splitter.
"Look at Teixeira's at-bat [Thursday] night," said Farrell, referring to Yankees' slugger Mark Teixeira's game-tying homer in the ninth. "The first one, there was good depth to it. Good swing-and-miss. Then after three consecutive ones, it didn't have the same consistent finish and that's where he's getting hurt right now. How many times does he throw it inside a given at-bat, and does it have the same action to it?"
This season, almost everything that could have gone wrong for the Red Sox did. But one of the team's few bright spots was Uehara. Through Aug. 15, he posted a 1.27 ERA, .507 OPS against and 7.00 K/BB ratio while saving 26 games in 28 chances.
In six appearances since, the 39-year-old righty has given up 10 runs on 14 hits in just 4 2/3 innings. The free agent to be has blown three saves and taken three losses.
"Nobody's lost hope in him or lost faith in him," Brock Holt said Thursday. "He's one of the best closers in the game."
That's a far cry from 2013, when Uehara was nearly unhittable. He became the closer in June, a role he held for essentially 15 months until Friday. He allowed one earned run in his final 40 1/3 innings of last season, fanning 52 while walking only two. In the postseason, Uehara surrendered just a run on seven hits in 13 2/3 innings. He picked up seven saves as well and was the American League Championship Series MVP.
Steven Petrella is an associate reporter for MLB.com. This story was not subject to the approval of Major League Baseball or its clubs.