Aybar lifts sac fly in extras to lift Angels in West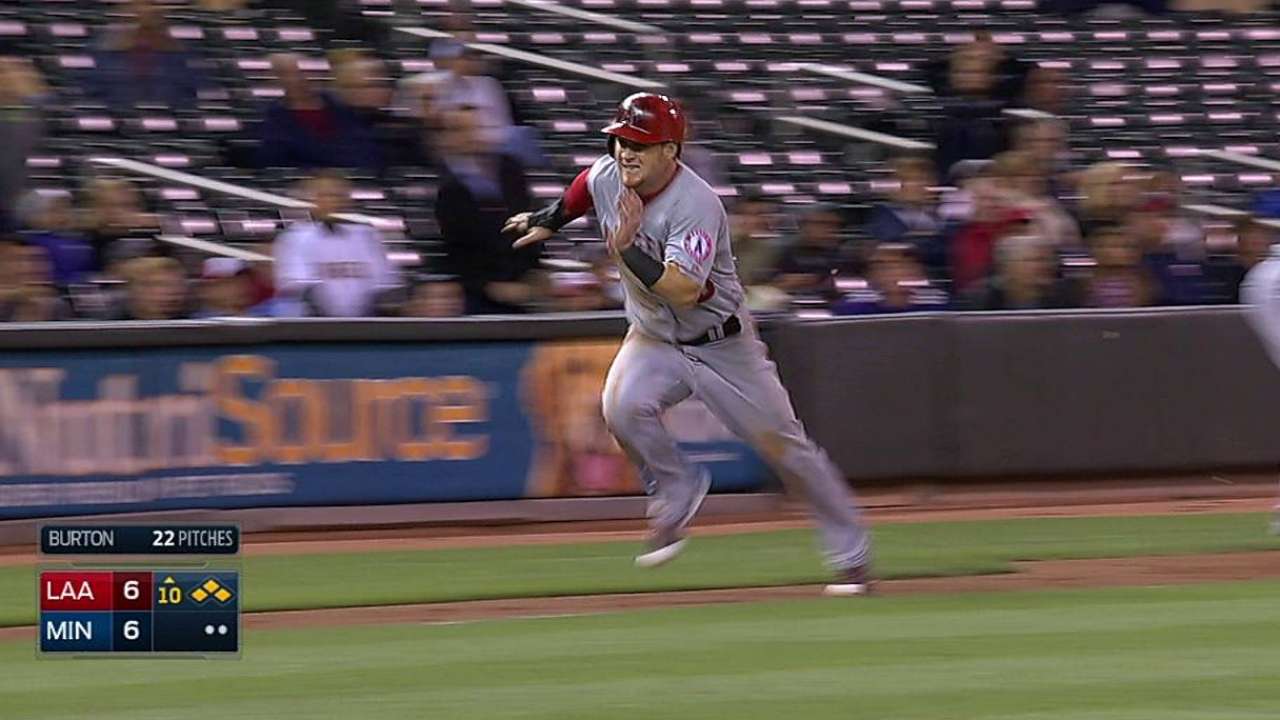 MINNEAPOLIS -- It took five leads and 10 innings, but the Angels got another win and gained another game in their division, and shed another date off the calendar.
Erick Aybar kept his swing path low and elevated a near-the-ankles changeup that was meant to produce a grounder, instead lofting a fly ball that was just deep enough to score Kole Calhoun and plate the go-ahead run in a 7-6, 10-inning win over the Twins at Target Field on Friday night.
The Angels are 30 games over .500 again, at 85-55. They've taken the first two of this four-game series, and they now lead the A's by six games in the American League West -- with only 22 remaining.
"We're just playing our game, and not worrying about if Oakland wins or if Oakland loses," Aybar said. "We just have to keep playing baseball the way we've been playing and try to win. It's the last month. We have to keep creating some separation."
Matt Shoemaker, the reigning AL Pitcher and Rookie of the Month, lasted only four innings and gave up three runs. Huston Street, one of the best closers this season, couldn't hold a two-run lead in the bottom of the ninth.
But the Angels kept fighting.
Calhoun, who had come up with a clutch hit in his previous at-bat, led off the 10th with a base hit up the middle, then stole second. Albert Pujols was intentionally walked with one out and first base open and Howie Kendrick drew a walk against Twins reliever Jared Burton to load the bases. The next batter, Aybar, came through, hitting a sacrifice fly to right field that was just deep enough for Calhoun to beat Oswaldo Arcia's bullet throw home.
"It wasn't that deep, and he was coming in," Calhoun said. "Just run."
It was the Angels' eighth win in their last 10 games, and it gave them a 5-0 record against the Twins this season. More important, it came on a night when the A's took a 4-3 loss to the Astros, their seventh defeat in their last eight games.
When the Twins took a one-run lead off Fernando Salas in the sixth, the Angels came right back with three runs in the eighth, getting a two-run double from Calhoun and an RBI double from Mike Trout, his AL-leading 100th RBI this season. When the Twins tied it up on Trevor Plouffe's two-out, bases-loaded double in the ninth, they came back one final time in the 10th.
"Every time we scored, they were coming right back and answering," Calhoun said. "It was tough. It was nice to squeak this one out."
Shoemaker entered his outing with 23 2/3 consecutive scoreless innings, but he gave up a run each in the first and second, then another in the fourth and had his shortest outing since June 27.
"These guys picked me up a ton today," Shoemaker said. "The position players and the bullpen did a huge job."
The biggest jobs came from Yoslan Herrera and Wade LeBlanc, who battled out of a first-and-third, none-out situation in the seventh to keep a one-run lead intact. Herrera put the first two batters on but used a well-placed split-finger fastball to get Kennys Vargas to ground out, then struck out Plouffe and set it up for LeBlanc to retire Arcia on a flyout in a lefty-lefty matchup.
Herrera and LeBlanc were only in the game because the Angels were trailing and manager Mike Scioscia, mindful of the fact that he'll basically have a bullpen game on Saturday, wanted to save his back-end relievers if possible.
"That was big to keep it a one-run deficit," Scioscia said.
Just as he did on Thursday night, Street started the ninth with runners on first and second and none out for the Twins' No. 3 hitter, Joe Mauer. But unlike Thursday night, Street couldn't retire the middle of the order. He got Mauer and Vargas to fly out, but Plouffe hit a deep line drive to left-center that plated two runs and gave him only his second blown save with the Angels.
Trout had a good bead on the ball but missed it, leaping and crashing into the wall.
"First step, I kind of slipped a little bit, but I thought I had a chance," Trout said. "We won, so it's all good."
Alden Gonzalez is a reporter for MLB.com. Read his blog, Gonzo and "The Show", and follow him on Twitter @Alden_Gonzalez. This story was not subject to the approval of Major League Baseball or its clubs.