Phillies stun first-place Nats with comeback
Revere homers in ninth to tie it; rookie Franco drives in go-ahead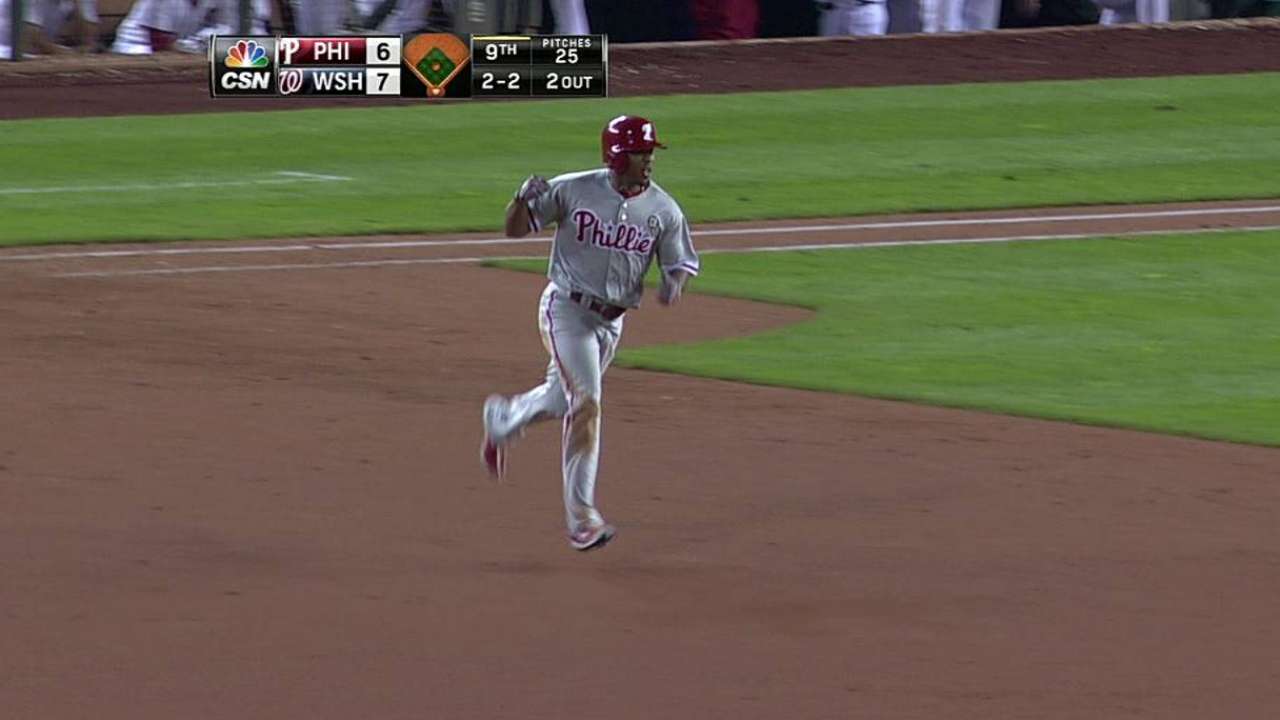 WASHINGTON -- Ben Revere didn't swing like a player not known for power. The Phillies aren't playing like a team with little at stake over the final month of the season.
Facing the NL East-leading Washington Nationals, Philadelphia rallied from multiple five-run deficits. The Phillies scored three in the ninth off closer Rafael Soriano, including Revere's two-out, game-tying and second career home run. The Phillies then tallied two in the top of the 11th and hung on for a wild 9-8 win over Washington on Friday night at Nationals Park.
After accomplishing little against starter Stephen Strasburg the Phillies offense found life against the Nationals' bullpen. Philadelphia trailed 5-0 after five innings and 7-2 after the seventh. Carlos Ruiz swatted a two-run homer in the ninth inning against Soriano before Revere's blast.
Revere drove in three runs, including an RBI single in the 11th after rookie Maikel Franco's fielder's choice scored Domonic Brown from third for the go-ahead run.
"Well the guys hung in there and battled, that's for sure," Phillies manager Ryne Sandberg said. Now 65-75 overall, Philadelphia has won three of four and eight of 11 games.
Of Revere's three hits, one clearly stood out. Before his ninth-inning heroics, the fifth-year outfielder had only one home run in 1,932 career at-bats.
"I was trying to put a good swing on the ball, possibly drive it to hit either a double or triple. I wasn't thinking home run," a shocked Revere stated. "It's crazy. I wasn't expecting to do something like that."
Sandberg knows Revere offers power even if it rarely shows in actual games.
"We all thought it was gone off the bat," the manager said of the tying home run. "He hits them in [batting practice] all day long. ... Big swing at a big time."
Washington's suddenly suspect bullpen and a defensive miscue helped the cause. Franco's milestone-laden performance also played a part.
The Nationals turned Brown's simple fly ball leading off the 11th into a two-base error. The lofted ball landed in left-center field after Bryce Harper and Denard Span collided. Brown took third on Ruiz's sacrifice bunt off Craig Stammen (4-5). He then scored on rookie Franco's slowly hit fielder's choice to first base, beating the throw to the plate.
"The main [goal] was to try and put the ball in play," Franco said via an interpreter. The third baseman worked the count full against Stammen. "Get a good pitch to hit. A lot of patience. Finally put the ball in play."
Playing in his second game, Franco recorded his first Major League hit with a single off Strasburg in the third. He scored on Revere's single in the 11th to give the Phillies a 9-7 lead.
The winning run came after Jake Diekman (4-4) struck out pinch-hitter Kevin Frandsen with two runners on and two out in the 10th inning. Jonathan Papelbon earned his 34th save despite allowing a run and three baserunners in the 11th.
The comeback victory gave the Phillies a 9-8 season-series lead with two games remaining. Philadelphia is 9-10 in extra-inning games. Despite the loss, first-place Washington remains seven games ahead of Atlanta, which lost to Miami.
Revere plated Philadelphia's first run with an RBI double in the sixth. His home run led to Soriano blowing his fifth save since the All-Star break and second in as many games.
"[Soriano's] been struggling a little bit, so we'll have to look to land him a little softer, maybe for a few days, and see where we're at," Nationals manager Matt Williams said of the struggling closer.
Strasburg struck out five and did not walk a batter. In five starts vs. the Phillies this season, Strasburg is 2-0 with a 1.42 ERA.
Philadelphia mustered only four hits and one run over six innings against Strasburg, who left with a 5-1 lead. Ryan Howard had two RBIs, including his 21st home run in the seventh and a run-scoring infield single in the eighth.
Jerome Williams' run of strong starts ended as he allowed nine hits and five runs -- four earned -- in five innings. The righty surrendered a two-run homer to Adam LaRoche in the first inning, a single run in the fourth and two more in the fifth.
LaRoche added a third RBI during a two-run seventh for a 7-2 lead. Brown prevented a third run by throwing out ex-Phillie Jayson Werth at the plate from left field, which was confirmed by a crew-chief review.
Benjamin Standig is a contributor to MLB.com. This story was not subject to the approval of Major League Baseball or its clubs.