Shields' gem helps Royals extend AL Central lead
Righty blanks Yanks over 8 1/3 innings to move KC two ahead of Detroit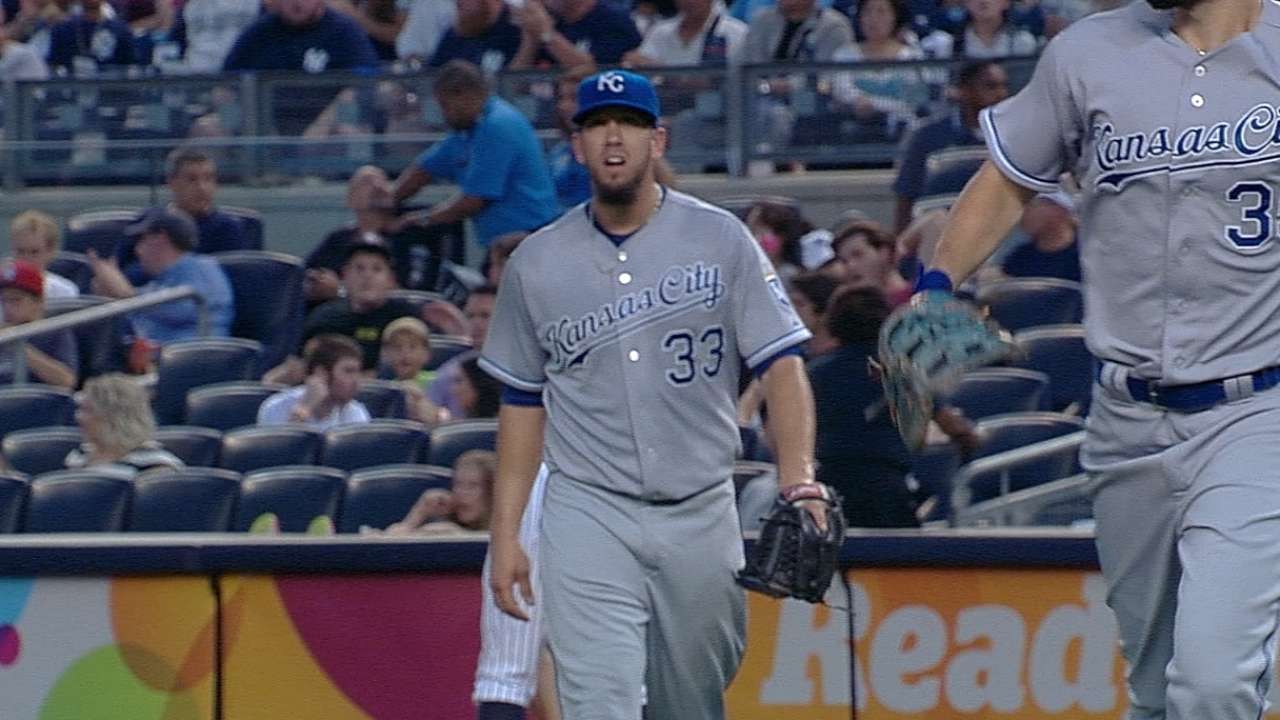 NEW YORK -- Before the start of the Royals' crucial six-game road swing, manager Ned Yost was asked why his team should be considered dangerous. His answer was simple. Starting pitching and a dominant bullpen.
On Friday night at Yankee Stadium, Yost's diagnosis was reaffirmed. Starter James Shields spun 8 1/3 scoreless innings against the Yankees, and Wade Davis locked down the final two outs for his first career save, leading the Royals to a narrow 1-0 victory and extending their lead in the American League Central to two games over the Tigers.
"This was a night where he was on," said Yost. "I mean, dead 100 percent on."
Indeed, he was.
Shields, making his 31st career start against the Yankees, and third this season, showed a completely different kind of pitcher than the one from Aug. 25, his last start against a similar New York lineup in which he allowed six runs at Kauffman Stadium.
Efficient and possessing pinpoint control, Shields carved through Yankees hitters, not allowing a hit until Brett Gardner's double to right-center field with two outs in the fourth inning. Gardner provided the only scare of his night in the sixth when he skied a ball deep to right that Lorenzo Cain gloved a foot from the wall.
"The first couple of innings I was pounding the strike zone, my fastball was locating really well," said Shields. "I was just trying to be aggressive, and I know these guys swing early and often and [have] got a bunch of hitters ... and I was successful."
"I think by far that's the best game that he's thrown all year," said Yost. "He was surgical with his stuff."
Things got a little dicey in the ninth inning when Shields gave up a one-out single to Derek Jeter. Yost didn't have his regular closer, Greg Holland, available due to some right triceps soreness, so he called on Davis, who was ready if a runner reached base, to finish the game.
Antoan Richardson pinch-ran for Jeter and quickly stole second base, but Davis seemed unfazed by the scoring threat. He proceeded to strike out Gardner swinging and then caught Carlos Beltran looking to seal the victory.
"I was actually happy he got on second base so I could stop worrying about him stealing," said Davis. "It helped me relax a little bit."
That preserved Shields' longest outing since blanking the Giants on Aug. 9 and it came at a much-needed time, in a much bigger moment and against a playoff-pushing team. In total, Shields threw 97 pitches -- including a seven-pitch first frame -- which is the kind of performance that the Royals will need to save a tired bullpen and keep invigorating the club.
"This is what we play baseball for," said Shields. "A lot of these guys haven't been here before, a lot of these guys were here last year. Hopefully, we can enjoy the moment, embrace it and have fun with it."
The only run of the game came in the third inning when the Royals benefited from an error by Chase Headley. The third baseman couldn't handle a hard grounder from Alcides Escobar, who took an aggressive turn, speeding into second as the ball rolled away from Gardner. Nori Aoki promptly followed with a bullet to center field to plate the deciding run.
"It's a hard play in that situation," said Escobar. "Gardner was playing more to center field, and I see the ball hit there, [I'm thinking], 'I'm going to second base.'"
Other than that, the Royals struggled against Michael Pineda, who shut them down for just three hits and four strikeouts without a walk over seven innings. The unearned run was his only blemish as he looked even sharper in the late August rematch with Shields.
It wasn't exactly the kind of offensive game Yost would like his team to get used to, but at this point in the season, he knows his team's biggest strength -- pitching -- will be the one to carry it for the rest of the month.
"I think this is a big road trip for us. It's going to set the tone for the rest of the season," said Shields. "We're pitching our butts off, and I think as long as we do that the rest of the season, we're going to win a lot of ballgames."
The Royals, now 17 games over .500 and winners of four straight, certainly feel confident after Friday night that Shields can keep doing some of that heavy lifting when they need him most. And for now, Yost wouldn't trade it in for anything.
"Absolutely energizing," said Yost. "I'm sitting there in the ninth inning, your heart's pounding, the crowd's going crazy and I'm just enjoying every second of it. Boy, where else would I rather be in this world having this much fun right here?"
Jake Kring-Schreifels is an associate reporter for MLB.com. This story was not subject to the approval of Major League Baseball or its clubs.