Red Sox rally twice, walk off with wild 10-inning win
Cespedes' single caps three-run frame; rookies play key role in thriller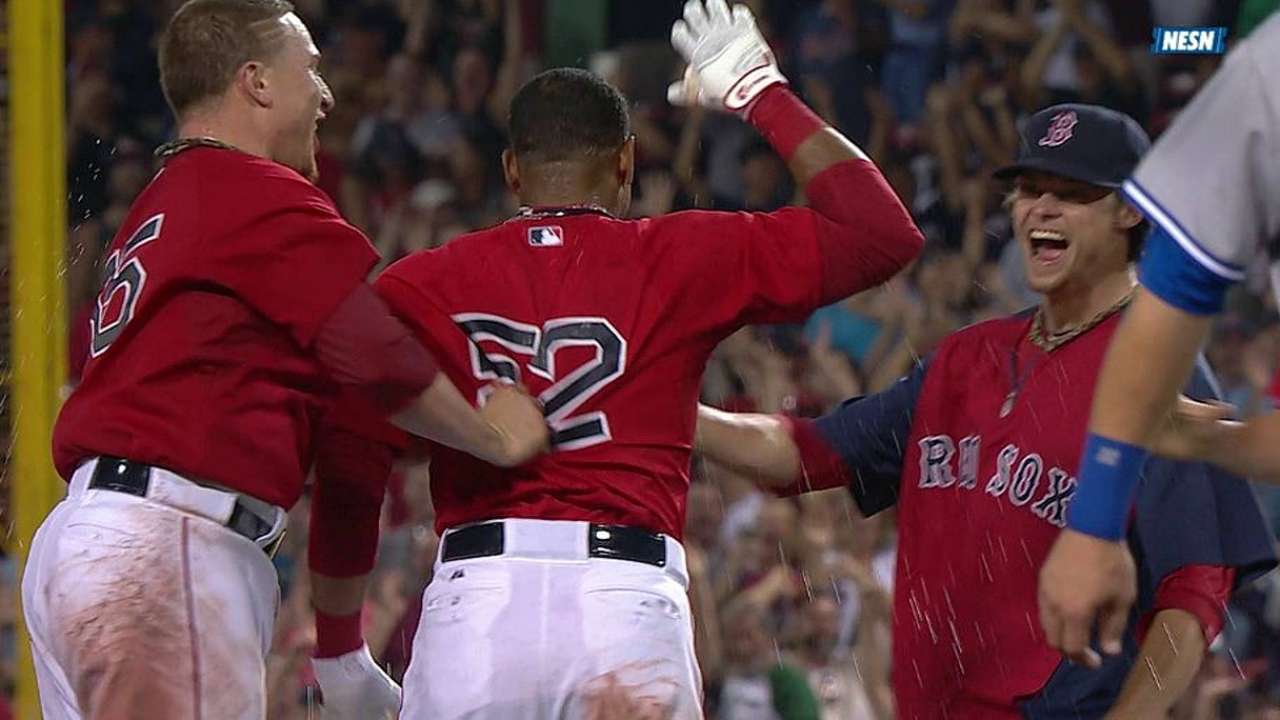 BOSTON --- The Red Sox haven't had many multi-run, late-inning comebacks in them this season. Maybe most of them were exhausted in the club's run to the 2013 World Series title. But Friday night against the Blue Jays, they had not just one, but two, both fueled by the bottom of the order.
Boston rallied from three runs down in the eighth and from two down in the 10th --- capping the second with a Yoenis Cespedes walk-off single to deep center --- to win, 9-8, in the first of a three-game set. It was their first victory against Toronto at Fenway in seven tries this season.
"A lot of contributions up and down the lineup," shortstop Xander Bogaerts said. "Everyone did something in a different way, and that's how you win ballgames."
That's certainly how the Red Sox won Friday. Trailing, 8-6, Mookie Betts and Bogaerts started the 10th with singles, then Christian Vazquez popped a bunt over the mound and into no-man's land toward second to load the bases with no outs.
"I wasn't trying to get a fly," Vazquez said, "but I was trying to push it there."
Will Middlebrooks, who entered the game in the 10th to play third for Brock Holt, who left the game with dizziness, then lined a single to left and Dustin Pedroia tied the game with a sac fly. Cespedes ended it with a 400-foot single that bounced into the triangle in center and over the wall.
Cespedes went 4-for-6 with two RBIs. He's knocked in 26 runs since joining the Red Sox at the end of July, and has hit .421 with runners in scoring position in that time, as well.
"I was going to challenge him. I wasn't going to walk him," said Toronto righty Casey Janssen, who fell behind 3-1. "I was going to make him beat me."
The bottom third of Boston's order --- rookies Betts, Bogaerts and Vazquez --- went a combined 7-of-13 with four runs scored and four RBIs. Six Red Sox had multiple hits, while David Ortiz went 0-for-4. The rest of the lineup picked him up.
"They've lengthened out the lineup, particularly the bottom third," manager John Farrell said. "And when we can get that kind of production, you're looking ideally at five, six to seven runs possibly, as long as everyone else is doing their job."
In the 10th, Dioner Navarro's chopper up the middle was soft and high enough to bring in a run from third and give the Blue Jays a one-run lead. With Tommy Layne in, Danny Valencia then flied out to Allen Craig in right, who apparently thought he had caught the third out and took his time getting the ball in. John Mayberry Jr. scored from second on the play.
That was all after the Red Sox tied the game in the eighth with the bottom of the order playing a huge role once again.
To start Boston's eighth-inning rally, Cespedes and Mike Napoli singled. A double steal put both runners in scoring position with none out, and Betts drove in one with a line-drive single to left a batter later. Bogaerts then sliced a two-run double into the right-center field gap to tie the game.
The Red Sox had a chance to end things in the ninth when Pedroia started the frame with a double off the Green Monster off Aaron Loup, who then intentionally walked Ortiz. But Cespedes popped out, Napoli struck out and Craig grounded out to the pitcher.
Edward Mujica worked a scoreless ninth on his first day as Boston's closer. Koji Uehara was lifted from that role on a temporary basis because of his recent struggles. Junichi Tazawa, who has had a tough time against Toronto, allowed a single to Edwin Encarnacion, for whom pitcher Marcus Stroman pinch-ran. Tazawa then came out in favor of Layne and Toronto took the lead.
Red Sox starter Allen Webster allowed three earned runs on six hits over 5 1/3 innings. He fanned five and walked two. The righty got knocked around for three hits in the first, but settled down. Then in the sixth, he walked Anthony Gose and Jose Bautista drilled a fastball over the Green Monster to give Toronto a 4-3 lead.
"If I had located my fastball instead of leaking it middle up where he just missed it the pitch before -- he's not going to miss that pitch twice," Webster said. "Yeah, he's a good hitter."
In the eighth, Encarnacion smoked another ball over the Monster and out of the park off Alex Wilson, giving Toronto a 6-3 lead.
Toronto starter Drew Hutchison allowed three runs, one each in the first three frames, on six hits with two walks and six strikeouts over six innings. Both he and Webster were afterthoughts by the end as the Red Sox had staged their second multi-run comeback of the night.
"I don't think we thought about us being young," Betts said. "We just went out in the moment and played.
"Going into the rest of the games and next year being comfortable late in games in situations against their closer, their best pitcher. It's a good thing."
Steven Petrella is an associate reporter for MLB.com. This story was not subject to the approval of Major League Baseball or its clubs.