Konerko out at least a week with hand fracture
White Sox hopeful that retiring vet will be able to play before end of season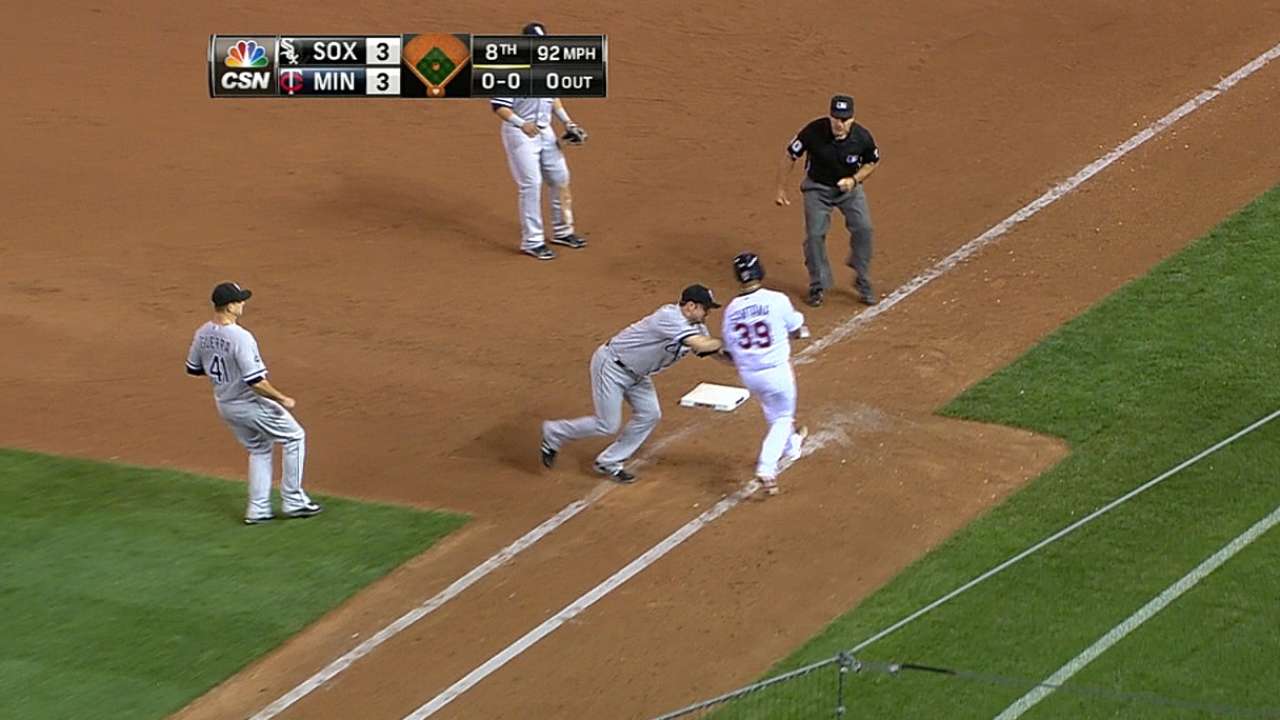 CLEVELAND -- Paul Konerko sustained a fracture of a sesamoid bone in his left hand during an eighth-inning play at first base against the Twins on Tuesday night at Target Field, meaning he will miss the entire weekend series with the Indians at Progressive Field and most likely the next week.
Following the White Sox 2-1 loss in 10 innings to the Indians on Friday, Konerko said that this injury probably would land him on the disabled list if it had happened earlier in the season. He's hoping to get back on the field for at least a couple of games in the last month of his 16th and final year with the White Sox.
"I want to get out there as soon as I can. It's just that, right now, it's very swollen and stiff. I can't do much with it at all," Konerko said. "Not unlike getting hit in the hand with a pitch. Very similar to that. But knowing that there's that little bone fracture in there, I don't know what that's going to leave me after we get all that stuff out and what it's going to feel like. I know bone usually doesn't heal in a week.
"We'll see. I'll try to get as much out to where I know what I'm dealing with. The good news is it's not like it's the beginning of the season. If it is a handful of games and you have to tough it out, then you do it. But I'm not happy about it, that's for sure."
White Sox manager Robin Ventura made the Konerko announcement during his pregame media session. But he remained very hopeful that this injury will not be season-ending for the White Sox captain.
"It's kind of day to day, but it's probably going to take longer than that," Ventura said. "I would see him out at least a week and then kind of reassess after that. He won't be doing any baseball stuff for a while.
"It's unfortunate. He just noticed it yesterday walking around. It just wasn't feeling that good. He wanted to get it checked out."
Konerko had X-rays taken in Cleveland on Thursday night. Konerko has been told that he cannot do any more damage to the fracture by playing, so it becomes more an issue of pain tolerance.
The play in question was a Danny Santana bunt on which Konerko fielded the ball and then applied the tag. Konerko tagged Santana hard enough, making sure that he didn't get past him, that he ended up asking Santana after the tag if he was all right. Konerko took batting practice on Wednesday and didn't start feeling the pain until Thursday.
Throughout the month of September, the White Sox are honoring Konerko with special fan giveaways for each of the 11 home games. The celebration includes the creation of "Club Konerko" in Sections 158 and 159.
Fans purchasing tickets in one of the two designated sections during the month of September will receive a Konerko-themed collectible (except for Sept. 8 and 13) and a "Thank You, Paulie" sign. All fans in attendance for the Sept. 8 and 13 games will have the opportunity to receive an exclusive Konerko giveaway item.
The White Sox also announced this week that Sept. 27 will be Paul Konerko Day, and the franchise cornerstone will be honored before the game with Kansas City. They hope Konerko will be able to play in some of these games.
"This is a bad time to get it. It is Paul Konerko month and that's what we are starting with," Ventura said. "We'll see when we get back home how it feels and we'll go from there."
With Konerko out and Jose Abreu battling ongoing soreness that has him at designated hitter, Dayan Viciedo and Andy Wilkins figure to split time at first base for the immediate future. Konerko knows that he'll have plenty of time to recover in retirement if he can get the hand to where he can swing a bat or catch a ball.
"There are injuries you can play through and stuff you can tough out," Konerko said. "But if you can't swing a bat or catch a ball from an infielder, you have to get to that level first and I know I'm not really close to that right now.
"I'm going to try to speed that up as quickly as I can and get back. Maybe it's a week. I really don't know and I hate to speculate because I can't even close my hand right now. I'm going to do everything I can to get back and play a couple of games before it's all over."
Scott Merkin is a reporter for MLB.com. Read his blog, Merk's Works, and follow him on Twitter @scottmerkin. This story was not subject to the approval of Major League Baseball or its clubs.