Tribe seeks answers to Bauer's early issues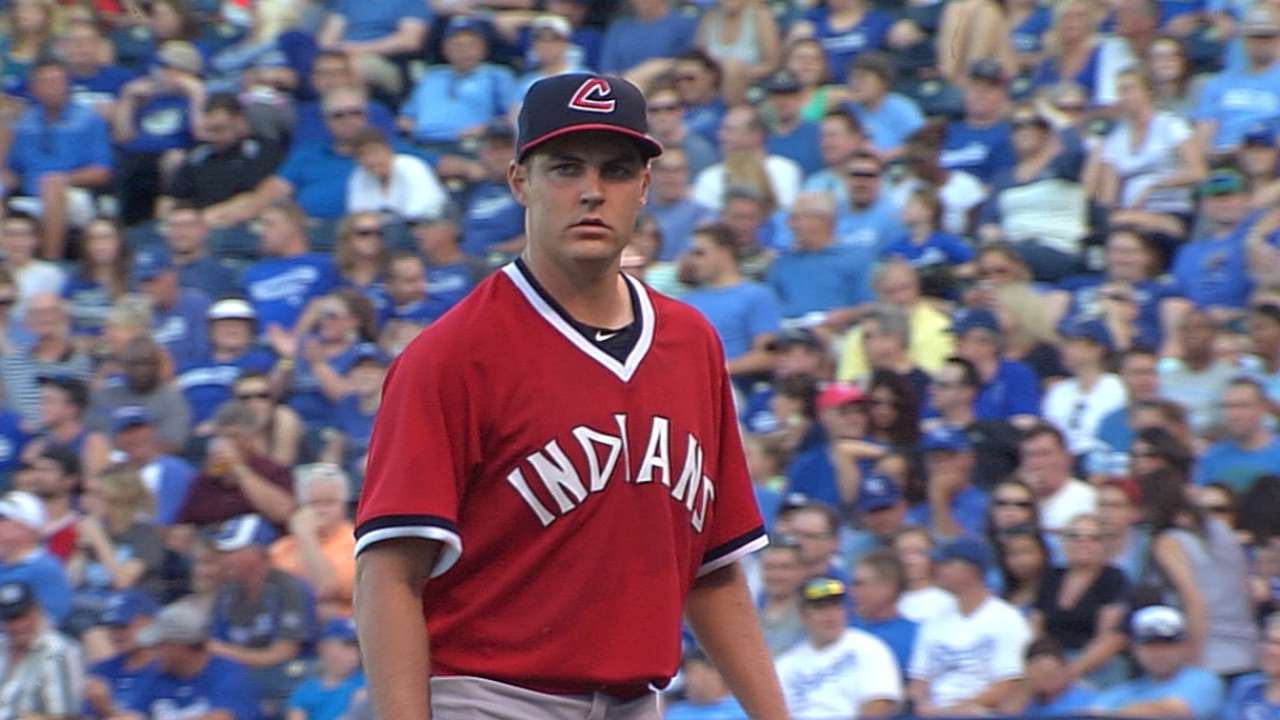 CLEVELAND -- Indians manager Terry Francona and pitching coach Mickey Callaway planned on sitting down with pitcher Trevor Bauer before Friday's game against the White Sox. The idea behind the routine meeting was to go over his last start and discuss in detail how to improve going forward.
During Thursday's 11-4 loss to the Tigers, Bauer gave up four runs in the first inning and then blanked Detroit's lineup for the remainder of his 5 2/3-inning outing. That kind of start has been somewhat of a trend this season for the pitcher, and Cleveland wants badly to eradicate the issue.
"Trevor's a fairly deep thinker, if you've talked to him," Francona said on Friday. "So, however we do it, whether it's simplified or whether it's technical, I don't care. We just want to continue to get better."
After Thursday's defeat, Francona referred to Bauer as a "stubborn kid" in his postgame meeting with the media. During Bauer's brief tenure with the D-backs, who traded him to the Indians prior to last season, the young pitcher gained a reputation for stubbornness when it came to his pregame routine and relationship with his coaches and catchers.
On Friday, Francona clarified his comments, saying that being stubborn did not necessarily need to be considered a negative trait.
"I enjoy talking to Trevor a lot," Francona said. "I don't think being necessarily stubborn is a bad thing. I think it's a part of what makes people good. I guess my point is, we want to help and we want to make sure that we're doing it correctly. And we're going to continue to do that. That's the best way that I can put it."
Through 22 starts this season, the 23-year-old Bauer has gone 5-7 with a 4.10 ERA in 129 2/3 innings for the Indians. The right-hander has allowed 20 runs (16 earned) in the first inning, equating to a 6.55 ERA. Those 16 earned runs came within eight of his starts, during which he has turned in a 1.58 ERA in the remaining innings in those outings.
Francona said Cleveland's collective goal is to find a solution to that continued problem.
"Sometimes, we sort of want to simplify," Francona said. "I think that's our nature, when we see guys with good stuff. His nature is probably to be pretty complex. So, however the message is delivered, as long as it gets done. And in that way, Trevor's done an outstanding job from last year to this year."
Quote to note
"We knew when we acquired Trevor we had work ahead of us. And we told him that and we told him we wanted to do it together. That has not stopped, nor has it changed. We think we have a pretty special kid and we're never going to stop working to attain that."
-- Francona
Smoke signals
• Center fielder Michael Bourn and second baseman Jason Kipnis were both out of the starting lineup on Friday with lefty Chris Sale on the mound for the White Sox. Francona noted that it was a scheduled day off for both of the regulars. Rookies Tyler Holt and Zach Walters got the nod in center and second, respectively.
• Low Class A Lake County defeated South Bend on Thursday to sweep the best-of-three Midwest League semifinals series. The Captains advance to the Midwest League Eastern Division championship against either West Michigan or Fort Wayne. Prospects Nellie Rodriguez and Mike Papi highlighted Lake County's clinching win with back-to-back homers in the fourth inning.
• With one shutout inning logged in Thursday's loss to the Tigers, Indians reliever Scott Atchison lowered his ERA to 0.61 in his past 13 outings. In that span, the right-hander has given up one earned run over 14 2/3 innings.
Jordan Bastian is a reporter for MLB.com. Read his blog, Major League Bastian, and follow him on Twitter @MLBastian. This story was not subject to the approval of Major League Baseball or its clubs.