White Sox drop 10-inning duel to Indians
Sale maintains ERA lead with 2.09 mark; Alexei homers before HBP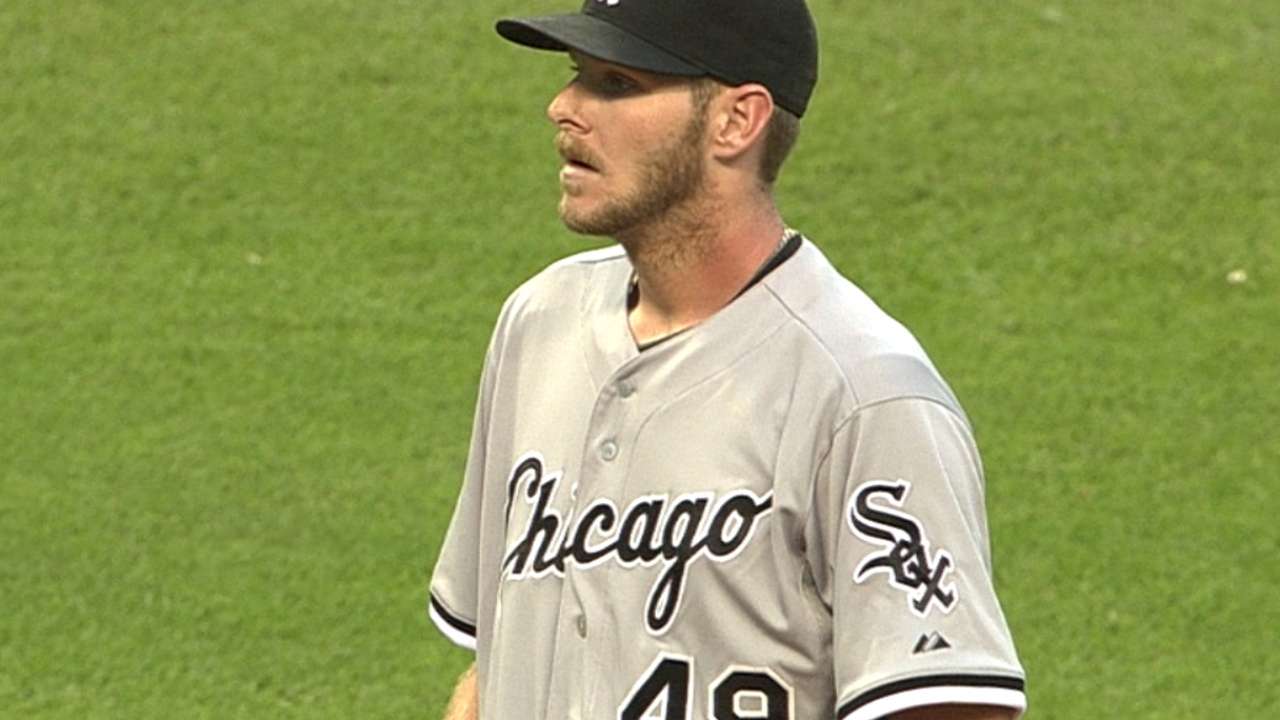 CLEVELAND -- At an earlier stage of the 2014 season, when the White Sox were somewhat closer to contention, Chris Sale would have worked deeper into the Indians' 2-1 victory in 10 innings Friday night at Progressive Field.
But with the White Sox sitting 14 games under .500 at 63-77 and 15 1/2 games out of the American League Central lead, there's no reason to push the crown jewel of the pitching staff and really the entire organization. So Sale did his usual yeoman's work, allowing just one first-inning run over six innings, and departed after throwing 69 of his 98 pitches for strikes.
Sale understood the team's desire to keep him somewhere around 100 pitches for his remaining September starts.
"Just trying to tether back a little bit and trying not to get too much of a workload," Sale said. "I understand what's going on. I agree with it. Obviously, when I get out there, I want to go as many innings as I can and stay out there, but what they say goes. Just roll with that and do the best I can."
"You don't want to run him out there for 127 [pitches], give or take," said White Sox manager Robin Ventura. "He knew that."
Cleveland (72-67) scored its only run off of Sale on Michael Brantley's single, stolen base and Carlos Santana's single to left, although Tyler Holt's eight-pitch at-bat and leadoff single set the tone. Sale allowed two singles and one walk over the next five innings, striking out five and walking just the one.
In 155 innings this season, Sale has fanned 183 and walked 32. His quest for the AL ERA title certainly wasn't hampered by his performance, entering his 23rd start with a 2.11 ERA and exiting at 2.09. Finishing off the ERA crown would make Sale the first White Sox pitcher to have such an honor since Joel Horlen in 1967.
That accomplishment certainly would push Sale every time out, but even with the team well out of the playoff picture or without the individual accolades, Sale indicated Friday that there's always a reason to give 100 percent every time he hits the field.
"There's not one person in here that's giving up. This is Major League Baseball," Sale said. "If you can't get excited, I don't care who you are, what game you are playing, stadium, or standings. If you can't get ready to go, it's not for you.
"That's not us. That's not what we are aiming to do. It's not an affectation. We are here to play hard and even though our playoff hopes are a little slim right now, we are still fighting to the end and giving everything we got every night."
Cleveland left-hander T.J. House slightly bested Sale on this evening, striking out seven and not issuing a walk over seven innings. The White Sox run came on Alexei Ramirez's homer in the third, marking his 14th, although Ramirez left in the fifth after being hit by a House pitch on the left foot.
Jose Abreu singled and tripled in his first two at-bats, getting his average up to .325 and extending his latest hitting streak to 14. He then struck out with two on in the fifth and again in the eighth to finish at .324.
The game-winning run scored when Yan Gomes opened the bottom of the 10th with a triple off of Maikel Cleto (0-1) that barely eluded Michael Taylor's leaping effort down the left-field line as Taylor crashed into the wall. After an intentional walk from Cleto to Michael Bourn and an intentional walk from left-handed reliever Eric Surkamp to Lonnie Chisenhall to load the bases, Surkamp managed to strike out Jason Kipnis, who swung at ball four on a 3-1 count.
Ronald Belisario replaced Surkamp and allowed pinch-hitter David Murphy's walk-off single, scoring pinch-runner Chris Dickerson. The White Sox had the bases loaded and one out in the top of the 10th, but Dayan Viciedo popped out and Marcus Semien grounded out against C.C. Lee (1-1).
"Yeah, that was great," said Cleveland manager Terry Francona of the game-winning hit from Murphy, who was activated from the disabled list Friday. "With all the things we talked about leading up to it, about him being a teammate and all the things like that, that was pretty fitting to watch him come through there."
Winning a game with an elite starter such as Sale on the mound becomes a boost for Cleveland's playoff confidence. Sale still will make his regular starts the rest of the way -- barring an extra day of rest here or there.
"Absolutely, because that's what we signed up for to play from Game 1 to Game 162," said Sale, who has allowed just two earned runs over his last 39 2/3 road innings. "I believe that's the mindset for everyone in here. When they are on the field, they are giving everything they got."
Scott Merkin is a reporter for MLB.com. Read his blog, Merk's Works, and follow him on Twitter @scottmerkin. This story was not subject to the approval of Major League Baseball or its clubs.