MLB.com Columnist
Terence Moore
No honor is too great for Jeter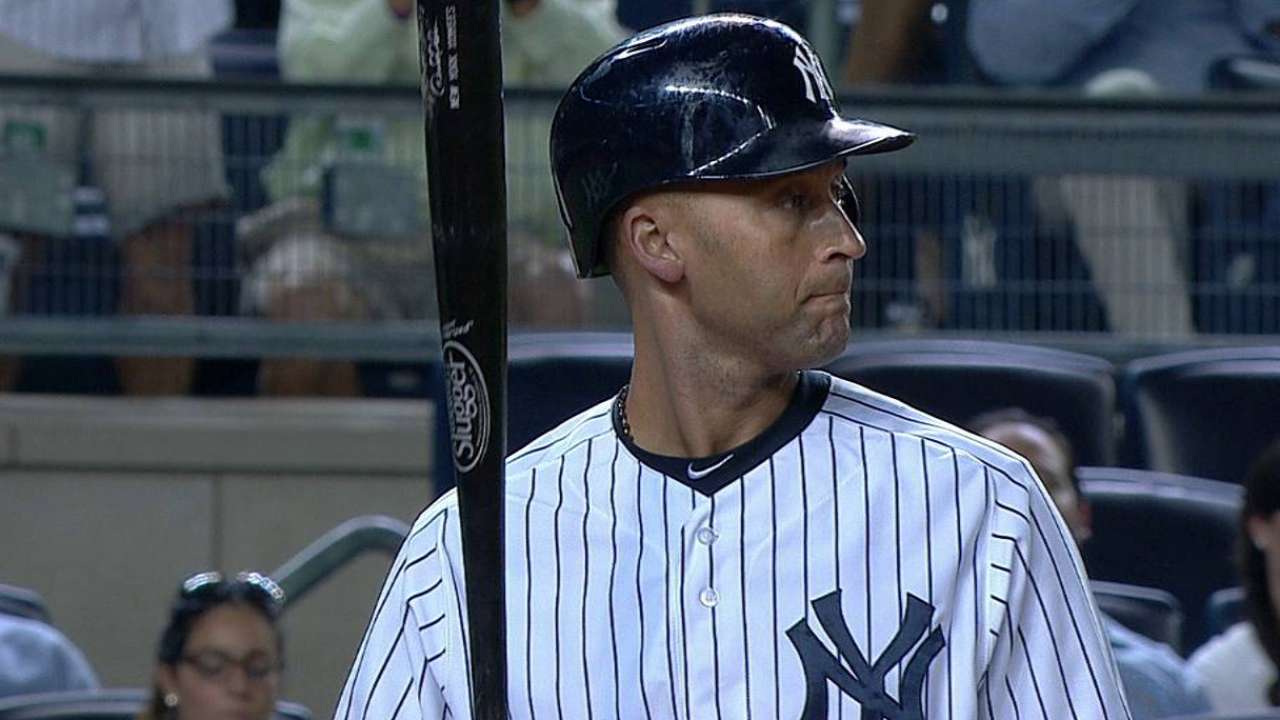 You can't praise Derek Jeter enough. You really can't. The Yankees and nearly everybody else are hugging No. 2 so tightly these days that they are threatening to squeeze the pinstripes off of his uniform. Good for them, and good for Jeter, who has received retirement gifts this year ranging from custom-made cowboy boots to seats out of the old Seattle Kingdome to jumbo cupcakes featuring his famous number.
But you know what? A bunch of folks don't like it. Here's my message to them: Stifle. Well, that, and take a deep a breath, smile in the direction of the Bronx and then join the rest of us in saluting the final three regular-season weeks of one of the greatest Yankees ever.
I'm sorry. Forget what I just typed. Derek Sanderson Jeter is one of the greatest baseball players ever. Actually, he is among the most significant athletes ever, and the more I think about it, nothing I've written so far does justice to his legacy, especially given his contributions to society.
No team in professional sports has been more high profile during the last century than the Yankees. In fact, the Yanks rank with mom, apple pie and the flag, which bring me to this: Jeter has also accomplished all of those things with grace and dignity, and Jeter has been the undisputed leader of this generation of pinstripes along the way to five World Series championships and a plaque someday in the Baseball Hall of Fame. He shows the utmost integrity as the ultimate role model in the brightest of the world's spotlights in New York City.
That's just for starters.
Along those lines, name me every scandal involving Jeter since his first full season with the Yankees in 1996. Now tell me a teammate, an opponent or anybody else who ever said anything less than flattering about this guy involving something he did on or off the field. Take your time, because you'll be thinking about both of my requests from now until eternity.
Even so, the whiners say the Yankees went over the top this week by declaring that players and coaches will wear a commemorative Derek Jeter patch on their caps and jerseys for the rest of the season. Those same whiners nearly lost their minds when word leaked the Yanks might even retire Jeter's No. 2 as early as Sunday at Yankee Stadium during what team officials have declared Derek Jeter Day.
Did I say you can't do enough for Jeter? If the Yankees order the whole team to give their captain a standing ovation while whistling in front of the dugout every time he walks to home plate, so be it. If New York Mayor Bill de Blasio announces the No. 4 train from Manhattan to the Bronx will be named in Jeter's honor, how appropriate. If President Barack Obama decides Jeter should join the likes of Bill Clinton, Oprah Winfrey and Loretta Lynn in getting the Presidential Medal of Freedom, you know, just because, hallelujah.
Said Yankees president Randy Levine at a gathering this week in New York for the Bloomberg Sports Business Summit: "I think that Derek Jeter is a great player. We've honored him as a great player. He deserves the day we're giving him on Sunday. He deserves a patch. He's an iconic Yankee. So I think we've handled it completely appropriately."
Yes, they have, and about that "day" Levine mentioned: It is Derek Jeter Day. With pinstriped glory everywhere, the Yankees will have a ceremony on Sunday before they host the Royals, and many of Jeter's former teammates are slated to attend, along with his relatives and friends. Meteorologists are predicting a lovely afternoon of 80 degrees with a sun-splattered sky, and that makes sense. When it comes to celebrating legends, nobody does a "day" to perfection better than the Yanks.
This is a different day, though. The first one for the Yankees involved Lou Gehrig, who proclaimed through the echoes at Yankee Stadium on July 4, 1939, that he was "the luckiest man on the face of the earth." By then, Gehrig hadn't played in more than two months due to his illness. Eight years later, there was Babe Ruth Day inside the same house that the Big Bambino himself built, and he was in his 12th year of retirement from baseball. He died the next year.
Jeter is alive and well. He is also the midst of trying to help the Yanks reach the postseason after a rare miss last year. Jeter isn't the 38-year-old shortstop who led the American League in hits in 2012, but he also isn't your typical superstar near the end of his career who makes you cringe as he stumbles toward the finish line.
When the Yankees take the field Friday against the Royals at home, Jeter still will be at the same position he has manned since he was among those pushing the Yanks toward a 1996 World Series title. He also will remain in his familiar second spot of the batting order, where he contributed a hit and two RBIs Thursday night at Yankee Stadium in a victory over the Red Sox.
Jeter's efforts kept the Yankees in playoff contention (four games behind the Tigers for the AL's second Wild Card spot entering play Friday), and they also reminded us that he remains relevant. Jeter will always be relevant, even after he retires to become more involved in his highly successful youth organization called the Turn 2 Foundation. Jeter will succeed in whatever else he chooses to do.
So go crazy over No. 2, America. Go crazy.
Terence Moore is a columnist for MLB.com. This story was not subject to the approval of Major League Baseball or its clubs.