Eighth-inning rally edges out AL East leaders
Escobar, Hanigan combine to drive in three to back Cobb's gem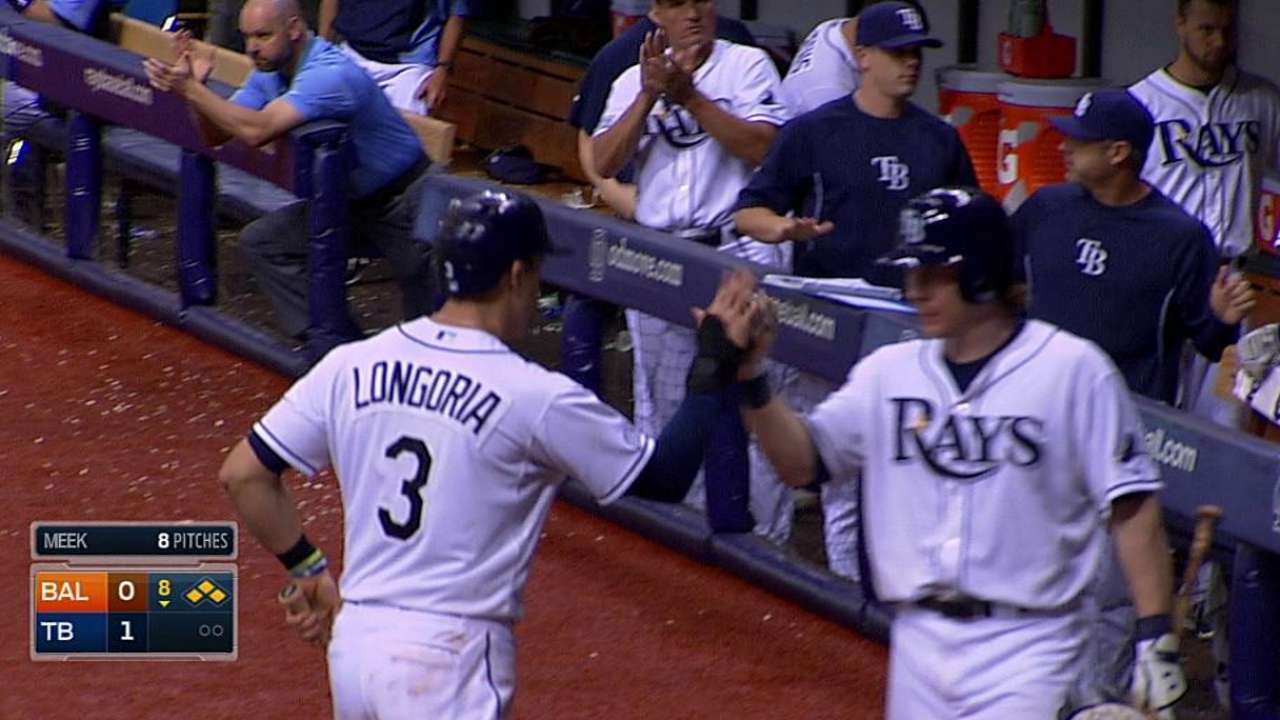 ST. PETERSBURG -- On Friday night, The Rays finally got their perfect storm. Dominant starting pitching giving way to lockdown relievers. Crisp defense. Timely hitting. All things Tampa Bay came up with in its 3-0 win over the Orioles in the series opener at Tropicana Field -- and a combination that has gone missing far too often in 2014.
On Friday, Alex Cobb tossed seven scoreless innings. The Rays got a run-saving catch from Wil Myers in right field. Yunel Escobar broke a 0-0 tie in the eighth with a single off second baseman Jonathan Schoop's glove, and Ryan Hanigan provided the insurance with a two-run single to left. And the relief tandem of Brad Boxberger and Jake McGee closed the game out against the American League East leaders.
"A microcosm of what we'd like the season to look like," Tampa Bay manager Joe Maddon said. "More formulaic. You pitch really well. You get a run when you need it. The bullpen cleans it up. I think it was an error-free game for us. That's the more formulaic approach. I've always talked about being more formulaic, and that's a microcosm of what it's supposed to look like."
A day earlier, the Rays had gotten, as Maddon said, a "microcosm" of what the season has actually been -- a season that began with World Series expectations and has turned into a 68-74 record and fourth place in the AL East. In Thursday's game against the Blue Jays, the Rays were shut out, 1-0, in 10 innings, in the process wasting Jake Odorizzi's brilliant start and a golden opportunity for a ninth-inning walk-off.
So Tampa Bay hadn't scored in 18 innings when Escobar's hit against Baltimore reliever Evan Meek ended the drought. Until that point, it looked like the 14,632 fans at The Trop might well be watching a repeat of Thursday night's loss, as Tampa Bay couldn't take a lead against Baltimore starter Wei-Yin Chen despite Cobb putting up zeros.
Finally, though, they caught a rare glimpse of "Rays baseball," the brand of play that has carried the team to six straight winning seasons, four playoff runs and a World Series appearance since 2008 -- but which they have struggled so mightily to live up to this year.
"This is definitely the blueprint for us to win games," Cobb said. "It's tough to do it this way, but this is the way this team was built, and we absolutely needed more of these in the course of the season -- and maybe just some more of these to snap out of stretches where we weren't playing this type of baseball and needed to turn around quicker. This is who we are, that's how we're gonna win ballgames and sustain success going from here on forward."
Friday night's win stemmed from the Rays right-hander, who bulldogged his way through the seventh, keeping the Orioles off the scoreboard through the seventh despite a sporadic split-change, normally his best out pitch.
"The changeup came and then went away, came and went away," Maddon said.
That didn't stop Cobb, who notched his 11th consecutive start allowing two runs or fewer, extending the franchise record he set in his last outing. Cobb was also helped out when Myers robbed Chris Davis with a diving grab in right with Adam Jones on second base and two outs in the sixth.
Cobb's outing allowed the Rays to get to their go-to duo, Boxberger and McGee, without having to eat innings with middle relievers. Boxberger, who pitched the eighth, set the Rays' single-season record for strikeouts by a reliever in his inning of work, and McGee, facing the heart of the Baltimore order, struck out the side in the ninth.
"Boxberger's having a great year, and so is McGee, so they put a goose egg up there today," Orioles manager Buck Showalter said. "We couldn't push anything across."
But the Rays could, even if it took them almost the whole game to do it. And they did it the way they've done it best.
"Overall, it's got to be this type of game," Hanigan said. "Really grinding out, working in terms of getting outs, getting guys out, really being smart about what we're doing and making adjustments on the fly as the game goes in terms of what we're seeing with the hitters. And obviously coming up with some big hits."
David Adler is an associate reporter for MLB.com. This story was not subject to the approval of Major League Baseball or its clubs.