Injured Dodgers veteran Beckett mulling retirement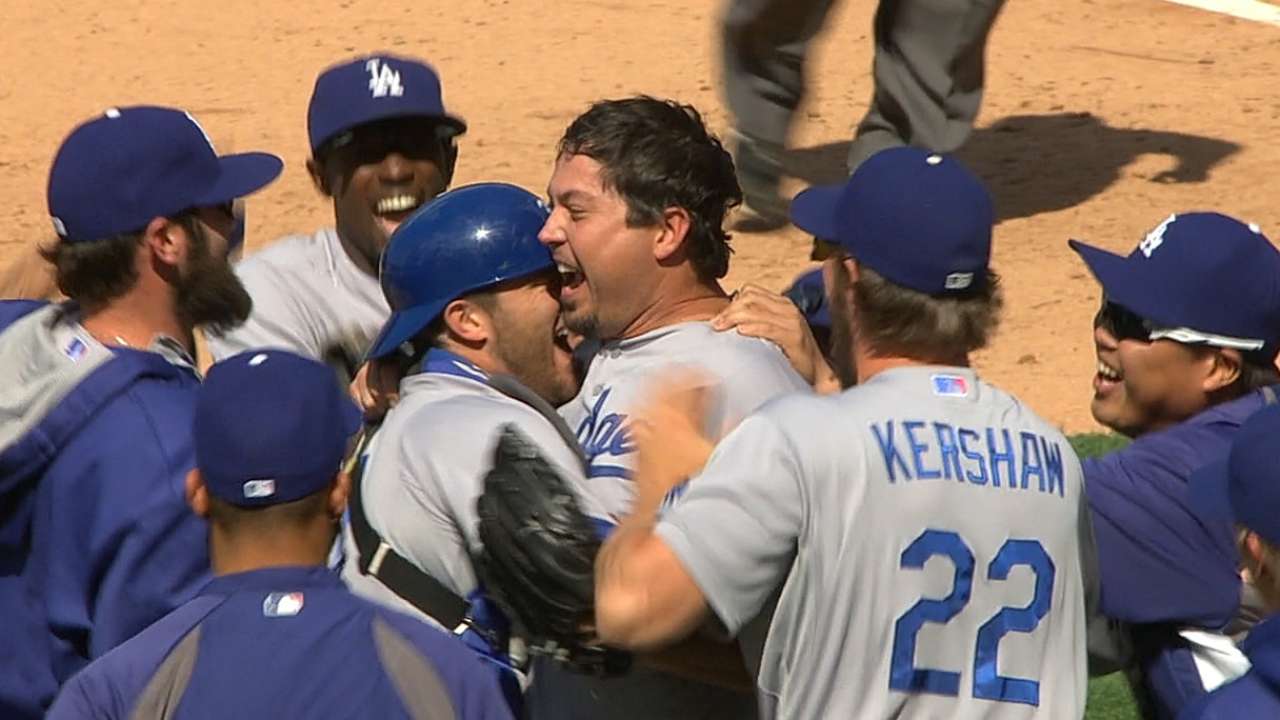 LOS ANGELES -- Injured Dodgers pitcher Josh Beckett on Friday said he hasn't decided whether to retire, then he sounded like he's ready to retire.
Beckett needs surgery to repair a torn labrum and a lesion in his left hip, whether he pitches again or not. With a four-month rehab, he would need to have the surgery now to be ready for Spring Training.
But he said he would likely have the procedure in May. Earlier this week, manager Don Mattingly said Beckett would not pitch again this year after experiencing continued pain following throwing sessions of just 50 feet.
"Just treading water," Beckett said of his current rehab. "It was extremely sore the next day, and that's not fun. I've had teammates that have been through injuries toward the end. That helps make the decision."
Beckett is in the final season of a four-year, $68 million contract and will be a free agent. He has earned more than $116 million in his career and he has two young children.
"I'm not announcing anything now," he said. "I don't know if I'll decide before Christmas. A lot of guys take a year off. That road would be pretty long. The reason I didn't have the surgery before is I didn't know if I wanted to play going forward."
Beckett has hinted at retirement since Spring Training. He pitched through the hip condition, which worsened from a baserunning mishap in Colorado on July 6. He went on the disabled list, returned to make three more painful starts, then was on the DL again Aug. 4. He's a high-mileage 34-year-old, having thrown 2,051 innings in 13 big league seasons.
"It's been weighing heavy on me," he said. "It takes four hours of [therapy] work to do two hours on the field. A lot of people deal with that. At some point you decide, is it worth getting ready for another season? I feel best the day I pitch. In between days are very draining."
Beckett said in addition to counsel from his wife, Holly, he would talk to former teammate Mike Lowell, whose career was cut short by very similar hip injuries.
Beckett made 20 starts this year and before being shut down was 6-6 with a 2.88 ERA and a no-hitter, putting him in the conversation for Comeback Player of the Year. He missed most of the 2013 season with thoracic outlet syndrome that required surgery to remove a rib that was compressing a nerve near his neck.
Manager Don Mattingly said people shouldn't forget "how good he was pitching early in the year" when Clayton Kershaw and Hyun-Jin Ryu were on the DL.
"He and Danny [Haren] kept us afloat," Mattingly said. "He's had a great career to this point. It happens over time. A lot of innings, a lot of games, a lot of running and getting ready takes its toll. His stuff is good enough. He has to want to pay the price [surgery and rehab] to play at the Major League level or not. It's a decision he has to make."
Beckett is a three-time All-Star, was the World Series MVP for the Florida Marlins in 2003 and a Cy Young Award runner-up in 2007, when he went 20-7 and won a World Series with Boston.
He came to the Dodgers in the 2012 Boston blockbuster deal with Carl Crawford, Adrian Gonzalez and Nick Punto.
Ken Gurnick is a reporter for MLB.com. This story was not subject to the approval of Major League Baseball or its clubs.