MLB.com Columnist
Jonathan Mayo
Pipeline Inbox: Is Bryant the No. 1 prospect going into 2015?
Jonathan Mayo responds to fans' questions about baseball's top future stars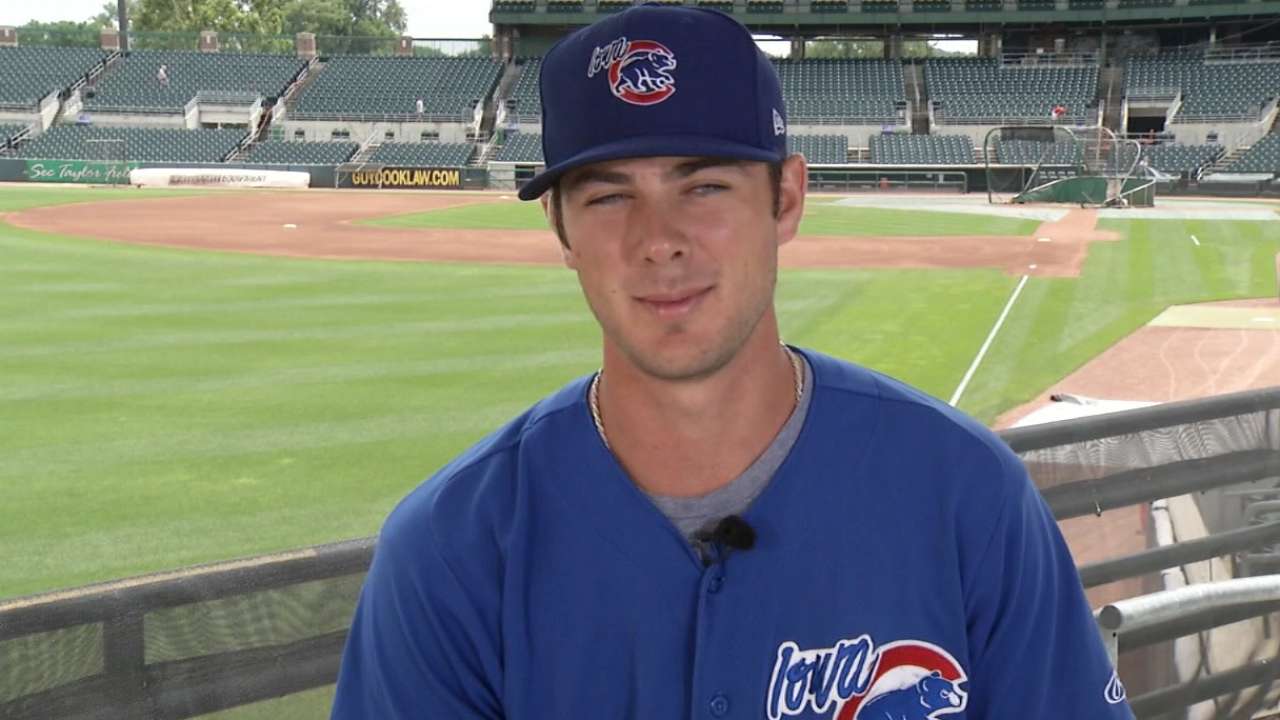 It's a future-looking edition of the Pipeline Inbox this week, though I guess any prospect-related content is considered to be future-looking, right? Anyway…
This week's edition includes a question about the upcoming Arizona Fall League, about next year's Top 100 list and, yes, even about the 2015 Draft.
Is Kris Bryant the No. 1 prospect going into 2015?
-- Jayson P., Queens, N.Y.
The 2014 season isn't even over yet and you want to talk about '15? I have to say … I love it!
Right now, Bryant, the top prospect in the Cubs' system, is ranked No. 3 on MLB.com's Top 100 list. Byron Buxton of the Twins and Carlos Correa of the Astros are the only two prospects ahead of the slugging third baseman.
A case to move Bryant into the top spot certainly can be made. He did, after all, lead the Minor Leagues in home runs (with 43) and slugging percentage (with a .661 mark). Bryant's 110 RBIs put him third on that list, and he hit .325 with a .438 on-base percentage (second in the Minors), thanks to his 86 walks. The fact that he put up these gaudy numbers in just his first full season while spending half the year in Triple-A makes it all the more impressive.
Ranking the 2015 list should lead to some pretty good discussions about who should be at the top. It wouldn't surprise me if there are those who feel Bryant should be No. 1. But the reasons why Buxton and Correa were put ahead of Bryant when we re-ranked the list in July haven't gone away. Remember, the Top 100 isn't a ranking of which prospects have necessarily performed the best, though that obviously is a part of it. It's really about who we feel will be the best big leaguers in the future, say five to seven years from now. Buxton and Correa had injuries that dampened their 2014 seasons. If healthy, they should return to being the dynamic prospects they were before they hit the disabled list. Bryant has the chance to be an All-Star-caliber player, but Buxton and Correa have the chance to do a little bit more while playing elite positions.
What are your thoughts on Glenn Sparkman?
-- John S., Middletown, N.J.
This question stems from the recent run of Nos. 21-25 prospects I've been rolling out on my blog. Back on Aug. 27, I posted the Royals' bonus prospects. Sparkman wasn't on that list, but based on his first full season of pro ball, he deserves to be in the conversation.
The Royals took Sparkman in the 20th round of the 2013 Draft out of Wharton County Junior College in Texas. They liked his ability to spin a breaking ball at that level and felt that with some deception to his delivery, he had the chance to start.
So far, they look like they were right. Sparkman led the Royals organization in ERA, WHIP and batting average against. His 1.56 ERA was actually the second lowest in all of the Minor Leagues, as the right-hander spent the season in the Class A Advanced Carolina League. The 22-year-old throws a fastball anywhere in the 89-94 mph range, two breaking balls and a changeup from a strong, athletic body. He throws strikes (1.9 BB/9 in 2014) as well.
Since Sparkman doesn't have "wow" stuff, the test will be how his pitchability and deception will play at the higher levels. So far, though, it looks like the Royals may have found a late-round bargain in the 2013 Draft.
Who are the early front-runners to go 1-1 in the 2015 Draft? I'm a Rangers fan, and I need some inspiration!
-- Sean O., Battle Creek, Mich.
At this time last year, there was a clear-cut front-runner to be the No. 1 pick: Carlos Rodon from North Carolina State. But a funny thing happened on the way to the Draft. Rodon ended up going third overall, behind high school pitchers Brady Aiken and Tyler Kolek.
I tell you that partially as a cautionary tale: Front-runners today are not necessarily No. 1 picks tomorrow. I also bring up Rodon because there isn't a clear leader of the pack, like he was last year, for the 2015 Draft.
But you asked for inspiration as a fan of the Rangers, who as of this writing, have a three-game "lead" over the Rockies for the top pick. The top college arm, most agree, is Michael Matuella from Duke. The right-hander has a four-pitch mix, starting with a mid-90s fastball, and is the closest to being considered a front-runner. The best high school position player is Brendan Rodgers, a shortstop with ability with the bat, including decent power from a premium position. He might be the best bet to be No. 2.
After that, it's extremely muddled. There aren't any college bats that even belong in the conversation. Daz Cameron, Mike's son, has received a lot of attention from the high school hitter ranks, but he may not have the wow plus tools to stand out as 1-1 type. There are some high school pitchers who had good summers, but keep in mind a high school right-hander has never gone No. 1 overall. That said, Mike Nikorak, from Stroudsburg, Pa., and Ashe Russell, from Indianapolis, are two right-handers who stood out this summer. Add in high school lefty Justin Hooper to round out a list of guys you'll definitely want to keep an eye on next spring.
Why is it that some players have been selected for the Arizona Fall League when they have played the whole season and done well? For example, why Aaron Judge? Why not Ramon Flores, who was on the DL for a while? Glad to see Eric Jagielo, because he missed time and could use the extra work and games.
-- Adam E., Toronto
Adam, you make it sound like the Arizona Fall League is either a punishment for not playing well or summer school for kids who got incompletes on their report cards.
Each organization selects players for different reasons. Some players are indeed sent to make up for lost time (Jagielo, Buxton). Some are sent to try out a position switch (Josh Bell of the Pirates will be playing first base this fall; Reds center fielder Billy Hamilton made the move to the outfield in the AFL). For many, though, the AFL is a springboard to the upper levels of the Minors and the big leagues. Many players make their big league debut the season following their AFL campaigns. With someone like Judge, the Yankees' No. 5 prospect, it could be a path to the fast track. The big outfielder did indeed have a very good first full season, splitting the year between two Class A affiliates. Getting some at-bats against some more advanced pitching will get him ready for Double-A and perhaps allow him to hit the ground running in 2015 and move up quickly from there.
Jonathan Mayo is a reporter for MLBPipeline.com and writes a blog, B3. Follow @JonathanMayoB3 on Twitter. This story was not subject to the approval of Major League Baseball or its clubs.