Cain talks exciting October in Chatting Cage
Center fielder discusses son due next month, possibility of Royals in postseason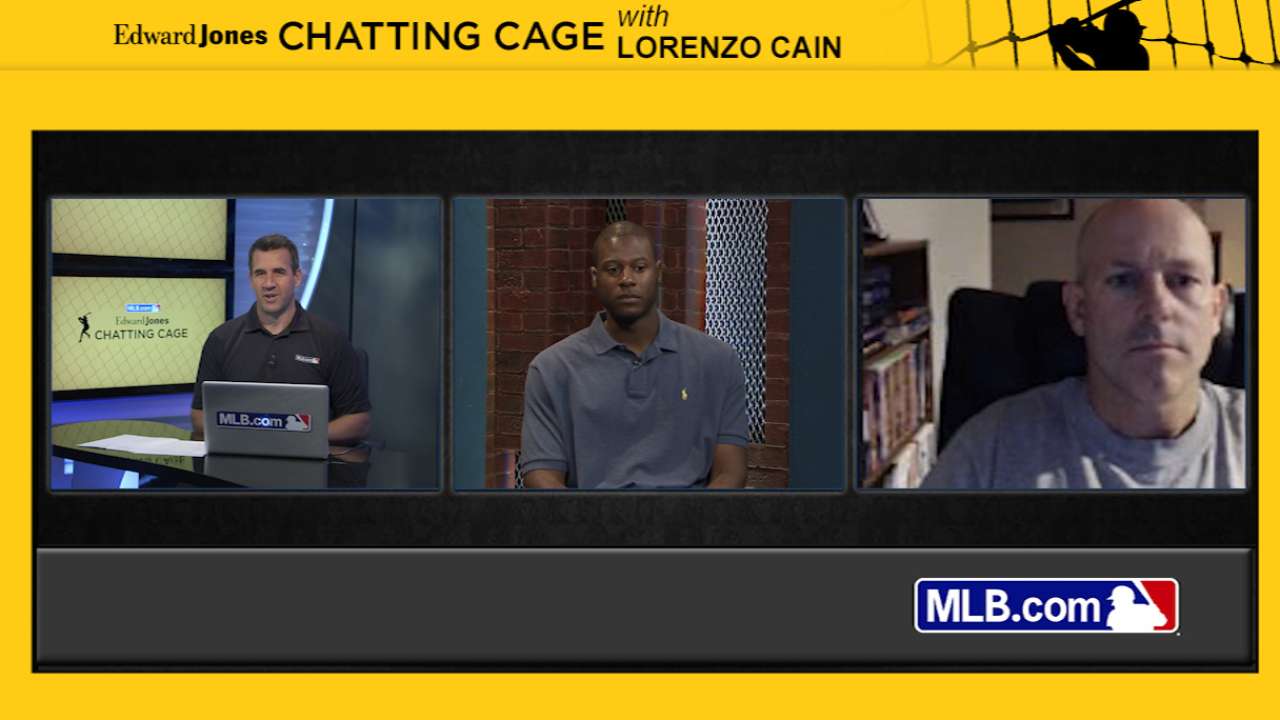 NEW YORK -- The Royals and Cameron Lo Cain are both due this October. The former has not been to the postseason since 1985. The latter will be born to expecting parents Lorenzo and Jenny Cain around the middle of that month, near the time when an American League champion is decided. Oh, it could get interesting this fall.
"It could be tough," Lorenzo said. "If we're in the playoffs, I gotta sneak home for maybe one day and see, because it's my first-born. That's another experience for me that I'm very excited about. I can't wait to meet my son -- and hopefully get in the playoffs at the same time."
Welcome to the rapidly changing world of Cain, the affable Kansas City center fielder who visited the MLB.com studios in Manhattan during lunchtime on Friday to mix it up with fans across digital platforms in the Edward Jones Chatting Cage. His appearance led into a six-game road trip that starts with three games against the Yankees (including his best friend in baseball, Zelous Wheeler) and will be followed by three against Detroit, the club Kansas City is battling for the AL Central title.
"It was definitely different, but I had a blast, to see the fans on the screen, and for them to ask me personal questions or whatever they feel they needed to ask," Cain said of the Chatting Cage. "It was a lot of fun. I'll definitely do it again next time I'm in New York."
"Different" is the operative word around Royals baseball, as the club held a one-game lead over the Tigers entering the opener at Yankee Stadium.
"I've never been a part of anything like this," Cain said. "To be a part is an amazing feeling. You're fighting for something, you're striving to make the playoffs, and it's been a while for Kansas City. I hear about 1985 as the last time. I'm trying to win it for my team and definitely for the fans, as well.
"We feel if we just take care of our business, we'll be fine. We can't worry about what Detroit's doing, because we know they're a really good team. They're gonna be there. We just have to continue winning games each and every day, and our main goal is just to win series right now, hopefully sneak in a sweep every now and then."
Cain said that the last month has been a thrill ride.
"Even coming off that homestand, that crowd was electric," he said. "That's probably the most fans I've seen in Kansas City at the stadium in a long time. To have them support us and just be there screaming for us is always fun. So hopefully we can continue to get the job done."
It didn't take long in the Chatting Cage for Cain to get to the subject of being cut by his high school basketball team as a freshman at Madison County High in Florida.
"I wasn't the next Michael Jordan, so when I got cut, I decided not to go back out there," Cain said. "I picked up a baseball instead.
"I'm in the big leagues now. What else can you ask for?"
Cain said he remains appreciative of that cut to this day, although it was a bitter pill to swallow at the time. He opted not to play any other sport during his freshman year.
"It's tough," he said. "When you feel like you should have made it, I got a little discouraged. I think that's why I didn't try any other sports that entire year. I still felt like I was better at basketball, but I had a buddy who played on the baseball team, and I went up to him. I asked him a few questions, like, 'Can I make the team?' He said to just come out and try out and we'll see what happens. I had never played any organized sports before.
"I never thought I would be here, thinking back to then," Cain said. "I've worked hard getting to where I am today. It's been a blast, the entire ride."
During his Cage appearance, Cain talked about the fastest players on the Royals (Jarrod Dyson, Terrance Gore and Cain himself are his first, second and third choices right now), gave the scoop on why he "always runs away from" Salvador Perez's team videos in the clubhouse (or any social media) and described why a first Gold Glove Award would mean so much to him.
For someone who was a late arrival to the wonders of baseball, Cain takes it upon himself to make sure that kids get a good look at this opportunity. He lives in Oklahoma in the offseason, but early each December, he has a tradition of getting kids and coaches together back home in Florida and trying to impart what he has learned, so they don't have to wait as long.
"When I go back home, we hold camps or whatnot," Cain said. "We try to get as many kids as possible to come out there. We get a group of coaches, like my high-school coaches who I worked with, and a few buddies that I played with in the Minor Leagues. We just kind of get the kids and work with them. We have a good time out there -- just try to teach them the fundamentals.
"I have a little speech. I let them know that sometimes you're going to have downfalls in life, and you just have to find ways to continue to fight and bounce back from it. It's been a lot of fun over the years, working with kids and having a blast."
With Cameron Lo on the way, it might be a little tougher to get back for this year's clinic.
"It's going to be a little different this year," he said.
Mark Newman is enterprise editor of MLB.com. Read and join other baseball fans on his MLB.com community blog. This story was not subject to the approval of Major League Baseball or its clubs.