New friends go for big 'Bucks' at Camden Yards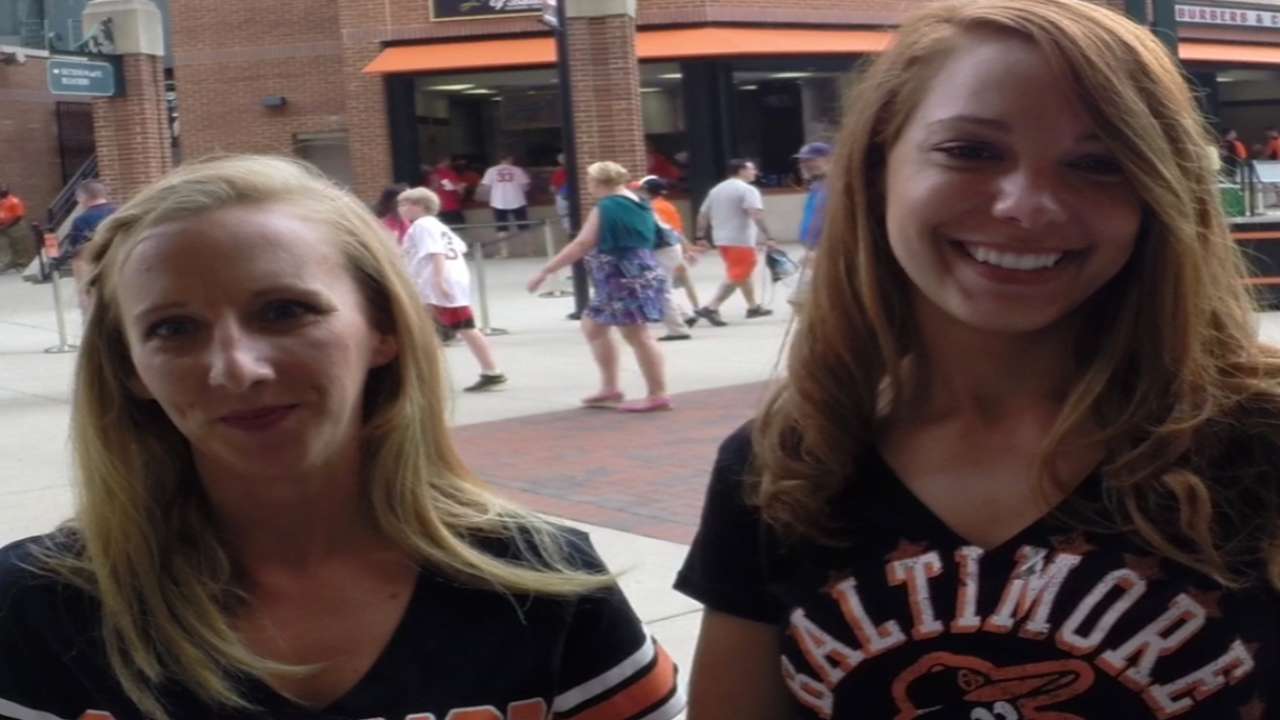 Krista Klaverweiden and Crystal Godzieba work for the State of Maryland Department of Social Services in Worcester County, helping people obtain public assistance. They met earlier this year while training for their jobs in Baltimore, and the perfect outing for the new friends was a day at Camden Yards, stardom on the MLB.com game show "Bucks on the Pond" powered by Ford, and even a mac 'n cheese hot dog at Stuggy's outside Gate H.
It was a classic example of how the national pastime grows and hooks newcomers. Klaverweiden is a longtime Orioles fan who signs her emails with "Ride or Die Black & Orange," and Godzieba was seeing her first Major League Baseball game.
"Being picked to play the trivia game for MLB.com was awesome," Klaverweiden said. "After having our tickets scanned at the gate and bags checked, we were ready for some fun. We ran into the 'Bucks' crew and got the opportunity to participate in the trivia game, which actually helped Crystal and I get to know each other -- icebreaker. Then we enjoyed a tasty mac 'n cheese hot dog at Stuggy's and headed to our amazing seats in section 32, row 17."
"We went to the game because Krista told me how much fun it was," Godzieba said, "and I have always wanted to go. We managed to get great seats that day for a great price. Being asked to be on the show was amazing -- I have never had that kind of opportunity before, and it actually made the whole experience a once-in-a-lifetime memory. When I was approached, I was very scared and excited all at the same time. It's very hard when you're nervous to try and come up with an answer to questions that a lot of times seem so easy, and in other instances are very hard, but we did receive some much-needed encouragement."
If you want to know whether they added to the payout total that has spanned 26 of the 30 Major League parks plus the Hall of Fame, you'll have to watch and see for yourself. We can tell you that this one goes down to the wire, and it required Klaverweiden to use her O's knowledge.
"Bucks on the Pond" is hosted by Jeremy Brisiel, and you could be a part of this season when you least expect it. Fans at the ballpark interact with MLB.com's studio through the magic of technology in conjunction with game action inside, and new episodes are posted each Tuesday and Friday.
Contestants are asked a trivia question -- general knowledge and baseball -- on each pitch during a half-inning of baseball. Get the question correct and win money. Get the question wrong and it's a strike. Three strikes and you're out.
The questions' difficulty level and value increase with the number of outs in the on-field action: $5 easy questions to start, $10 medium questions after one out, $20 hard questions after two outs. If the contestants lasts longer than the team's at-bat, they win the bucks in their bank -- and Ford matches those winnings with a donation to the Wounded Warrior Project.
Cross the $100 mark during the show and it's time for "Say the Word" powered by Ford SYNC. You can wager any amount in your bank on that question, which is asked by Hall of Famer Frank Thomas. Answer correctly and you win, but answer incorrectly and lose that amount, and it's another strike.
Topics in this episode include: fireplaces, Baltimore pitchers, peninsulas, Harry Potter, actresses, Mexico, great Orioles performances, "The Godfather," Spring Training, rock bands and Adam Jones.
It remains to be seen how far this Baltimore club will go in the fall, but so far it has been a dream ride for Orioles fans. Klaverweiden said the "Bucks" appearance is just another piece in what could be a year to remember for the runaway American League East leaders and their fan base. If the O's do make it to the Fall Classic, they would have home-field advantage thanks to the AL's victory in the All-Star Game.
Is this their year?
"Yes, yes, yes. A thousand times, yes," Klaverweiden said. "If we can hold off the AL West contenders, we have a great shot at a World Series championship, considering we do well in Interleague Play."
The Orioles continue to pick up new fans along the way, and Godzieba is one of them.
"Our seats were several rows behind home plate, which was unbelievable, especially for the price that we got them for, and unfortunately I feel spoiled now and wouldn't want to sit anywhere else," she said. "Camden Yards is beautiful and adds to the experience, as well. We ended up eating a hot dog ... and had several fruit smoothies that were all delicious.
"I am hoping this is the year for the Orioles and think they are doing great, so it is looking very promising."
In addition to the O's, teams visited by the "Bucks" crew include the Angels, Astros, Athletics, Brewers, Cardinals, Cubs, D-backs, Dodgers, Giants, Indians, Mariners, Marlins, Mets, Padres, Phillies, Pirates, Red Sox, Reds, Rockies, Royals, Tigers, Twins, White Sox and Yankees. Bookmark MLB.com/bucks and be on the lookout for the "Bucks" crew at your ballpark.
Mark Newman is enterprise editor of MLB.com. Read and join other baseball fans on his MLB.com community blog. This story was not subject to the approval of Major League Baseball or its clubs.