D-backs' Towers dismissed as GM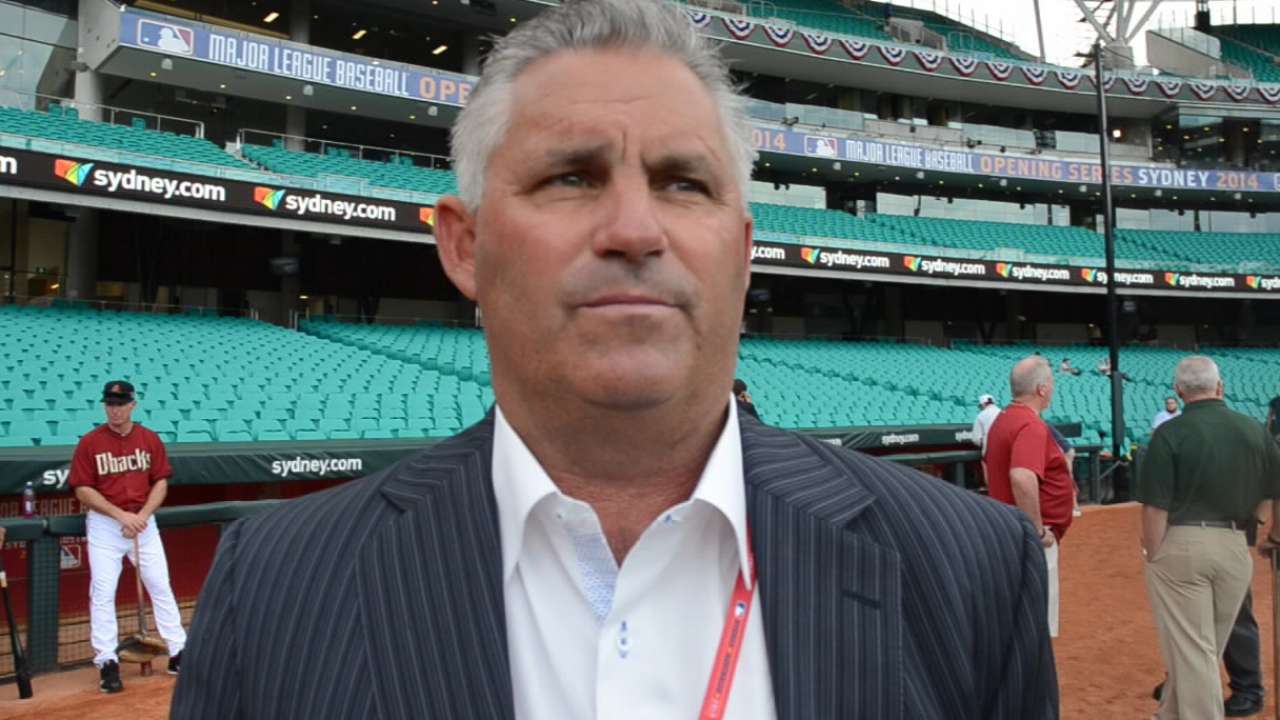 SAN DIEGO -- The D-backs dismissed Kevin Towers as general manager on Friday, ending his nearly four-year reign with the team. He has been offered a different position in the organization, and the team said in announcing its decision that he is "evaluating the opportunity."
"Over the past three months, I have had the opportunity to evaluate all aspects of our baseball operations and have decided to restructure our staff in order to improve our decision-making process," chief baseball officer Tony La Russa said. "I have the utmost respect for Kevin and a friendship with him that dates back many years, which has allowed me to appreciate his talents and experience.
"I have offered him a new role in the front office, as I believe his skills fit well within the framework of what we are building. Understandably, he would like to see who the general manager is before making his own decision."
The team said that the interview process for a new GM will begin this week and that any additional changes within the baseball operations department will be decided upon jointly between president and CEO Derrick Hall, La Russa and the new GM.
Just how tenuous Towers' job status was became apparent on May 17, when the D-backs announced the hiring of La Russa to a newly created position to oversee Towers and the baseball operations department.
At the time of the hiring, Hall and managing general partner Ken Kendrick said that it would be up to La Russa to decide the futures of Towers and manager Kirk Gibson.
Towers was hired on Sept. 22, 2010, with the D-backs mired in last place for a second consecutive season. Josh Byrnes had been dismissed as GM on July 1, and Towers replaced interim GM Jerry Dipoto.
Towers' first major decision was to retain Gibson, who had been named interim manager on July 1.
That winter, Towers went about remaking the Arizona roster, particularly its porous bullpen, and the results were immediate as the D-backs surprised many by capturing the National League West title before losing to the Brewers in a thrilling five-game Division Series.
The D-backs traded young pitchers Jarrod Parker and Ryan Cook to the A's following the 2011 season for the more experienced Trevor Cahill and signed free-agent outfielder Jason Kubel in hopes of taking the next step in the playoffs.
However, the D-backs were unable to improve, and despite Towers' moves over the next two seasons, they finished with identical 81-81 records in 2012 and 2013.
Following the 2013 season, the D-backs elected not to pick up the 2015 contract options on Towers and Gibson. But just before Spring Training opened, the team reversed course and announced it had signed the pair to extensions of unspecified lengths.
The D-backs raised their 2014 Opening Day payroll to a franchise-record $110 million and once again hoped to be competitive.
Instead, the D-backs suffered major injuries to ace left-hander Patrick Corbin and setup man David Hernandez before the season began and they opened their schedule by losing 22 of their first 30 games.
It was toward the end of that stretch, Kendrick and Hall would later say, that they began to talk to possible GM candidates before deciding to hire La Russa.
"We are extremely grateful for all that [Towers] has done for the D-backs during his four-plus years here, particularly given that he has always put the organization ahead of his own self-interests," La Russa said. "That tells you all you need to know about him as a person."
Towers was GM of the Padres from 1995-2009 prior to joining the D-backs.
Steve Gilbert is a reporter for MLB.com. Read his blog, Inside the D-backs, and follow him on Twitter @SteveGilbertMLB. This story was not subject to the approval of Major League Baseball or its clubs.