Pipeline preview: Owens leads Pawtucket into battle
Boston's No. 2 prospect to face Syracuse in Game 3 of International League semifinals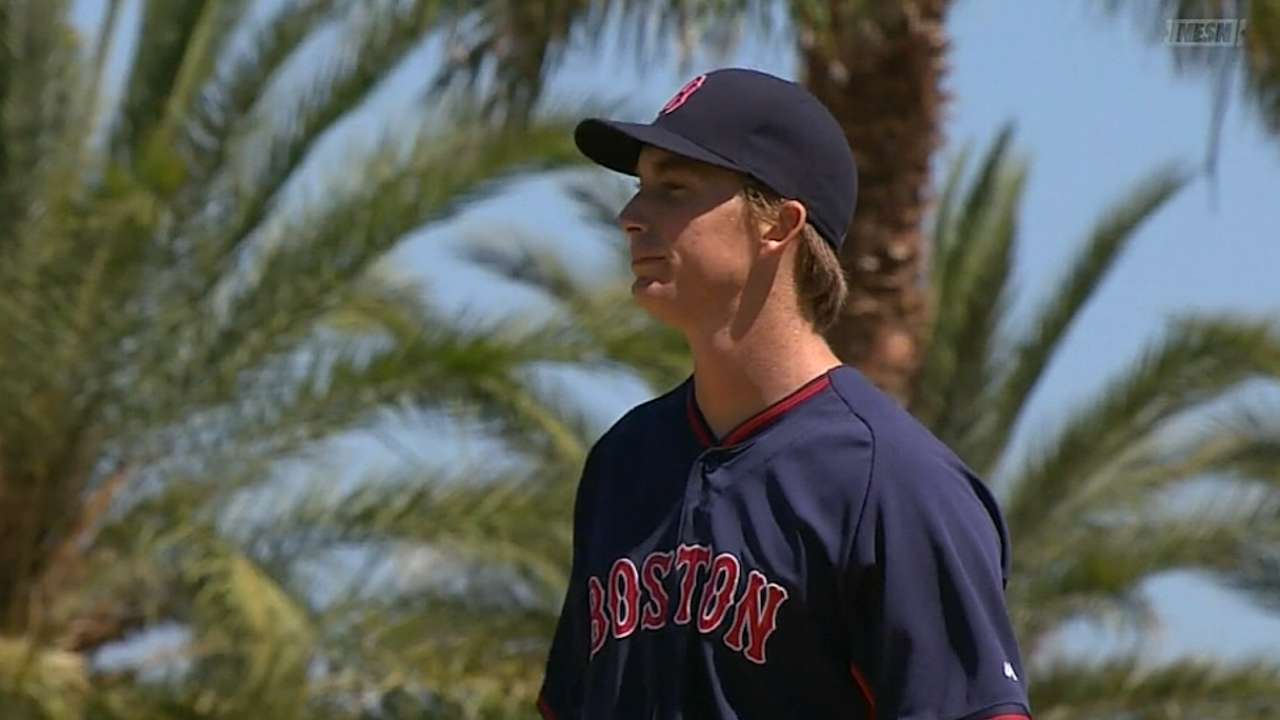 Few Minor League pitchers had a better season than left-hander Henry Owens, the Red Sox's No. 2 prospect. The 22-year-old was named Eastern League Pitcher of the Year, started the SiriusXM All-Star Futures Game for the U.S. team, led all Minor Leaguers with 17 wins and ranked fourth with 170 strikeouts in 159 innings.
Now, Owens is hoping to add a championship to that resume. He will have his first chance to contribute to Triple-A Pawtucket's playoff push on Friday, when he takes the mound in Game 3 of its International League semifinal series against Syracuse. Having won the first two games, Pawtucket will be hoping to complete the sweep and advance to next week's finals. Friday's game, which begins at 7 p.m. ET, can be seen on MiLB.TV.
Owens, who is ranked No. 23 on MLBPipeline.com's Top 100 Prospects list, began the year with Double-A Portland. He made 20 starts for the Sea Dogs, going 14-4 with a 2.60 ERA. Owens struck out 126 batters and walked 47 in 121 innings before he was promoted to Pawtucket at the end of July. Despite his promotion, he still led the Eastern League in wins and strikeouts, and he finished third in ERA.
At Pawtucket, Owens joined a prospect-laden rotation that has at times included Anthony Ranaudo, Edwin Escobar and Matt Barnes, the Red Sox's Nos. 5, 9 and 12 prospects. Owens fit right in. And while he wasn't quite as dominant as he had been for Portland, he was still able to help Pawtucket win the Wild Card, edging out Buffalo for the final playoff spot. In six starts for Pawtucket, Owens went 3-1 with a 4.03 ERA. He struck out 44 batters and walked 12 in 38 innings.
Syracuse features center fielder Michael Taylor, who ranks No. 68 on the Top 100. The Nationals' No. 3 prospect began the year with Double-A Harrisburg and advanced through two levels to make his Major League debut in August. In 110 games in the Minor Leagues this season, Taylor hit .304/.390/.526 with 23 home runs and 37 stolen bases.
But Taylor is still looking for his first hit in the playoffs. In the first two games of the series, he went 0-for-8 with four strikeouts. Taylor's slump stretches back to the regular season. He is hitless in his past 17 at-bats, and in 10 game since the Nats sent him back to Triple-A, he has hit .128/.190/.205.
While the Chiefs lost International League MVP Steven Souza when Major League rosters expanded earlier this week, they added first baseman Matt Skole, the Nationals' No. 6 prospect, for the playoffs. The 25-year old spent the regular season with Double-A Harrisburg, where he hit .241/.352/.399 with 14 home runs.
In addition to Owens, a few other pitchers ranked on the Top 100 are also scheduled to start Friday, including Noah Syndergaard (No. 12) and Braden Shipley (No. 45). Fans can watch both Syndergaard and Shipley on MiLB.TV, beginning with Shipley and Double-A Mobile hosting Jacksonville in Game 2 of their Southern League semifinal series at 8:05 p.m. Jacksonville leads the series after winning Game 1, 5-4, on Thursday night. Shipley, the D-backs' No. 2 prospect, will be looking to snap the Suns' 11-game winning streak when he takes the mound Friday.
Syndergaard, the Mets' No. 1 prospect, will get the ball for Triple-A Las Vegas at Reno in Game 3 of their Pacific Coast League semifinal series. Syndergaard went 9-7 with a 4.60 ERA in 26 starts during the regular season and led the league with 145 strikeouts in 133 innings. The series is tied after the 51s and Aces split two games in Las Vegas. First pitch of Game 3 is scheduled for 10:05 p.m. ET.
Friday's Minor League slate will also be highlighted by a decisive third game between Danville and Johnson City in the best-of-three Appalachian League finals. Johnson City won Game 1 on Wednesday and Danville took Game 2, 6-1, on Thursday to set up Friday's showdown. First pitch is scheduled for 7 p.m. ET at Johnson City's Howard Johnson Field.
Top prospect probables
Cody Anderson (Indians' No. 11), Akron at Richmond
Alec Asher (Rangers' No. 13), Frisco at Midland
Ty Blach (Giants' No. 6), Richmond vs. Akron
Jonathon Crawford (Tigers' No. 3), West Michigan vs. Fort Wayne
Steven Matz (Mets' No. 9), Binghamton at Portland
Owens (Red Sox's No. 2), Pawtucket at Syracuse
Shipley (D-backs' No. 2), Mobile vs. Jacksonville
Syndergaard (Mets' No. 1), Las Vegas at Reno
Eduardo Rodriguez (Red Sox's No. 8), Portland vs. Binghamton
Anthony Senzatela (Rockies' No. 20), Asheville at Savannah
Teddy Cahill is a reporter for MLB.com. Follow him on Twitter at @tedcahill. This story was not subject to the approval of Major League Baseball or its clubs.